Getty Gets Into the Print Business, Will Sell Exclusive Wall Art Through Photos.com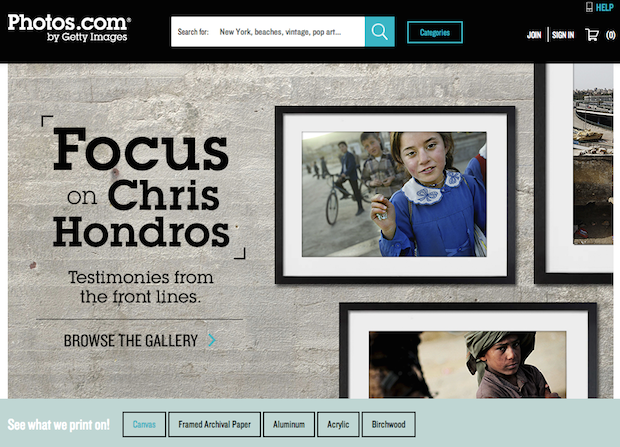 Getty Images caught no end of flack for allowing anyone to embed much of their archives for free, but their business plan going forward doesn't just include sharing images for free. The company wants to make a more permanent mark on your life as well, and they're doing it by letting you buy prints of award-winning photographs from their archive through a new service at Photos.com.
Announced yesterday, Photos.com will offer prints of images that you won't be able to get your hands on anywhere else.
Not all the images in Getty's archive will be available, but the list of works that is included is impressive to say the least. From the press release:
Photos.com's carefully curated selection includes the work of The LIFE Collection photographers Alfred Eisenstaedt, Gjon Mili and Margaret Bourke-White, more than 45 years of David Redfern's famed work with legendary musicians like The Beatles and The Rolling Stones, as well as work from American archival photojournalist Earl Leaf, renowned for his memorable portraits of Hollywood icons.

Another highlight is Slim Aarons' much-celebrated collection of high-society gatherings, including the Kings of Hollywood. Remarkable collections from celebrated Getty Images photojournalists, including Brent Stirton, Mario Tama and Chris Hondros, are also exclusively available at Photos.com, showcasing moving images of world events and culture, alongside unique perspectives of public figures and landscapes.
All Getty prints will be made by New Era Portfolio, start at $90 and vary depending on the image, size and whether you want your print on gallery wrapped canvas, framed archival paper, aluminum (mounted and floated), acrylic or birchwood.
To learn more about this new revenue stream service that Getty is offering, head over to the Getty press room or check out Photos.com for yourself by clicking here.