Microsoft Can Make Pictures from Space Look As Good as Drone Photos
Microsoft has announced a set of new partnerships and capabilities for Azure Space, including the ability for satellites to "see" through clouds along with enhanced image fidelity.
Azure Space is Microsoft's program that it launched last year designed to help people and organizations achieve more on and off the planet. Microsoft is adding to that program with several new partnerships and capabilities that make imaging from space better and more useful.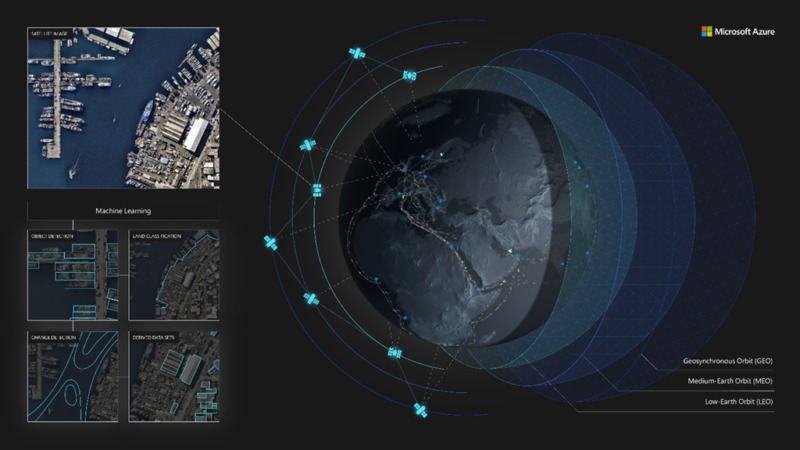 Microsoft says that 67% of the world is covered in clouds, which makes it difficult for Earth observation from space to have accurate and regular observations. To address this, Microsoft developed SpaceEye.
SpaceEye is Azure Space's artificial intelligence-based (AI) system that generated daily cloud-free optical and multispectral imagery for the planet. The system uses the Synthetic Aperture Radar (SAR) instrument from the Sentinel-1 mission as a baseline data source, as radar data is not affected by cloud cover.
"SpaceEye then combines this radar data with historical optical imagery to generate an AI image prediction of what it looks under the clouds," Microsoft explains. "This can unlock significant use cases in agriculture, land-use monitoring, and disaster response among others."
Additionally, Microsoft Azure is being used to prepare images and make them appear higher fidelity through Microsoft's Project Turing. Project Turing enhances images using semantic super-resolution to allow satellite imagery to be increased in resolution and comparable to in-atmosphere aerial photos. Microsoft says this will greatly aid human perception of overhead imagery, and the technology is already running on Azure to enhance Bing Maps around the world and currently already covers over 50% of all user requests.

Microsoft is also partnering with Airbus to bring high-resolution satellite imagery and elevation data in Azure. The company says that it is part of expanding its mission for Azure Space to make it the best platform for the space community. Through this partnership, Airbus will feed Azure Maps with its SPOT 1.5m, Pléiades 50cm, and Pléiades Neo 30cm resolution satellite imagery and WorldDEM4Ortho elevation data.
Microsoft goes into further detail about how that geospatial imagery opens new cloud computing scenarios in a blog post on Azure.
---
Image credits: Header image via Microsoft.