NASA's New Landsat 9 Satellite Snaps First Photos of a Changing Planet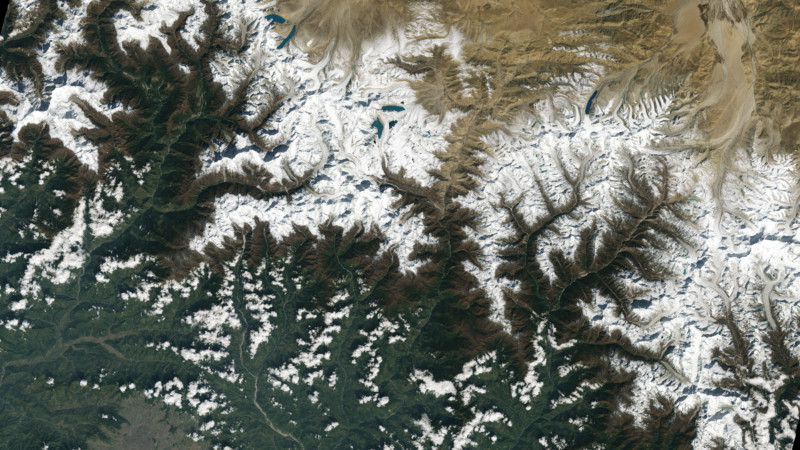 The Landsat 9, a joint mission between NASA and the U.S. Geological Survey (USGS), has captured its first photos as part of its mission to document changes to the planet and the impacts of climate change.
NASA says that the Landsat 9, which was launched on September 27, is designed to help people better manage Earth's natural resources and understand how climate change is impacting the environment. The Landsat program has collected 50 years of space-based Earth observation, which Landsat 9 will add to.
Since 1972, the joint NASA/ U.S. Geological Survey Landsat series of Earth Observation satellites have continuously acquired images of the Earth's land surface, providing uninterrupted data to help land managers and policymakers make informed decisions about natural resources and the environment.
The photos shared by NASA and the USGS show the incredible resolution of the Lansat 9 camera. The uncropped photos are incredibly detailed and nearly 60-megapixels in size, with stunning crops published to the Landsat 9 gallery that still measure an impressive 18-megapixels.
For example, below is the first image collected by Landsat 9, which shows remote coastal islands and inlets of the Kimberly region of Western Australia:
That photo has been cropped for distribution as seen below. In the top middle section of the image, the Mitchell River carves through sandstone, while to the left Bigge Island and the Coronation Islands stand out in the Indian Ocean. NASA writes that Australia is a major international partner of the Landsat 9 program, and operates one of the Landsat Ground Network stations in Alice Springs.
Landsat 9 — which replaces Landsat 7 — is similar in design to its predecessor, Landsat 8 which was launched in 2013 and remains in orbit, but has several key improvements over both. NASA says that the new satellite transmits data with higher radiometric resolution, which allows it to detect more subtle differences in a landscape and is especially useful over darker areas like water or forests.
Landsat 9 can differentiate more than 16,000 shades of a given wavelength color, which is a huge improvement over the 256 shades that Landsat 7 could detect. NASA says that this increased sensitivity will help NASA and the USGS see more subtle changes than they could previously.
Landsat 9 carries two instruments that are designed to work together to capture a broad range or wavelengths: the Operational Land Imager 2 and the Thermal Infrared Sensor 2 as shown below:
"Landsat 9's first images capture critical observations about our changing planet and… provides critical data about Earth's landscapes and coastlines seen from space," NASA Administrator Bill Nelson says. "This program has the proven power to not only improve lives but also save lives. NASA will continue to work with USGS to strengthen and improve accessibility to Landsat data so decision-makers in America — and around the world — better understand the devastation of the climate crisis, manage agricultural practices, preserve precious resources and respond more effectively to natural disasters."
NASA's Landsat 9 team is in the midst of its 100-day check-out period of the newly-launched satellite, a period in which they will test its systems, subsystems, and calibrate its instruments in preparation for hanging the mission over to the USGS in January. The USGS will operate both the Landsat 9 and Landsat 8 together to collect around 1,500 photos of Earth's surface each day, covering the entire planet every eight days.
"The incredible first pictures from the Landsat 9 satellite are a glimpse into the data that will help us make science-based decisions on key issues including water use, wildfire impacts, coral reef degradation, glacier and ice-shelf retreat and tropical deforestation," the USGS Acting Director Dr. David Applegate says.
Landsat 9 data will be available to the public for free once the satellite being normal operations in 2022.
---
Header photo: The city of Kathmandu, Nepal, seen at the bottom left of this Landsat 9 image, lies in a valley south of the Himalayan Mountains between Nepal and China. Glaciers, and the lakes formed by glacial meltwater, are visible in the top middle of this image. In High Mountain Asia, many communities rely on meltwater from glaciers – and Landsat can help track how those glaciers are changing in a warming climate. Previous studies with Landsat have documented shrinkage of Himalayan glaciers, as well as changing lake levels the adjacent Tibetan plateau. From Oct. 31, 2021, the first day of data collection for Landsat 9.
---
Image credits: Photos via NASA.