Sony Unveils Two New Flashes, the HVL-F60RM2 and HVL-F46RM
Sony has launched two new shoe-mount, speedlight-style strobes for the Alpha system: the HVL-F60RM2 and HVL-F46RM. Both are capable of continuous 10 frames per second flashes or have sub-two second recycle times at full power.
Sony positions the two new speedlights as powerful wireless flashes that allow for precise control, enhanced speed, and intuitive operation. The company claims that they can work for both professionals and amateurs alike and are uniquely tailored to work best with the Alpha system thanks to detailed communication between the cameras and the flashes.
As far as performance is concerned, both strobes are capable of up to 10 frames per second firing. The HVL-F60RM2 can maintain that speed for up to 200 consecutive flashes while the HVL-F46RM can maintain that speed for 60 consecutive flashes. Sony says that it has implemented an optimized flash algorithm that ensures that both are overheat-resistant. The company also says that four standard AA Ni-MH batteries will power up to 240 full-power flashes with a 1.7 second recycle time for the HVL-F60RM2 and up to 320 flashes with a 2.0 second recycle time for the HVL-F46RM.
Sony says that when the strobes are used in tandem with an Alpha camera, the enhanced communication between the two devices allows for more control over lighting scenes. For example, with the Alpha 7 IV, P-TTL flash photographers can control metering for every frame in Lo continuous, Mid, and Hi continuous modes. Sony adds that the flash release time lag is also shortened to capture momentary facial expressions and movements of the subject.
The Alpha 1 can squeeze even more performance out of the HVL-F60RM2 and allow for up to 20 flashes per second to coincide with the camera's 20 frames per second continuous shooting. The flash can maintain that speed for about 20 seconds with the FA-EBA1 external flash battery adapter. When the Alpha 1 is used with Sony's flashes, including HVL-F60RM2 and HVL-F46RM, photographers can sync up to 1/400 second shutter speed. In addition, with the silent electronic shutter of the camera, silent flash shooting is possible.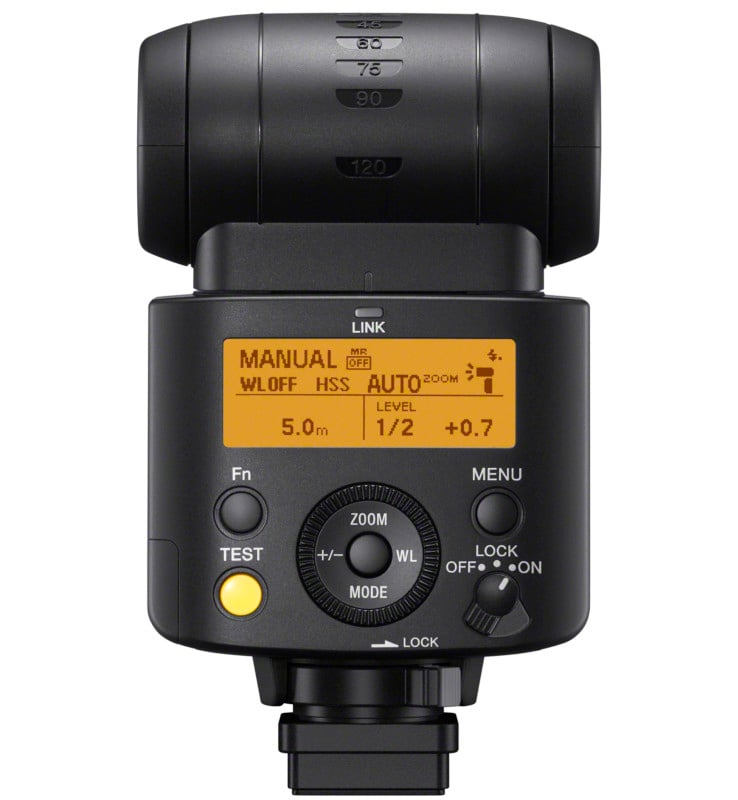 The two flashes, when used with compatible Alpha cameras, can also allow for each of their flash parameters to be controlled directly from the camera menu, flash control is linked with face detection, and white balance is automatically corrected based on the color temperature information from the flash.
Both flashes support wireless radio communication and can control up to 15 flashes or receiver units in five groups via wireless radio communication.
The HVL-F46RM will be available in November 2021 for $400 while the HVL-F60RM2 will be available in November 2021 for $550.