Joby Launches New Flexible Podzilla As Well As 'Normal' Tripods
Joby has announced an expanded line of budget-friendly tripods available in a variety of colors. A new compact and flexible Podzilla as well as a full-sized tripod and monopod systems.
Included in the compact lineup is a set of four systems: Compact Light, Compact Action, Compact Advanced, and a 2-in-1 Monopod. The Compact Light system includes a mount for smartphones whereas the rest of the lineup allows users the option to add a phone clamp separately.
The Podzilla will be a familiar design to those who have seen or used the GorillaPod system, perhaps the most iconic product ever made by Joby. The new compact tripod has a built-in ball head and an updated flexible leg design that is available in two size options (Medium and Large) and four colors (Teal, Red, Yellow, and Gray).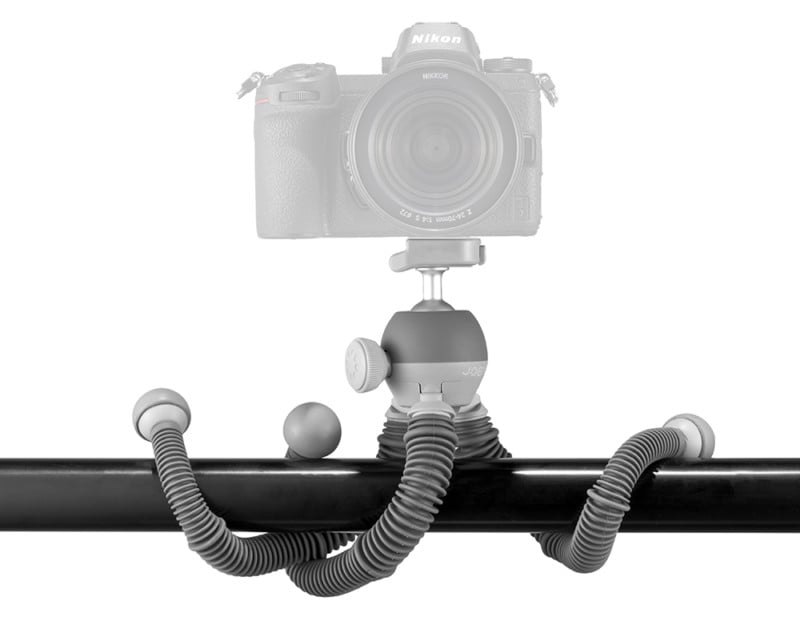 The company says the new product lineup is designed to ensure that content creators around the world have access to the very best in compact tripod options that are designed to be lightweight so they are easy to add to any mobile kit. The Podzilla uses an aluminum core that is tough, strong, and durable and is covered in a "grippy" rubber outer layer. Joby says the legs can fully articulate and are easy to position, providing creators with a stable and level platform for recording on nearly any terrain.
The new 2-in-1 Monopod can support up to a 1 kilogram (2.2 pounds) kit on a system that weighs just over 0.6 pounds. The new monopod can use a pin-joint mount, or a compact ball head that can let the monopod double as a selfie stick.
Also included in the launch are three new "normal" and more traditional compact tripods: the Compact Light, Compact Action, and Compact Advanced Tripods. All of the Compact Tripods are designed to be user-friendly and easy to set up. The Compact Light tripod weighs just 1.78 pounds (0.81 kilograms) and supports up to a 3.3 pound (1.5 kilograms) kit making it ideal for mobile content creators. The Compact Action tripod uses an ergonomic joystick head with a scroll-wheel locking mechanism for increased sturdiness.
The Compact Advanced Tripod is designed to take compact mirrorless and DSLR cameras for Vloggers who need a little more power than their smartphones/action cameras and accessories can deliver. The company says the Compact Advanced system leverages much of the design and technology from the GorillaPod 3K like the QR BallHead that allows 3-way tilting and rotation for professional results. The Compact Advanced system supports up to a 6.6-pound payload (3 kilograms) and is available as a kit that includes a rotating phone clamp and cold shoe mounts on both ends for added versatility.
The new lineup of tripods are available now through the JOBY website with prices ranging from $39.99 to $149.99.