The HEIPI Travel Tripod is Actually Two Compact Tripods in One
HEIPI has announced a new travel tripod that the company claims is the lightest and most compact 3-in-1 travel tripod on the market.
What sets the HEIPI tripod apart from other travel tripods is the center column that actually works as an additional mini-tripod or simply extends as a more-stable center column for enhanced reach to get higher or lower, which allows creatives to achieve the perfect angle. When in its most compact form, the two components are nearly invisible as the two systems are seamlessly paired. Users can extend the center column of the tripod, or simply remove it and use it as a secondary "mini" tripod in just a few seconds.
The company says using the three legs of the mini-tripod as a center column improves the overall stability of the larger tripod since it has three anchor points to the system as opposed to a single center pole. The entire system weighs just three pounds (1.35kg) — or 2.6 pounds (1.2kg) with the mini tripod legs removed — and measures only 17.5 inches (44.5cm) long and 2.7 inches (6.9cm) in diameter when packed. The carbon fiber system can reach a maximum height of 59 inches (150cm) and a minimum height measures in at just under six inches (15cm).
In addition to these features, the HEIPI tripod has a special removable ball head that includes a retractable phone clamp, a bubble level, can pan a full 360 degrees, and includes a quick-release plate. The company says the system can also handle up to 55 pounds (25kg) of equipment, making it one of the heavier-duty travel tripods available. For comparison, the Peak Design Travel Tripod (which is very similar in design) is rated for just 20 pounds (9.1kg) of camera gear.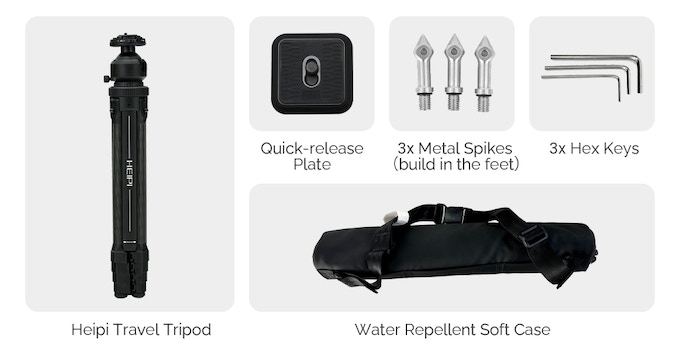 The Carbon Fiber HEIPI Travel Tripod is available on Kickstarter to backers starting at $299. At the time of publication, HEIPI had already achieved more than 20 times its initial funding goal and deliveries are expected to start in January of 2023 with shipping available worldwide.
---
Disclaimer: Make sure you do your own research into any crowdfunding project you're considering backing. While we aim to only share legitimate and trustworthy campaigns, there's always a real chance that you can lose your money when backing any crowdfunded project.