Canon RF 14-35mm f/4L IS USM Lens Review: Feels Good, Shoots Great
The RF 14-35mm f/4L IS USM is a brand new ultra-wide-angle zoom lens from Canon. Its impressive range of 14mm all the way to 35mm with a constant f/4 aperture in an L-series full-frame lens is a big deal, and we haven't even gotten started.
Build Quality and Design
The RF 14-35mm f/4L is a fat and stubby lens that honestly looks gorgeous. It measures 3.3 inches (8.4 centimeters) in diameter and 3.9 inches (9.9 centimeters) in length at its shortest. Interestingly, the lens extends both at the 14mm end and the 35mm end but sits flush at 22mm. At 35mm, the lens length is 4.25 inches (10.80 centimeters). When I'm packing up the lens back in my bag, it does feel a little strange to not simply collapse it by moving all the way to one end of the focal range. Rather, I have to take the extra second or two to find 22mm on the markings.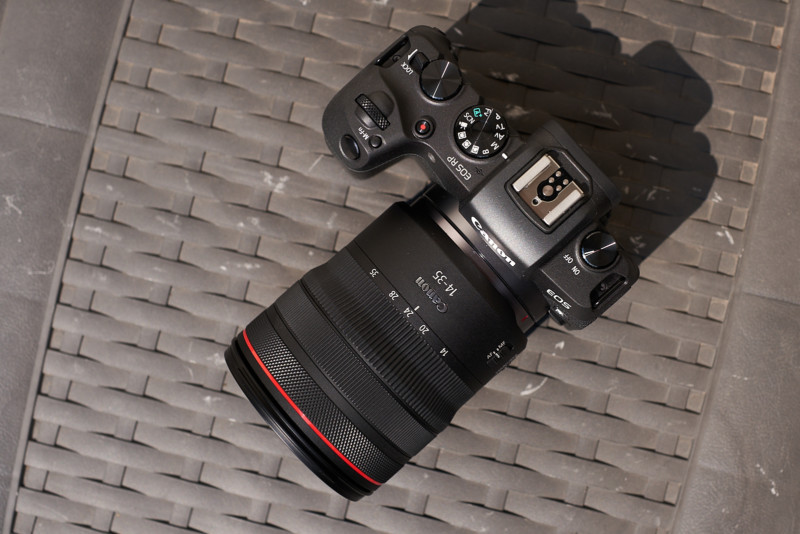 Its exterior construction is matte plastic, however much of it is covered with its zoom ring, focus ring, and control ring. Each ring has a different texture, but throughout testing, I never really developed a sense for the tactile difference on my fingertips. Either way, it's really obvious what ring is being turned once in motion as they all have different properties. The zoom ring is quite stiff and I find it's a touch too much for my taste, yet it does have the benefit of being unlikely to knock out of place. The focus ring is very nice and fluid and can be adjusted with just one finger. The control ring has steps to it like a typical aperture ring and again feels great.
The lens weighs 1.2 pounds (0.5 kilograms) and from the size of it, I thought it would be heavier. Overall, I'm very impressed with the build quality. I shot with it unfazed for a short period in the rain and it does feature weather-resistant seals at the mount, switches, and all three rings.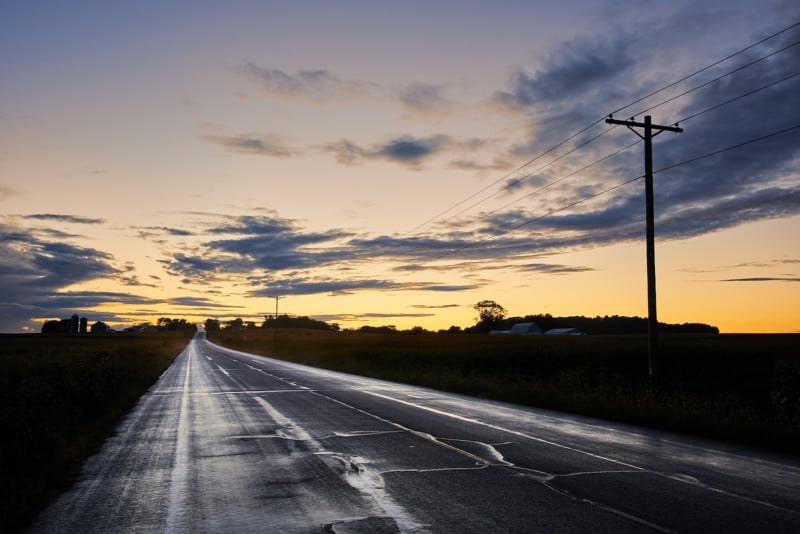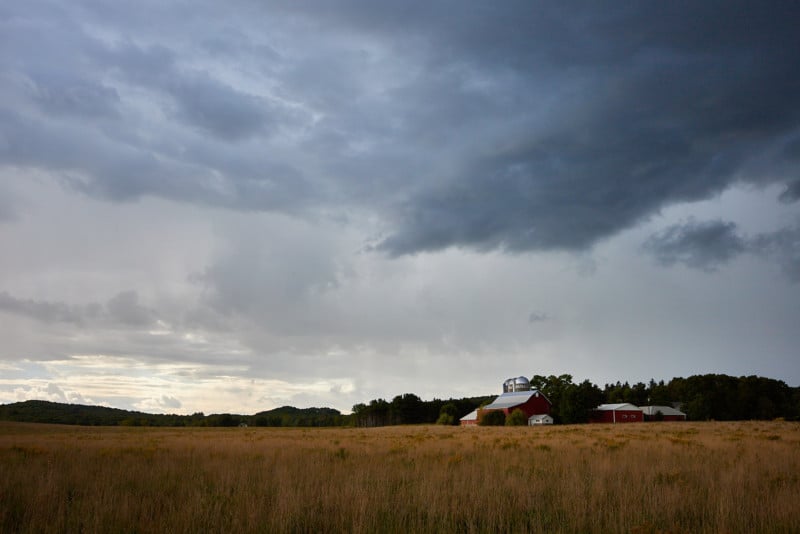 Image Quality
Inside, the RF 14-35mm f/4L uses 16 elements in 12 groups, including three ultra-low dispersion elements, three aspherical elements, and one ultra-low dispersion aspherical element. The aperture uses nine circular blades which can still produce a nice sun star.
With the lighting source in the frame, it's not hard to attract ghosting flare, albeit well controlled. That's surprising given that the lens elements have Canon-developed super spectra coatings, sub-wavelength structure coatings, and air sphere coatings.
Testing out the sharpness of the lens, I found that shooting at any focal length produces the same results throughout the aperture range.
Looking at center sharpness, I saw that stopping down to just f/5 is already a great improvement, but it's f/9 that will be peak sharpness. By f/16 it retains about the same sharpness as wide open at f/4 and continues to decline from there. While f/22 is the softest, it's not unusable by any means, especially with post-sharpening work and the fact no one else will be pixel peeping the images. At the corners, peak sharpness is slightly different being f/10. If you're a landscape photographer searching for optimum sharpness, either f/9 or f/10 is where I'd suggest starting.
On the opposite end, out-of-focus areas look terrific with the RF 14-35mm f/4L. At the center when shooting wide open, bokeh balls are circular with only the slightest hard edge to be seen. Likewise, out-of-focus objects do not stand out with busy, hard edges, rather they produce pleasingly soft gradients. Near the corners, the bokeh balls do begin to become lopsided but it's hard to tell in a full image.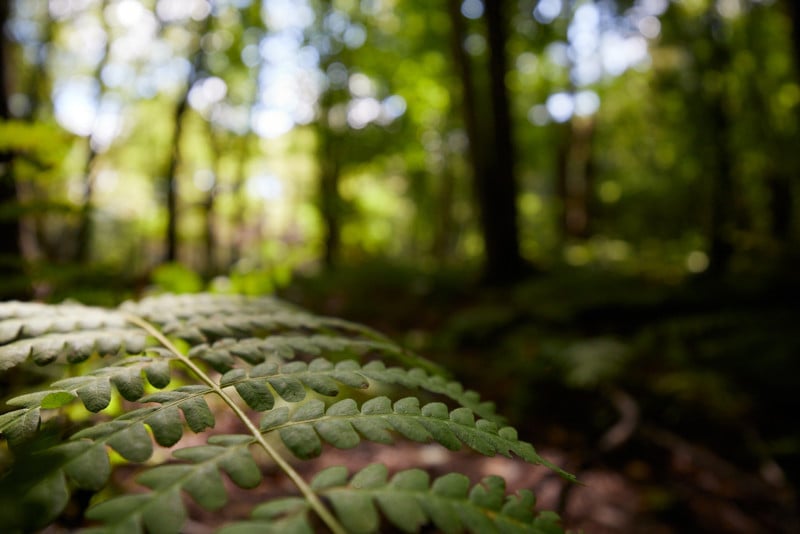 You may not think the bokeh characteristic would come into play much with such an ultra-wide-angle zoom lens, but that's not entirely accurate. One thing this lens is outstanding at is its minimum focus distance. Throughout the focus range, it can virtually focus on anything in front of it. Maybe not exactly to the point the front element is touching the subject, but just as close as you'd ever want to be safe — close enough to where the lens hood's shadow becomes evident, I'll say.
To conduct this lens review, Canon sent me the EOS RP camera. Given the entry-level body, autofocus abilities are difficult to ascertain. That said, moving from point A to point B is still lightning-fast and silent. I noticed that 14mm goes directly from one point to the other while at 35mm the focus does bounce quickly at the endpoint before settling (but seems likely a symptom of the camera). As for tracking, on the EOS RP, the combination works relatively well when a subject is approaching but seems to not be able to handle a subject moving away. Not only does the camera not keep up in those instances, but it also seems to completely fudge the focus to infinity even if nothing in the frame would be in focus at infinity.
Feels Good, Looks Good
This is my very first experience with the Canon full-frame mirrorless system, and despite being handed the budget camera to get the job done, I'm walking away impressed. I'm not sure what it's like shooting the kit lens for the EOS RP, but I can say for certain that the 14-35mm f/4L is making the images coming off the camera look really good. It's a sharp zoom lens that's well balanced for all situations going from 14mm all the way to 35mm with a constant f/4 aperture. I love its adorable stubbiness in the design and how lightweight it really is, ready to be carried anywhere.
Are There Alternatives?
Coming in at $2,400, there's the Canon RF 15-35mm f/2.8L IS USM. For $700 more than the 14-35mm f/4L, this lens would add an extra stop of light while maintaining many of the great qualities. The downsides are that it's half a pound heavier, an inch longer, and all-around larger as it takes 82mm filters rather than 77mm.
Should You Buy It?
Yes. Overall, the RF 14-35mm f/4L IS USM is a great choice that I would recommend to any Canon shooter looking for an ultra-wide-angle zoom lens.