Canon's New RF 10-20mm f/4 L IS STM is the Widest AF Zoom Lens of Its Kind
Canon announced the RF 10-20mm f/4 L IS STM lens, a groundbreaking full-frame ultra-wide-angle lens that expands upon the legacy of the popular EF 11-24mm f/4 L thanks to optical advancements and the EOS R mount's design.

Canon says this lens is the world's first autofocusing rectilinear zoom lens with 10mm coverage.
Compared to the EF 11-24mm f/4 L lens, the RF 10-20mm f/4 L IS STM sacrifices a bit on the longer end of the zoom range to provide additional width. The RF 10-20mm f/4 delivers a 130-degree field of view at 10mm, four degrees wider than the EF 11-24mm lens at 11mm. That may not sound like much, but it is a considerable difference in practice.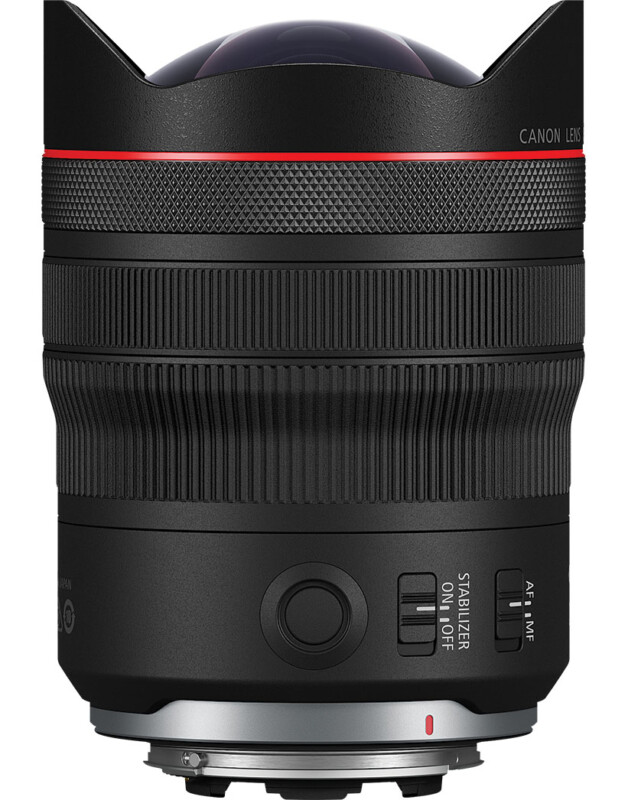 The expanded field of view is even more obvious when comparing 10mm to 12mm, like with the acclaimed Sony FE 12-24mm f/2.8 GM lens. A 10mm lens delivers an approximately 1.4 times wider image field than a 12mm lens and roughly twice as wide as a 14mm, like the Nikon 14-24mm f/2.8 S.
Of course, the maximum aperture is another major difference between the RF 10-20mm f/4 L IS STM lens and the Sony 12-24mm f/2.8 GM and Nikon 14-24mm f/2.8 S zooms — the new Canon lens loses a full-stop of light-gathering capabilities compared to those f/2.8 zooms. But for Canon EOS R photographers requiring an f/2.8 aperture, the existing RF 15-35mm f/2.8 L IS USM remains a compelling option.
Beyond the wider focal length range, the RF 10-20mm f/4 lens is significantly smaller and lighter than the EF 11-24mm f/4. The new zoom weighs 20.1 ounces (570 grams), approximately half the weight of the EF 11-24mm (41.6 ounces / 1,179g). Canon's new mirrorless lens is about 4.4 inches (112mm) long, which is considerably shorter than the 11-24mm (5.2 inches / 132mm). The RF 10-20mm is about an inch (25.5mm) narrower at its maximum diameter than the older wide-angle lens, although neither lens accepts front-attaching filters.
Optically, the RF 10-20mm has 16 elements across 12 groups, the same number of elements and groups as the RF 14-35mm f/4 L IS USM. The lens incorporates one more group than the older EF lens. As for specialized glass, the 10-20mm includes one super ED and three ED elements and promises strong image quality across the entire frame. The zoom also incorporates Canon's SWC and ASC coatings, two anti-reflection coatings that work together to reduce ghosting.
Canon targets landscape, scenic, architectural, photojournalism, travel, and video applications with its new optic. The lens can also work well for remote shooting thanks to its focus position sensor, enabling it to return to a previous focus distance setting when powered on. This could be very useful for sports photography scenarios.
The zoom uses Canon's STM focus drive motor technology for autofocus and is the first L-series lens to include STM. The lens can focus as close as 9.8 inches (0.25 meters), resulting in a maximum magnification of 0.2x at 20mm, which is slightly worse than the EF 11-24mm lens (0.16x) and the RF 14-35mm f/4 (0.38x).
Cleaning up a few loose ends, the RF 10-20mm f/4 lens includes dust and moisture-resistant construction and promises reliability and durability in line with other L-series lenses. The new zoom also has a fluorine coating on its front and rear elements, ensuring the glass is easy to clean. The lens also includes a rear filter holder to accept user-cut gelatin filters.
The lens's optical image stabilization system — a feature absent from the EF 11-24mm f/4 lens — promises up to five stops of image stabilization. The IS works alongside a Canon EOS R-series camera with in-body image stabilization and features special IS technology to minimize wide-angle "fluttering" at the outer areas of the frame.
Canon says that its IS technology compensates for blur and deformation at the edges of the frame which is typical of very wide-angle lenses. By the way, the Canon RF 10-20mm lens is the only full-frame lens wider than 14mm that includes optical image stabilization.
Pricing and Availability
The Canon RF 10-20mm f/4 L IS STM lens will be available in November for $2,299, significantly less than the $2,999 asking price of the Canon EF 11-24mm f/4 L USM lens.
---
Image credits: Canon