Apple's Next Product Launch Event Will Take Place on September 14
Apple's annual fall event is slated to take place on Tuesday, September 14 at 10 AM Pacific Time as noted in an official company announcement. It will be a wholly virtual presentation titled "California Streaming."
Apple's fall event typically takes place in September but was slightly delayed into October last year likely due to the coronavirus pandemic. The company seems back on track this year, however, and is expected to announce its new iPhone models.
In addition to an official invite that has been sent out to media, Apple's Senior Vice President of Marketing also announced the timing in a tweet.
We're California Streaming on September 14th. See you real soon. 🏞 #AppleEvent pic.twitter.com/OjOvJFXlHd

— Greg Joswiak (@gregjoz) September 7, 2021
The iPhone updates are all but certain as Apple releases a new smartphone every year, but what the device will actually change from last year's iPhone 12 are still hotly debated. Rumors from late August allege that Apple will not name the phone the iPhone 12S but will instead skip right to iPhone 13, though the validity of this claims is not known.
Some rumors from earlier this year allege that the new iPhone models will feature sensor stabilization on all rear-facing cameras, while the ultra-wide camera will also get autofocus. It is also possible that the iconic and oft-maligned notch on the front of the phone will get downsized as the FaceID chip and selfie camera are rumored to have been shrunk. Apple is unlikely to fully remove the notch, however. Another rumor promised that the iPhone 13 would be slightly thicker and feature a larger camera bump than the previous model, but an increase in resolution won't come until 2022.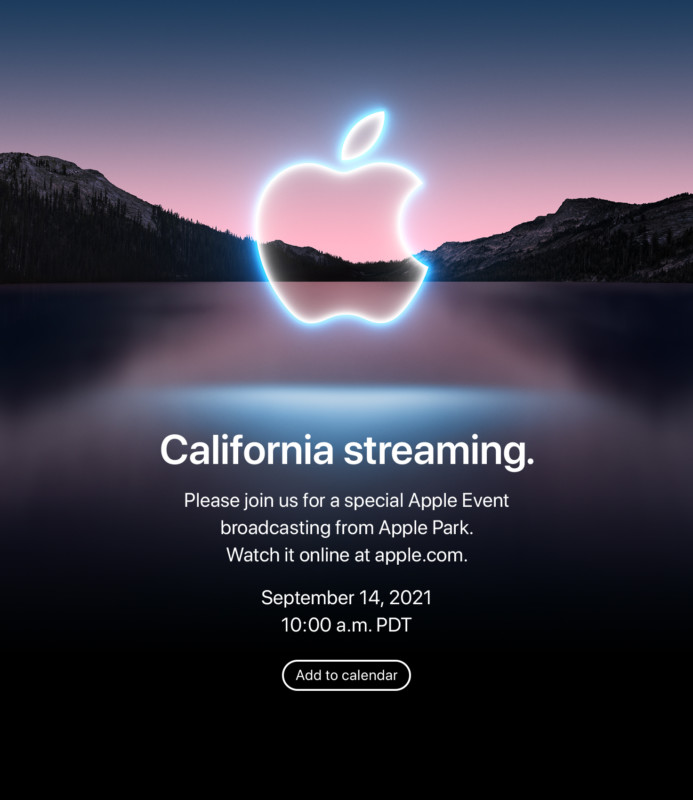 Perhaps the most reliable rumor of what to expect in the new iPhone came courtesy of Bloomberg's Mark Gurman, who reported that Apple plans to focus much of its camera technology efforts on its latest handheld in software, and will implement a video version of the company's Portrait Mode still photo feature, add ProRes video recording support, and add a filter system to its photo editing interface. The filter system won't act like previous photo filters, but will instead leverage artificial intelligence to give images an edit that is more true to life rather than a blanket filter that can affect white balance.
Gurman also says that the new Macbook Pros with in-house chips likely to be dubbed M1X are also poised to launch in the coming months. No mention of pro-oriented iMacs was mentioned, however.
Whatever the case, Apple will make all of its announcements public during the live stream on September 14, which is likely to be a busy day for photography fans as Canon is also rumored to announce its EOS R3 the same day.
---
Image credits: Header image via Apple.