Ricoh Unveils the HD Pentax-DA 16-50mm f/2.8 K-Mount Star Series Lens
Ricoh has announced a new wide-angle zoom lens that is classified under its "Star" series optics: the HD Pentax-DA 16-50mm f/2.8ED PLM AW lens. Ricoh says it promises the highest imaging performance available and is designed for use on K-mount DSLRs.
This new lens can be used on both APS-C and full-frame Pentax cameras. When attached to an APS-C crop sensor camera, it has an equivalent focal length of 24.5-76.5mm.
The company says that the new lens incorporates a new optical system and for the first time in a large-aperture Pentax lens, what it calls an advanced "pulse motor" (PLM) that Ricoh claims will assure smooth, high-speed, and high-precision autofocus with minimal noise. Additionally, Ricoh says the lens has been fine-tuned to still provide excellent manual focus operation and includes a "quick-shift" focus system that allows it to quickly swap between autofocus and manual focus.
As a note, the PLM is a type of autofocus motor developed by Pentax Ricoh that other manufacturers call a "stepping motor."
The HD Pentax-DA 16-50mm f/2.8ED PLM AW lens is constructed of 16 elements in 10 groups, features a nine-bladed circular diaphragm, has a maximum aperture of f/22, a minimum focusing distance of 11.76 inches (0.3 meters), and has a front filter diameter of 77mm.
Pentax "Star" series lenses are designed by Ricoh to provide greatly improved resolving power to accommodate high-performance digital cameras both now and into the future. In this particular case, Ricoh says that this lens reduces various aberrations to a minimum to deliver sharp, clear images not only in the middle of the frame but also out to the edges of an image. It uses one extra-low dispersion element, one anomalous glass optical element, and two extra-low dispersion aspherical elements to reduce chromatic aberration over the entire zoom range.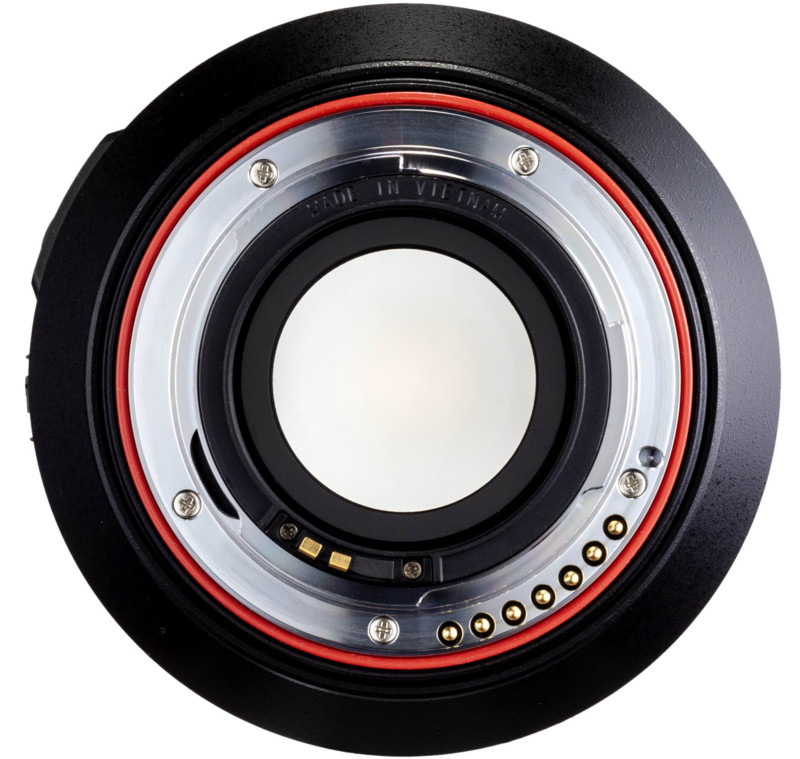 Ricoh says that these optical elements combine with what it calls a "high-grade, multi-layer high definition coating" which the company says reduces the average reflectance of the visible spectrum to less than 50% of conventional multi-layer coatings. In short, Ricoh says it effectively minimizes flare and ghosting of images even in complex lighting conditions while also delivering high resolving power and excellent contrast.
The new autofocus PLM engine is attached to a lighter and more compact focus lens group and Ricoh says it is able to drive it smoothly, quickly, accurately, and with minimal noise. The PLM also is used in the lens's electromagnetic diaphragm mechanism which Ricoh says allows it to smoothly track focus combined with "flawless" exposure control while also reducing "annoying" noise that is generated by focus and diaphragm control operations normally found in video applications. Pentax says the integration of both systems allows the lens — when attached to a camera like the K-3 Mark III — to assure quality video capture in environments that have rapidly changing lighting conditions. Not all Pentax cameras support electronic diaphragm control, though and this feature is only available on the latest firmware for the Pentax K-3 Mark III, K-3 II, K-3, KP, K-70, K-50, K-S2, K-S1, K-1 Mark II, or K-1.
The HD Pentax-DA 16-50mm f/2.8ED PLM AW lens is designed to be dustproof and weather-resistant, so when combined with an equally weather-resistant Pentax camera, the system can perform in rain or mist as well as areas prone to splashing water or flying dust.
The HD Pentax-DA 16-50mm f/2.8ED PLM AW will be avaialble in August of 2021 for $1,400.