GNARBOX 2.0 SSD: Better Laptop-Free Backup and Editing for Your Camera
GNARBOX has just announced the GNARBOX 2.0 SSD, a new version of the company's popular solution for photographers and videographers looking to backup, edit, and share photos and videos while out in the field.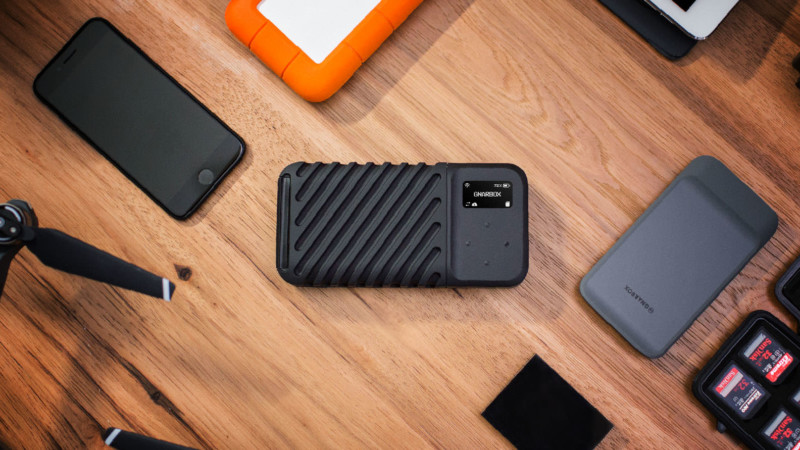 The first GNARBOX was unveiled in July 2015 and was a hit among active photographers. The GNARBOX 2.0 SSD improves on the original design by adding an OLED display and button array on the device itself, allowing for even faster and easier backups.
When GNARBOX 2.0 detects a memory card, you can use the new interface to begin file transfer with a single button press. Another press allows you to determine which directory the files are stored in.
This new device also brings new third-party integrations, including Adobe Lightroom for photo work and LumaFusion, Adobe Premiere Pro, and Final Cut Pro for video. There's also a Dropbox integration for syncing your images to the cloud.
There are four new mobile applications announced with the GNARBOX 2.0 SSD. Safekeep is a powerful field file backup app.
Selects provides fast previews of RAW photos.
Sequence is an accelerated rough-cut video assembly app.
Showcase lets you project photos and videos onto a big screen.
Hardware-wise, the GNARBOX 2.0 SSD features a Intel Quad Core 2.40GHz CPU, 4 Core Intel HD Graphics GPU, 867mbps 802.11 ac/b/g/n WiFi, 2/4GB DDR3 RAM, an SSD up to 1TB, a 3200mAh 7.4V lithium-ion battery, and a battery life of 5 hours backup and 3 hours editing.
The drive is both portable and rugged, measuring 6x3x1.16 inches (~15.2×7.6×2.9cm), weighing 1.1 pounds, and waterproof down to 1 meters for 30 minutes.
GNARBOX 2.0 SSD has been launched through a new Kickstarter campaign, and various configurations are offered as the rewards for various contribution levels. $299 ($399 retail) will get you the base 128GB version, $379 ($499 retail) gets you 256GB, $449 ($599 retail) gets you 512GB, and $699 ($999 retail) scores you a 1TB model.
Here's a 3-minute video introducing the GNARBOX 2.0 SSD:
It looks like GNARBOX 2.0 SSD is making just as big a splash as its predecessor, as the Kickstarter campaign has already raised over $240,000 in the several hours after the campaign went live. The initial goal was $75,000.