Photographer Recreates the Iconic Photo 'Dali Atomicus'
The 1948 photo 'Dali Atomicus' by American portrait photographer Philippe Halsman is regarded as one of the most iconic photos of the 20th century. It's a surreal image showing surrealist artist Salvador Dalí in midair with three cats, a bucket of thrown water, and a chair. Photographer Karl Taylor recently decided to try his hand at recreating the photo.


"This iconic image has been a favourite of mine for as long as I remember and it is probably the root of my own interest and specialisation in photographing fast moving liquids and smashing objects," Taylor says.
Taylor aimed to make his recreation as faithful to the original as possible (without throwing cats into the air), so he built a corner set with walls and a skirting board that match the original scene.
"As clocks and bread have featured in Dali's paintings I felt it would be a fitting tribute to replace the cats with a clock in the air and a toaster," Taylor says. "All of these items are controlled and hung with wires (as in the original) but it would require multiple attempts at capturing the water and the artist/actor in mid air."
As the "outtakes" from Halsman's original photo shoot show, this type of thing takes quite a few tries to nail the perfect image.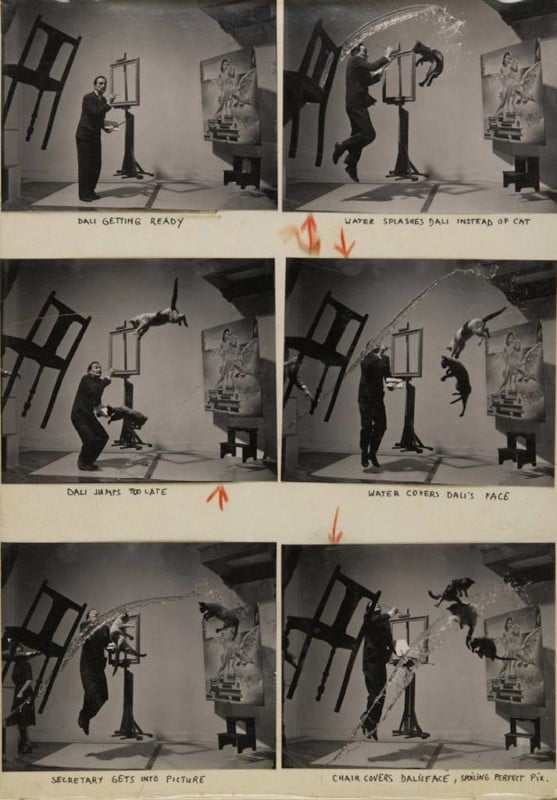 After carefully analyzing Halsman's image, Taylor created this image with some notes regarding the key points:
Once he had everything planned out, Taylor conducted his shoot in front of BBC One cameras. Here's the two part series showing how it went down (with an in-depth walkthrough):
To add a personal touch and creative twist to the concept, Taylor decided to step back and capture not only the original scene but the crew and set around it.
Cropping that final shot produces the recreation of the original Halsman photo. Here are both photos for comparison:
"There was a huge amount of preparation and calculation […], but I feel very excited that the team and I reproduced such an accurate depiction of the 1948 original in tribute to both Philippe Halsman and Salvador Dali," Taylor writes on his website.