Fujifilm Killing Off More Films in 2018, and Things Look Grim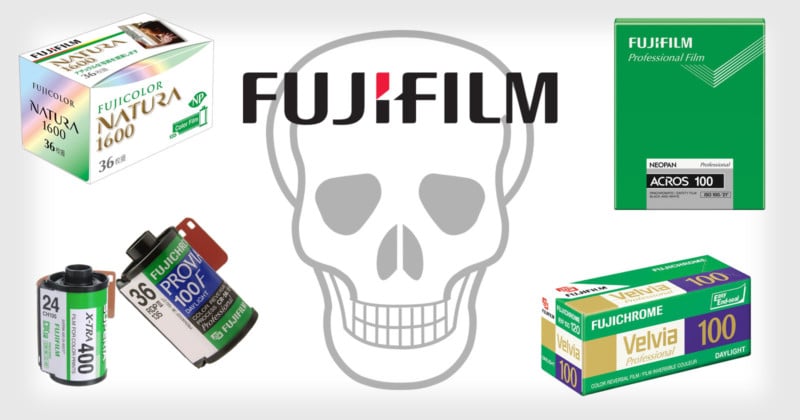 Fujifilm will be killing off more of its camera film products in 2018, further dwindling the company's limited selection of analog offerings.

The company
announced earlier this month
on its Japanese website that a number of multi-film packs will be discontinued starting in March 2018. Here's the list:
Fujicolor Superia X-TRA 400, 24 exposure, packs of 3
Fujicolor Superia X-TRA 400, 36 exposure, packs of 3
Fujichrome Velvia 50 Professional, 36 exposure, packs of 5
Fujichrome Velvia 100 Professional, 36 exposure, packs of 5
Fujichrome Provia 100F Professional, 36 exposure, packs of 5
The good news (for now) is that photographers will be able to still purchase Superia Premium films in packs of 3 as well as the same Velvia and Provia stocks as individual film rolls (it's the packs that are being discontinued).
But the bad news is that these multi-pack discontinuations aren't exactly a good sign for the future of each film line.
"As well all know from history, killing off packs is a telltale sign that the film is no longer being produced and they will just milk the remaining stock as singles," Japan Camera Hunter writes. "You nature photographers had better stock up on Velvia while you can."
What's more, a number of film stocks are being completely discontinued starting in May 2018. We'll soon be seeing the demise of:
Natura's impending death was foretold by the discontinuation of its multi-film packs in 2016. If any of these are among your favorite film stocks, you'd better start building up a stockpile before they're not longer on store shelves.
After this latest round of discontinuations, there will only be a very small handful of Fujifilm slide, negative, and black-and-white film stocks left:
Fujicolor Superia Venus 800
Fujicolor Superia Premium 400
Fujicolor 100
Fujicolor Pro 160NS
Neopan 100 Acros rolls
Fujifilm's Instax instant film business has been booming as of late, selling in record numbers (outpacing Fujifilm's digital cameras) and dominating sales charts on Amazon. But sadly, it doesn't appear that Fujifilm's traditional films have seen as much of a resurgence.