Quick Tip: How to Take Holiday Photos with LED Christmas Lights
It's the holiday season and everyone's favorite photography background prop is Christmas lights. It used to be pretty easy to get these photos to come out perfect, but with the rise in popularity of LED lights, there's some weird stuff that happens if you don't have the right camera settings.
The gif above shows 10 consecutive images taken at 1/125 of a second. Notice how the lights seem to cycle on and off and never does the tree appear to fully be lit.
Incandescent vs LED
Incandescent bulbs (example) are constantly on and don't flicker. It's sometimes tough to tell if bulbs are incandescent or not when buying bulbs, but unless the box or package says they're LED, they're incandescent.
Here's an example of what they look like:
LED bulbs (example), by design, flicker on and off at a very high speed. For most people, this effect can't be seen by the naked eye. You can, however, see the effect with your camera by changing to 'movie mode' (if you have it), and setting your shutter speed above 1/125.
This happens because the LED bulbs are flickering at a rate of 60 hertz. In order to make all of the lights appear "on" you need to match your shutter speed to the flickering speed of the light. If your shutter speed is faster than the flicker, the bulbs won't all appear to be on, though to your eye they will!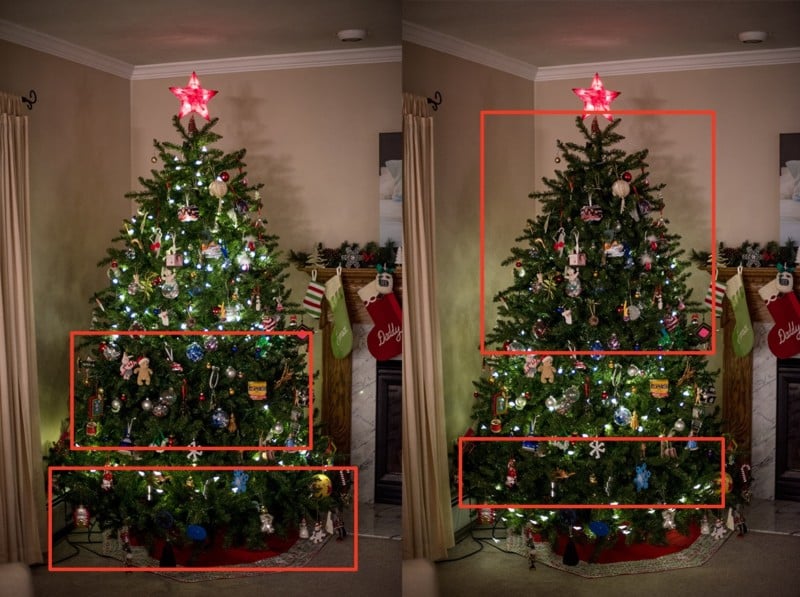 How to compensate for the 'flicker effect'
In order to make the LED bulbs appear to be constantly on in your photos, it's pretty simple: be sure your shutter speed is set below the frequency of the lights (60 hertz).
Though the lights will always flicker, no matter what shutter speed you have your camera set at, the flicker is less pronounced at the off intervals below 1/60 because you're getting one full cycle of the lamps being lit. In most cases, 1/60 of a second will suffice, but 1/30 is the safer bet. If your subject(s) isn't moving, you could go even lower with a tripod (1/15).
At 1/30, it might be tough to keep moving subjects in sharp focus–for example the family portrait in front of the tree. You'll definitely want to use a tripod in this case and if possible, a lens that has some kind of image stabilization or vibration reduction built in.
In this gif of 10 consecutive images taken at 1/30 of a second, you can see the tree looks fully lit, though appears to dim a bit. At this shutter speed, the lights are all able to cycle fully (they are all able to flicker on an off) making the tree appear to be fully lit.
What about shooting with a flash?
You might think adding flash into the mix—either on or off camera—might throw a wrench into the works. However, the same principals apply. Keeping your shutter speed at 1/60 or 1/30 of a second will still sync your flash but also show the LED lights.
You'll want to do some experimentation to ensure the light balance is giving you a proper exposure.
To sum up, if you're photographing holiday lights, here are a couple of things to keep in mind to make those LEDs look their best: keep your shutter speed at or below 1/60 of a second, use a tripod whenever possible, and opt for a stabilized lens to keep your images sharp.
---
About the author: Mike Duval is a wedding/engagement/car photographer and Customer Service Specialist at LensProToGo. You can find more of his work on his website, or check out LensProToGo's rental options on theirs. This article was also published here.