Festive Food Photography: Shooting with Christmas Lights
If you're wondering how you can shoot some stunning Christmas food photography, try shooting with holiday festive lights. In this video, I will go through in detail how to shoot with Christmas fairy lights. These lights will bring some festive spirit to your food photography and add sparkle to your Instagram feed this holiday season.

First of all, I want to say a huge Merry Christmas to everyone. I love this season and my husband would probably say I love it too much. One of the best things about Christmas for me is the food and if you've been scrolling through Instagram this holiday season and seen some of the delicious food on there, you may have noticed people using festive lights to add some of the Christmassy feel to their food photography. I am going to give you some great tips for using festive lights in your own food photography to help you create some magical Christmas images!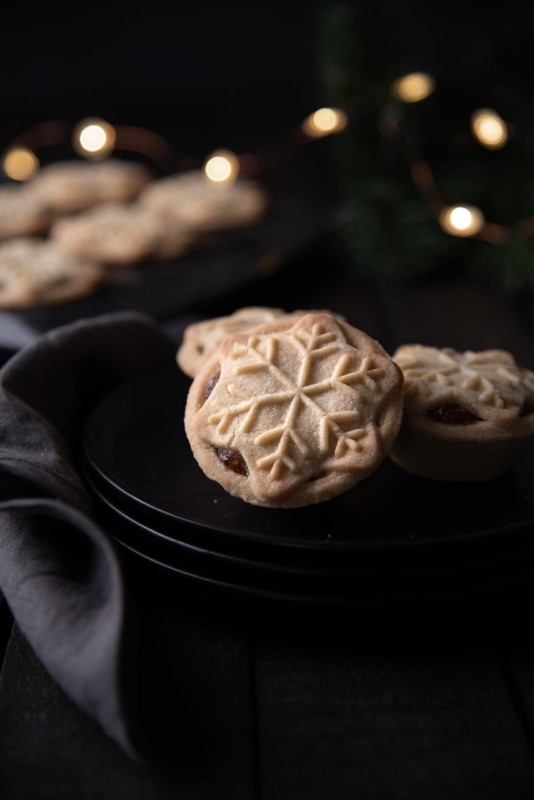 To get started, first you need to select your lights and pick something suitably festive to photograph. I decided on mini pies for this shoot and some little snowflake fairy lights. When choosing any props or lights, just remember your main subject is still the food, so don't go overboard with any Christmas decoration. It is my recommendation to stay away from the big bulky rainbow-colored lights.
To light your subject you will want to use flash. Although the fairy lights are going to be visible, they will not be lighting the subject. Don't think of them as lights so much as props.
When you have your whole set ready to go, it's important to turn out the room lights and shut any blinds if you're shooting in the daytime. Usually, I don't worry about this when shooting with flash because I have my shutter speed quick enough so that most if not all ambient light doesn't affect my subject.
However, our goal is to also make the lights visible and a much slower shutter speed than I would normally use is needed here to compensate. Without working in darkness, this would mean the room lights and window lights would change my lighting completely. The brighter your fairy lights are, the quicker you can have your shutter speed. Each shutter speed is going to give a slightly different look to your lights, the slower the shutter speed, the brighter the lights will be. For my lights, a shutter speed of about 1/5 of a second worked great for the look I was going for. Because it was so slow though, a tripod is really a must with this shoot.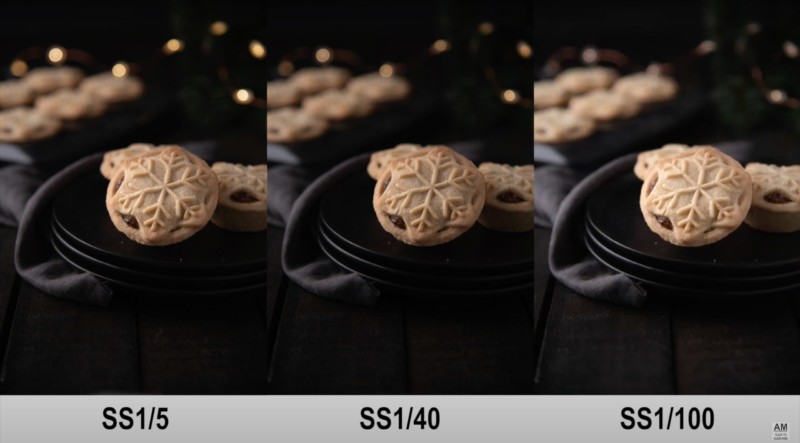 Another camera setting to be aware of is your aperture and changing this will also affect the appearance of your festive fairy lights. A smaller f-number — a wider aperture — is going to make these lights more blurry in the image. This is one of the ways to add that lovely bokeh to a photo and a great effect used in a lot of food photography. While effective, it's important to make sure we still have our subject in focus. An aperture too wide would mean only a small part of our image may be in focus. A smaller f-number — or narrower aperture — would make the lights more in focus, but also they will appear a little smaller. There is no right or wrong way here. It's completely what you prefer or what look you're going for in your image.
I hope this has given your some tips for your shooting with your own Christmas lights over this festive period. For more tips on food and drink photography check out my YouTube channel.
---
About the author: Amie Prescott is a professional photographer, and food photography combines two of her favorite things: food and photography. Prescott put a good spin on lockdown by using the bad situation to create YouTube videos in an effort to help people looking to learn food photography.