Snapchat's 'World Lenses' Add Wacky Animations to the World Around You
Snapchat just upped the ante on acid trip-like augmented reality. In their latest update, the photo and video messaging app added something called 'World Lenses': basically animated filters that you can apply to the world around you the same way you could apply the app's 'Selfie Lenses' to your face.
From sleepy clouds that puke rainbows, to snow, to hearts, and a few more, you can augment your mundane reality into whatever brand of acid trip you prefer. Just open up the app, press and hold on the screen, and the filters will pop up looking like this: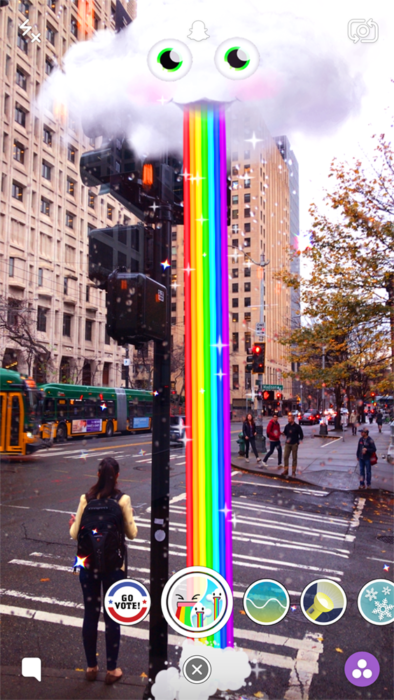 From there, the interface is the exact same as their Selfie Lenses. You swipe through your options until you've found the augmented reality you'd like to capture, and take a photo when you're satisfied with the effect.
Here are a few quick Snaps I grabbed this morning, sitting down to coffee on a stereotypical Seattle day (read: rainy).
In addition to this very odd (but also probably very popular) new feature, Snapchat is also preparing for the launch of their camera glasses, the "Spectacles," in this latest app update. The newest version now includes a page for pairing your Spectacles to the app, and TechCrunch spotted some new ads for the glasses at LAX.
No doubt, these two updates go hand-in-hand. Once your primary Snapchat camera is attached to your face, taking augmented reality selfies is out. It makes a lot of sense for Snapchat to prepare their user base for Spectacles by porting their popular 'lenses' gimmick into the world around you.
To try World Lenses out for yourself, either update your app or grab a fresh copy from the iTunes App Store or Google Play.
(via The Verge)