Canon's New 70-300mm II is Its First with an LCD Info Display
The rumors, patents, and leaks have finally come true. Canon today announced its new EF 70-300mm f/4.5-5.6 IS II USM lens, its first lens with a newly developed LCD information display built right into the lens body.

The new lens improves on the popular 70-300mm IS it replaces in critical areas.
First off, the lens features NANO USM technology, which gives it high-speed focusing in near-silence, allowing photographers and videographers to quickly, accurately, and stealthily focus for both stills and videos. NANO USM combines the speed of an ultrasonic motor (USM) with the smoothness of a stepping motor (STM).
The new 70-300mm also boasts an image stabilization system that compensates shake for the equivalent of 4 stops, helping you capture sharper photos with less unintended blurring.
At the base of the lens is a new Lens Information Display. Following in the footsteps of Zeiss, Canon is adding the first digital display.
In one mode, the display shows a distance scale with depth of field markers — what the physical windows of Canon lenses already show:
Press the "Mode" button next to the display, and it will change to show you your current focal length.
What's neat is that if you mount your lens onto a crop sensor body, the digital display will actually show you the 35mm equivalent of what your current focal length is.
Finally, press the Mode button again, and the display will show you a graphic display of detected lens shake.
If you'd rather have the display show a black background and light characters, you can hold the Mode button in for 2 seconds.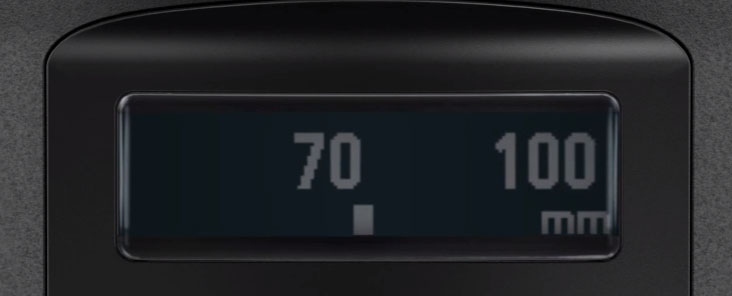 Other specs and features of the lens include a special UD lens element for reducing chromatic aberration, a 9-blade circular aperture for smooth bokeh, and full-time manual focus for focusing in AF mode.
The new Canon EF 70-300mm F/4.5-5.6 IS II USM will be available in November 2016 with a price tag of $550.