DJI Osmo Mobile is a 3-Axis Handheld Stabilizer for Your Phone Camera
Less than a year after announcing its DJI Osmo camera with its 3-axis brushless gimbal, DJI is back with yet another handheld stabilizer… this time for your smartphone. It's called the DJI Osmo Mobile.

It's a stabilization system that turns your phone camera into an "intelligent motion camera," DJI says. The product has the same 3-axis gimbal stabilization and SmoothTrack technology that's found in the original Osmo, allowing you to shoot stable photos and videos on the go.
The 3-axis stabilizer helps increase precision down to 0.03 degrees of accuracy, and the SmoothTrack technology helps compensate for hand shake and other small movements.
If you'd like to shoot an action selfie, you can use the ActiveTrack technology built into the DJI GO App, which automatically keeps your smartphone facing you as you move about.
"You no longer have to choose between recording a moment or taking part in it," DJI says. "Do both and share scenes from your life that people have never seen."
The app also allows you to control your smartphone camera's settings, including switching between front and rear cameras, and adjusting things ISO, shutter shutter speed, and white balance.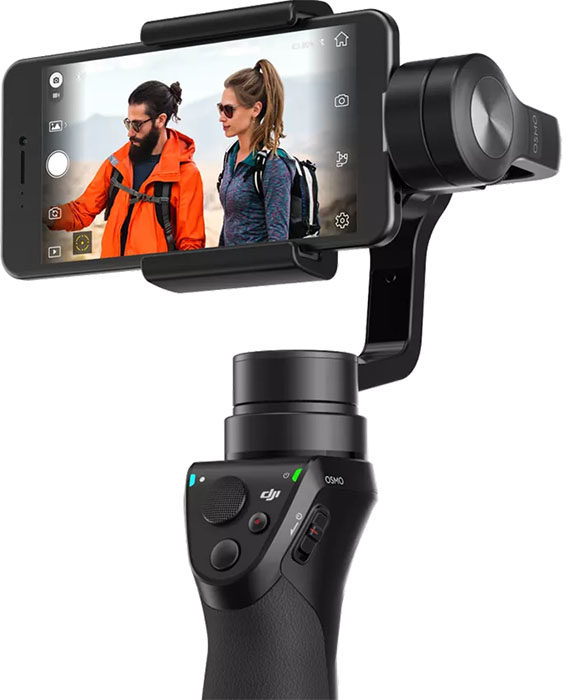 Double tapping your screen will recenter your gimbal. Triple tapping it switches between cameras. Long pressing your screen will lock the gimbal's direction. Different operation modes of the stabilizer include Standard, Portrait, Flashlight, and Underslung.
Here's a short promo video that introduces the new DJI Osmo Mobile:
The DJI Osmo Mobile is compatible with most smartphone models — any iOS or Android phone with a width between 2.31 and 3.34 inches — and is shipping starting today with a price tag of $299.