PSA: SanDisk CFast 2.0 Cards Corrupt Some Canon 1D X Mark II Photos
Canon has released an official service advisory for the 1D X Mark II that you'll want to pay attention to if you're one of the few already using the new camera. Apparently, some SanDisk CFast 2.0 cards don't play well with the 1D X Mark II; in fact, they'll corrupt some of your images.
The issue, says Canon, is on SanDisk's end. When you insert certain SanDisk Extreme PRO CFast2.0 cards (serial numbers in screenshot below) into the camera or a card reader, "the bottom part of still images recorded may be corrupted." Specifically, Canon says, corruption can show up "in the bottom right corner" for RAW files and "in the lower third area of the image" for JPEG. Movie recording is not affected and recording to regular CF cards is also safe.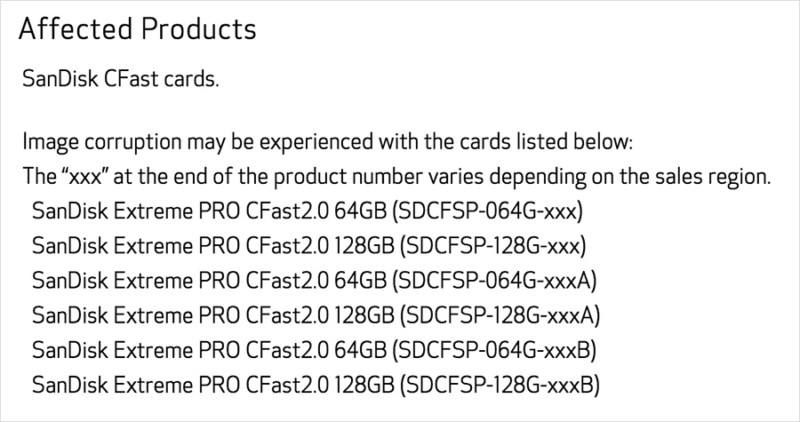 Canon claims this issue has been "confirmed" to be a SanDisk issue; however, they'll still be releasing a new firmware version in early July (Ver 1.0.2) to address the problem. In the meantime, they have suggested a workaround.
It seems affected photos are usually the last few taken before a user powers off their 1D X Mark II. And so, if you're lucky enough to have this camera in-hand already and you don't have a different card at your disposal, simply take a few extra shots before powering the camera off. Take at least 1 extra RAW shot, 3 extra "L" size JPEGs, 4 extra "M1" size JPEGs, 5 extra "M2" JPEGs, or 8 extra "S" size JPEGs.
To read the full advisory, click here.