XQD a No-Show at Photokina, SanDisk Opts to Avoid the Format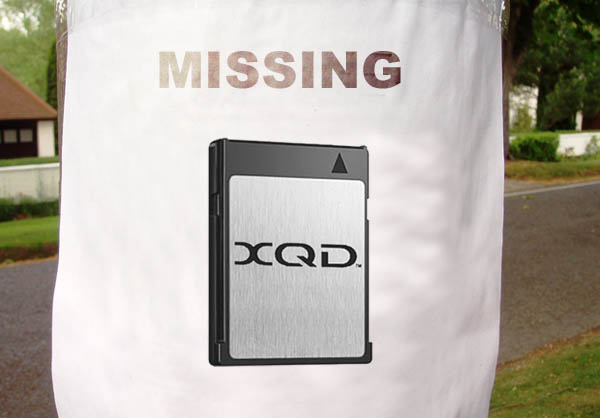 When XQD memory cards were announced in December 2011, the CompactFlash Association touted the format as the successor to CompactFlash cards. We definitely seemed to be moving in that direction at first: one month after the unveiling, Nikon's flagship D4 DSLR was announced with XQD card support. The day after that, Sony became the first major memory card maker to announce a line of XQD cards. Six months later, Lexar also announced its intentions to join the party.
Since then, things have died down to the point where you can hear grasshoppers chirping. Not a single XQD-capable camera was announced at Photokina 2012 this past week. Despite being the first to make them, Sony strangely decided to leave the cards out of its top-of-the-line cameras as well.

The CompactFlash Association doesn't seem to be phased by the current lack of enthusiasm. The weekend before Photokina, it went ahead and announced the development of version 2.0 of the XQD specification:
The CompactFlash Association (CFA) is pleased to announce the development of the XQD 2.0 specification, sponsored by Sony Corporation. The XQD 2.0 specification will be developed in the XQD Technical Workgroup and will leverage the XQD 1.0 specification which was released October 2010. Additional participation in this specification development will be welcomed.

XQD 1.0 cards and connectors are already available in the marketplace. XQD 2.0 will leverage the same connector interface as XQD 1.0 interface for higher performance and backward compatibility. Host manufacturers and media manufacturers will be able to leverage the next generation of PCI Express technology to serve the high performance requirements of this market.
PhotographyBlog spoke with SanDisk representatives at the show, and learned that SanDisk doesn't have XQD in its future plans at all.
SanDisk have confirmed that they will not be producing XQD flash memory cards […] Susan Park, Director of Product Marketing, Retail Imaging, said that the market-leading company have instead chosen the CFast 2.0 standard for their future high-end cards.
SanDisk is reportedly working with Canon to bring CFast card support to its cameras.
It'd seem like there's a memory card format war developing (CFast for Canon and XQD for Nikon?), but the kicker is that the Compact Flash Association is, along with SanDisk, the co-inventor of the CFast 2.0 specification.
---
Image credit: Illustration based on Woody Is Lost by Ewan-M