Review: The Fujifilm X-Pro2 is One Solid and Sexy Camera
Take a moment, rewind back to March of 2012 and remember the buzz that surrounded the release of the Fujifilm X-Pro1. Many of my close photography friends — professionals, casuals, Sony fanboys, and even film shooters — were talking Fuji and discussing how they must have the X-Pro1.

The rangefinder-styled X-Pro1 was revolutionary, not just technically, with it's fantastic 16mp APS-C sensor and hybrid viewfinder, but visually as well. The aesthetics represented the beginnings of a design idea that would quickly take over the photography world. Yes, other companies had done the new-school-camera-in-a-retro-body before, but none had managed to build one that photographers, en masse, wanted to actually use as their daily.
When rumors of an X-Pro2 surfaced almost three years ago speculation bounced from the downright negative: "they say that the X-Pro2 may never happen", to the outlandish "rumor has it the X-Pro2 will feature a 36mp medium format sensor and will actually be called the X-Pro Z One".
Okay, maybe my memory of these rumors isn't entirely accurate, I'm not one to subscribe to the pointless and inaccurate supply of tips from "trusted sources", because 99.99% of the time, they're just that, inaccurate.
Point is, fans — hardcore Fujifilm X-Pro1 user especially — wanted more, a lot more.
Falling In Love, Again
When I got my X-Pro1 back in 2012 it was magical. My DSLRs felt gigantic by comparison and sat on the shelf for anything but weddings and commercial work. Letting go of the big cameras for a fling with this Fujifilm temptress was one of the more enjoyable experiences from my digital photography days.
My love affair with the X-Pro1 was beautiful till like most love affairs, I began wanting more. It wasn't full frame, it was slow, it was cumbersome and while it made great photos, so did a lot of the other cameras coming to market that didn't have the testing mannerisms of the X-Pro1.
We broke up and I moved onto the Sony A7, the X-Pro1 just another notch in my bedpost.
Living In The Past, Man
The X-Pro1 was released a long time ago in the world of digital photography. A lot has changed. In fact, Fujifilm have released so many camera between then and now that I've lost count.
Comparatively speaking, given the age of the X-Pro1 and how dated it's stats now are, it's unfair to compare it with the new X-Pro2, so let's add in it's next youngest sibling, the X-T1. I'm not going to spend much time here, this isn't exactly a comparison "shootout" style review, but here's a quick run down of the differences that actually matter, between the three.
The X-Pro2 is a 24.3MP X-Trans CMOS III APS-C sensor to the 16MP of each of the other two, Fujifilm's highest ever pixel count. It has more autofocus points, a lot more, 273 of them in total, all accessible. The other two have just 77 for the X-T1 and 49 for the X-Pro1. The X-Pro2 has an ISO range of 200-12800 (100-51200 in expanded mode) versus just 200-6400 of the others.
The X-Pro2 and X-T1 have a total of 6 configurable buttons whereas the X-Pro1 had just 2. Both of the newer cameras can do AF tracking, Eye Detection, AF in MF, Wi-Fi and the Customized Q button Menu. While the rear screen remains sized to 3″, the X-Pro2 is much improved to 1.62M-dot (900×600) against the X-T1 at 1.04M 720 and the X-Pro1 at 1.24M 640. Unlike the X-T1 it's unfortunate that X-Pro2 does not have a tilting screen.
The X-Pro2 has dual card slots — capable of sequential, backup and RAW/JPEG sorting — to the single slot of the others. Flash sync is now the industry norm of 1/250th, a max frame rate of 8FPS (versus 8 and 6), a max shutter speed of 1/8000 (m) and 1/32000 (e) versus the X-T1/X-Pro1's 1/4000. Like the X-T1 the X-Pro2 does 1080p at 60p (up from just 24p on the X-Pro1).
The X-Pro2 comes in at just 495g (1.10lb), with a battery life rating of 350 in optical and 250 in EVF. The X-Pro2 can do timelapse recording, records video in MPEG-4/H.264 and 14-bit raw in compressed or uncompressed.
The X-Pro2 is $1699, the X-T1 is $999 and the old man of the bunch, the X-Pro1, is $499 but easily had for less on the used markets.
Great Specs, Now What?
The X-Pro2 is a lovely camera, no question. The appealing half-matte black hasn't changed and the magnesium-alloy shell gives me no question this camera will last a lifetime. There are a few physical changes to the design of the body and for that I am thankful.
Out of the box it fills the natural grip of my hand quite nicely. This is undoubtedly due to the newly reworked front and rear grips, both significantly raised in comparison to the gently sweeping nature of the previous generation. Both the front and rear are now rubberized with a significant bump that protrudes at a nearly 75 degree angle perpendicular to the camera body itself.
I didn't even attach a strap for the first couple weeks I tested the X-Pro2. With the X-Pro2 the thumb grip and the finger grip were just enough for short periods of shooting… a few pictures here, back in the shoulder bag… a few more here, back in the bag.
I couldn't have gone strap free on the X-Pro2 for a few hours strolling through NYC but I couldn't even take pictures of my dog napping on the couch with a strapless X-Pro1 without straining my pinky as it braced near the battery door.
The fact that I can even hold the X-Pro2 for even a few minutes without a wrist strap represents a significant improvement over the laughable grips that came with the X-Pro1 back in 2012.
Aside from the obvious improvements to the overall clutch of the camera there's a new mechanic for selecting ISO, a larger EV adjustment dial and for our Canon shooter there's a familiar friend: the joystick or what Fujifilm call a "Focus Lever".
Body and Handling: The Great, The Good, The Ugly
Aside from the ISO dial — which I'm going to touch on at length in a moment — there's nothing particularly bad about the ergonomics and button/dial layout of the X-Pro2.
There are trivial annoyances, such as the rear dial being sat a little too deep in the body. It is challenging to make quick contact with it to rotate or, especially, use it as a button. They shouldn't have changed it from the X-Pro1, it was fine.
And in my eyes the Q button is still in the wrong area (under my hand!) to be used as it is meant to be used. It should be positioned left of the LCD, navigated via the joystick, or even accessed via longpress on the joystick. The AF-L button should be along side the joystick. But other than that, there's no major flaws, except one.
The ISO dial is arguably one of the most eye-catching and visually appealing features of the new X-Pro2. But it is in my opinion, form over function.
As the noise control and general quality of higher ISOs gradually grow better and better, more and more photographers, especially those only of the digital age, have three values they freely adjust to make a picture: Shutter, Aperture and ISO. Gone are the days of loading your film and making a decision for the next 24 frames.
The top down view, pull-up release operator of the ISO dial when put into regular use, will grind away at your patience. But not why you'd expect.
Many would think the top down view of the ISO dial would be what's irking me, but bringing camera to chest level to change the ISO was something I learned to take advantage of. It slowed me down and allowed me to look around and size up the immediate area for potential photos. If you've read any of my other reviews you will know I am a fan of anything that positively slows down the process. In all my shooting with the X-Pro2 there were multiple pictures I most certainly would have missed, if not for this.
It is possible to change the ISO without looking away from the viewfinder if you're shooting two-handed. It is cumbersome but the muscle memory can be learned.
If it seems like I'm lingering too long on something so simple it's because it's most definitely going to be a hotly contested element of this camera's design. There will be those that love it, like me, those that don't care because they're Auto ISOers, and those that hate it… like me.
Hah! Got you. I both love it and hate it. I'm not simply hedging my bets in an attempt to avoid rubbing readers the wrong way but it's true, here's why.
I love it for all of the reasons above and hate it because it's usually upside down as soon as I rotate the shutter speed dial. This upside down issue wasn't usually a problem on film cameras because unlike the X-Pro2 older film cameras only showed the full ISO stops, whereas the X-Pro2 shows ISO in thirds and you rarely changed ISO while you were actually shooting.
Jamming every stop in there leaving little spacing between each one makes it kind of hard to quickly discern what you're looking at when it's upside down.
This spacing issues isn't obvious when looking at a product shot photo. Unlike your hands, your body, etc. the still photo is just that, still and it's easy for your eyes to focus on an upside-down 3200 on the dial. In the real world it's a different story. Within the first ten minutes of using the X-Pro2 I was cursing out loud at this ISO dial and searching the menu for a way to re-map it to one of the two dials.
But there isn't a way to map ISO to one of the dials or other selectors. This stinks for anyone who tends to flick around the ISO dial. You'll likely find yourself on Auto with your limits predefined in the menu. Not optimal but it will work.
Furthermore, if you're not careful the ISO ring frequently landed in a halfway spot between two ISO settings, not having fully seated itself back into a locked position. I'd then find myself accidentally shifting the ISO as I adjusted my shutter speed.
I love the ever so nostalgic mechanic of lifting and adjusting the ISO. I love that it forces me take shape of my surroundings. I hate the fact that this was all clearly made to be used in A mode at all times. The dial is frequently unseated, upside down and it is hard to learn to use without actually looking at it.
Although I made many photos because my "Go-Go-Go" mindset was forced to take a breath and look around, I lost just as many because I had to fumble with a 20th century ISO ring on a 21st century camera.
Maybe by the X-Pro3 they'll have figured how to do both the form and the function – E Ink perhaps — and we won't need to read upside down because it will flip depending on ring's orientation on the dial.
While this is the X-Pro2's major flaw some may say I'm being pedantic on the matter, maybe so. But this ISO business will be the reason you see a lot of used X-Pro2's for sale with only a few hundred shutter actuations. Many will love it but many will be driven bonkers.
From the ugly we get to the good, the new EV Adjustment dial is larger, firmer and less likely to be accidentally shifted. It also includes a new C mode expanding EV range +/- 5 stops via one of your control dials.
Last but not least, the great, and boy oh boy, is it ever great. Finally, the joystick has entered the building. Simple but effective, the new joystick is the selector for all 273 of the AF points. You can also navigate and interact with the menus because it doubles as a button.
With respect to placement of the joystick I think it's nearly spot on. It's click registration and directional feedback are perfect. It'll be fine for 99% of the people out there but it needs to shift to the right just fractions of an inch. Nothing major, just a tweak to make usability — especially with one hand — a little more fluid.
Excluding that minor grievance on the placement, there's nothing bad to say about it or really, nothing else to pat Fuji on the back for. It's a joystick, it works. It's a game changer for anyone who is an avid focal point selector when they shoot — like me — and frees up buttons to be customized.
Weather sealing! Wet and cold climate friends can finally stick out the showers as the X-Pro2 adds 61 points of dust, water, and cold resistance. Is the camera water proof, no, but it's going to be tougher in poorer conditions.
There's a front control dial, a bi-directional lever with a button, a larger and clearer viewfinder that is more favorable to photogs who wear glasses then the X-Pro1, a new more rangefinder-esque looking AF-Assist light, the stereo microphone has been relocated to the top, sitting just in front of the hot-shoe, the shutter still takes a plunger release trigger, the size and weight remains virtually the same as the X-Pro1, and the buttons previously found on the left of the LCD are now on the right.
That just about sums up the body and handling of the new X-Pro2. Compared to the X-Pro1 many improvements have been made.
Fine But How Is It To Use?
On paper the LCD is much improved over the X-Pro1's and does it ever show in person. As example, I shot a basic snap of my backyard and the side by side differences were very apparent.
On the X-Pro1 the winter worn brown-green grass was smeary and had no real definition. The X-Pro2 felt vivid, with detail preserved among the tufts of grass. The chain link fence was 100% visible on the X-Pro2 but actually invisible on the X-Pro1. While image quality improved through the viewfinder of the X-Pro1 versus its LCD, same goes for the X-Pro2, though I did have to bring up the brightness of the EVF +3 to match what I was actually producing.
All of this will come in handy when you're quickly confirming the details in your shot like focus accuracy and the detail in your highlights and shadows.
Quality of the new "Advanced Hybrid Multi Viewfinder" — which now includes a diopter — is night and day compared to the X-Pro1. Set the camera to "performance mode" and the EVF refresh rate rides at a fantastic 85fps. For comparison the X-T1 does just 54fps, so major improvements have occurred in the X-Pro2's OVF/EVF.
Keep in mind that performance mode will also drop the battery rating from 350ovf / 250evf to 210 on the EVF. I suspect most X-Pro2 owners will have multiple batteries anyway, judge accordingly.
You can of course switch to the optical view if you prefer, which offers the pop-in window for focus confirmation and also a magnifier that slides in over the entire field of the OVF's view on any lens over 35mm. This increases the viewfinders magnification from .38x to .6x. Honestly, it's a bit of a pointless tool because after 75mm you're still composing your pictures in a little box.

Autofocusing on the X-Pro is nimble, street shooters rejoice.
This photo was autofocused, composed and shot in a matter of about two seconds, raising my camera from hip height as I gracefully turned to my left and pulled the trigger.
Helping to speed all of this up is the new X-Processor Pro CPU. This speeds up a lot of the functions of the camera, from image display on the rear to general image processing. The specs on start up time, af time, shooting interval, and shutter lag are so quick I'm not sure it would matter if they got any faster.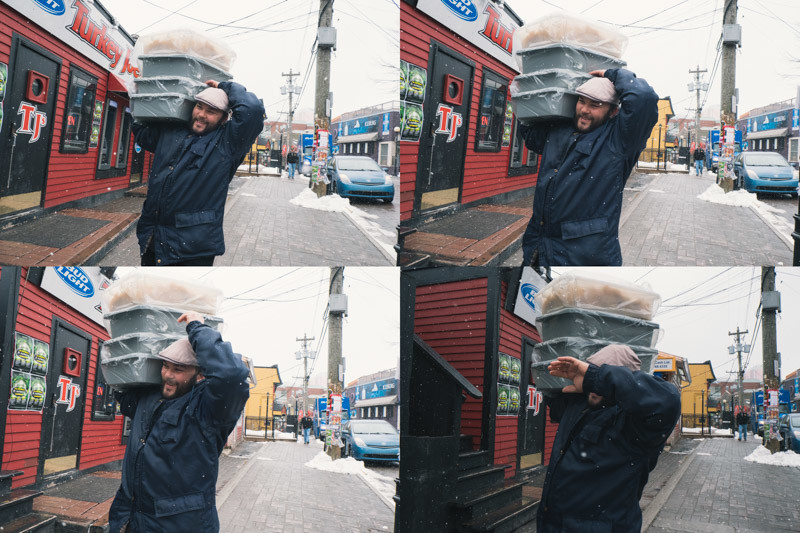 In my informal testing lab (aka my desk with bagel crumbs nearby) the X-Pro2 down right demolished the X-Pro1 in the "!panicmode! turn it on, focus and take a picture A.S.A.P" test meant to emulate those moments when you absolutely positively must make a picture of a rare bird before you scare it off.
Helped by not only this new X-Processor Pro but also a larger buffer I have to give kudos to Fujifilm for resolving the biggest complaint on the X-Pro1, its speed, or lack there of.
Even pre-focusing the X-Pro1, the X-Pro2 still beat it handily.
When it comes to manual focusing Fujifilm gave the X-Pro2 a few new tricks including both focus peaking in three colors (red, white and blue), the pop-in picture-in-picture box, and a digital split image. All three work well, as they should.
The picture below shot with Nikon's 70-200 2.8, at 200mm hand held and manual focused on the X-Pro2. Second image is a 1:1 crop from middle.
Coming from the Sony A7 where I've gotten rather proficient with the focus assist magnifier/zoom method of taking pics, I quickly worked the digital split image into that workflow and missed it dearly when I moved back to my A7.
Just that extra little tool when pulling manual focus makes all the difference in the world. Rarely do I miss with the A7's focus magnifier method — I'm not keen on the peaking — but the digital split prism just sped my process up a notch.
The X-Pro2 comes in hot with a new, very ear pleasing, focal plane shutter, rated to a consumer-level-camera standard of 150,000 actuations (pro bodies usually sit around 300,000).
I would actually say that the X-Pro1 is marginally quieter than the X-Pro2 but the X-Pro2 is a little higher pitched, making it a little more pleasant than the clunky and drawn out X-Pro1 which sounds rather steampunk by comparison.
Finally there's no dedicated video record button, perhaps driving home the idea that this may be more of a B-Roll camera than your primary for video work. And while it's easy enough to remap "record" to the Fn buttons, I just think people doing serious video work will opt for other cameras as their main. This will make a lovely backup/second though.
The Menus? Your menu? No, My Menu!
In the X-Pro2's software there's a new feature called My Menu, a customizable menu page that will also be the first page seen when you hit the menu button. Very convenient, it's been added to help mitigate poorly organized Fujifilm menu architecture, the My Menu is also going to help those using the X cameras as a secondary system.
The My Menu is a secondary Q menu for deeper camera settings like Power Management or EVF brightness, things which the Q button menu can't adjust. If you're like me and never use the Q button you can also add just about every Q menu option into your My Menu.
The X-Pro2's menus are much improved over those of the X-Pro1, but even with these improvements, after nearly a month of use, I still find myself hunting in the X-Pro2 menu. There's weird things like having to drill down into "User Settings" to find Format or not actually having the ability to Add Items directly in the My Menu, instead having to drill down under User Settings for that too.aa
Oddly you can't add anything from the Set Up menu to your My Menu, making it more troublesome than it should be to change Power Management modes (swapping between 85fps in your EVF to 54fps when you need it, as example).
Okay, okay… How Good Are The Pictures?
I've been kind of dancing around picture quality already, trying not to delve too deep into it proper, but here we go.
The Fujifilm X-Pro2 features the new X-Trans CMOS III sensor, that's a full 3 more X-Transes than the X-Pro1 had, delightful! Pixel Mapping has also been added to the X-Pro2 enabling the user to force the camera to detect the dead or stuck pixels and sample the area around the bogus pixel, inserting its best guess as to what the sensor should truly be showing.
Color rendition is very accurate. I was shooting both JPGs and RAWs and have been both impressed and happy with the results of both. I blindly took my RAWs and after the necessary adjustments inherent to all RAW files found that what I wound up being satisfied with for my RAW output closely, if not precisely matched the straight out of camera JPGs.
With respect to the dynamic range Fujifilm include their highly regarded DR system in steps of 100%, 200% and 400%. It's just as fantastic as it was when the X-Pro1 was released way back when. Shooting at 400% still makes low-noise, high range photographs, preserving a lot of detail in the highlights while still gaining depth in your shadows, straight out of camera.
This is reflected in Camera Raw as well where I can now pull almost 5 additional stops of light out of the dark areas of my photographs without the whole thing turning into a noisy mess.
Noise itself is well contained right up to it's maximum. In truth, if I was on vacation with no real intentions on printing anything, or if I did I knew it wasn't going to go anywhere but my own walls, I'd feel very comfortable leaving it on A and allowing the camera to do its thing. Here are some comparative samples against the X-Pro1.
All straight out of camera JPG 1:1 crops at 100% DR, no noise reduction.
There are other sites which no doubt go far deeper into the nitty-gritty of the 24.6 megapixel X-Trans III sensor quality, but they're going to tell you what I'm telling you now: the X-Pro2 makes amazing photographs.
Conclusion
The Fujifilm X-Pro2 isn't free of imperfections. The Q and AF-L button placement still sucks. The joystick is an amazing addition yes, but you will no doubt find those commenters saying "meh I never use the joystick". The ISO dial is eye candy, it's deplorable how impractical it becomes when called into action. For many this will be a window that says A or H. The rear dial lacks the tactile feedback that such a button should have.
But…
The camera is fast, has an improved menu and EV adjustment dial, dual card slots, a top-tier hybrid viewfinder, and it makes stunningly beautiful photos. It fits in your pocket, is easy to hold for long periods of use. Most importantly, it is really, really f-ing sexy.
There, I said it.
You were all thinking it, so I said it. This camera's sex appeal is all that matters. The X-Pro1, even for its time — sensor quality aside — was behind its time. Users complained from the day they took it out of the box about this usability feature or this random issue. But we bought it, didn't we.
Lots of firmware updates aimed at improving quality of life and the X-Pro1 was still slow, if not painful to use. It made great photos, sure, but one thing never changed, its looks.
And it is for that reason alone — and well, you know, it makes amazing pictures — that a lot of you will buy this and should buy this. It's fun, free of the core problems that plagued the X-Pro1 and more than capable in anyone's hands.
And yeah, it's damn f-ing sexy.
TL;DR: This was probably the only thing you wanted to know some 4000 words ago: they fixed the battery slot, it only latches in one orientation now and the tripod threads are centered with the lens mount.