Fujifilm X-Pro1 Next to the Leica M9-P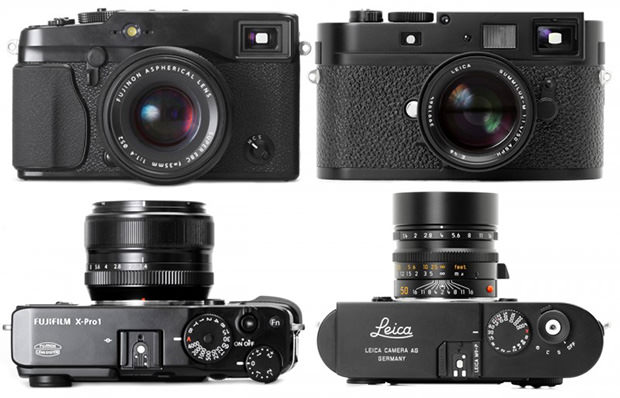 dpreview has published an in-depth hands-on preview of the new Fujifilm X-Pro1. The image above shows the camera next to a Leica M9-P digital rangefinder, which costs about $8,000 — body only.
It's not rocket science to work out who Fujifilm are really gunning for – the X-Pro1's similarity to the Leica M9 demonstrates the company's refound confidence, having already placed the X100 squarely up against the Leica X1. It's pretty clear that Fujifilm very much sees the X-Pro1, with its hybrid viewfinder and infinitely-variable framelines, as the modern autofocus reincarnation of the classic rangefinder. Let's not forget that the company is no stranger to the high-end professional market – it may have had a hiatus of several years, but made a wide range of medium format film cameras.
They also have side-by-side comparisons with other cameras as well.
Fujifilm X-Pro1 Hands-on Preview [Digital Photography Review]
---
Image credit: Composite photograph by Digital Photography Review