I Shot Expired Film at the Daytona 500
A box of super-expired E-6 and C-41 35mm film has been sitting in a box in my closet for years, slowly filling up with random rolls collected from friends, found in old camera bags leftover from internships, and the like.

This isn't film that expired just last year. This is film with expiration dates like: March 1996, November 1975, April 2004, January 1992, October 2006, etc… Expiration dates that are probably older than some of you reading this. Film from before having flares and crazy-whack color shifts became an app on an iPhone.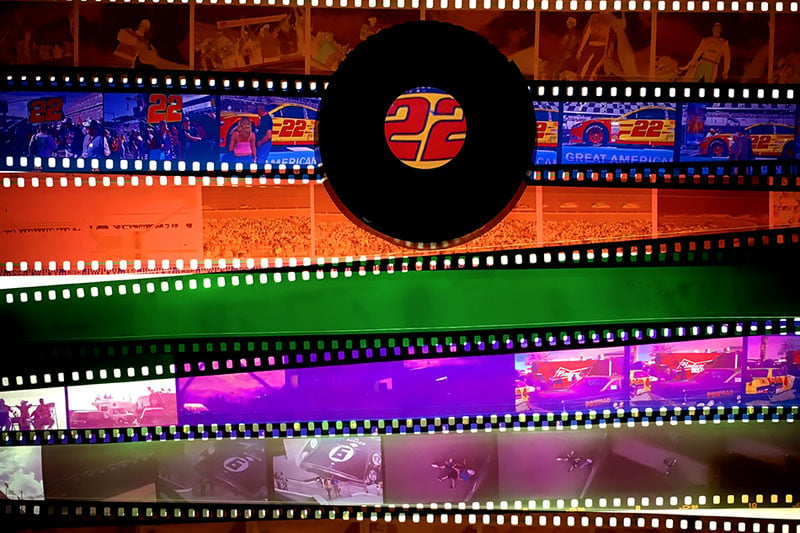 Some of this film was around when Zack Morris had a brick phone on Saved by the Bell and Kurt Cobain was still thrashing around with Anarchist cheerleaders in a gym.
I have been waiting for some project with an editor with a little gamble in him/her to do this kind of shoot, but with a credential for the Daytona 500 (and no assignment), this seemed like the time to break out the rolls of film and take the risk.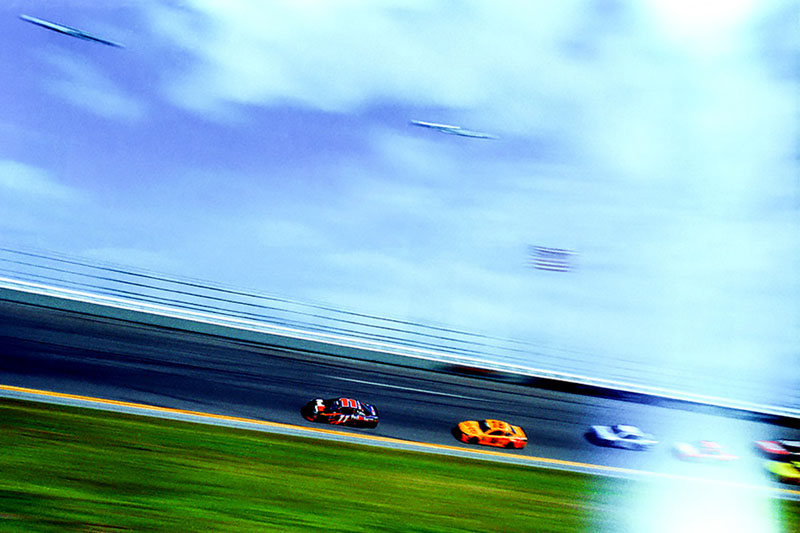 I had no idea once I processed film if I would even get anything usable, but my hope was to get images that echoed the timelessness of Daytona and it's fan base. I packed up a couple film bodies (Nikon FM + FE-2) and grabbed a 50mm and 35mm for each and left the house with just that and a ThinkTank full of film at 4am and headed across the state to the track.
Getting out of the car was awkward. I'm used to rolling up to a huge sports event with a 400mm on my shoulder a suitcase full of Canon pro bodies, an arsenal of lenses, compact flash cards, and strobes. I didn't have any of that. It was just me, a couple bodies clanking together around my neck and kind of a newbie attitude I hadn't felt in a while.
I didn't set up a computer, didn't grab a meal, and definitely didn't format anything. I just went into the raceway and started shooting.
With the first click, I looked like a complete idiot looking at the back of the camera to check exposure as if there was a LCD screen for me to chimp on. I downloaded a light meter app for my phone just to help when I needed it. Upon hitting the end of the first roll, winding the film back into the canister to change rolls made me feel right back at home and comfortable. I just wandered, made photos and felt free.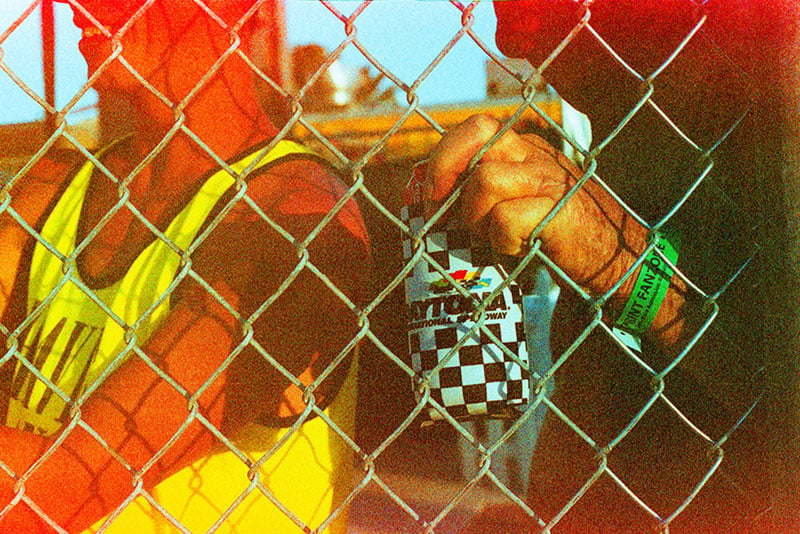 After the shoot, there was no editing (obviously). I just dragged my sunburned, stinky self to the car and tossed 25 shot rolls in a black bag and went home. I was in school/internships when we still shot film, so I had the urge to go process and scan right away. Alas there were no options for that here. I went home, happy and excited to get film out to be processed.
I paid $130 and had the film developed at a local lab — one of the last around here. Each expired roll had its own tint based on its age and care in the aging process. Some were army green and horrendous. Others were magenta cast with a light leak and a cool lens flare across the whole thing that are simply filters on Instagram now. Some frames I had hoped for sucked. Others became something totally different depending on where it hit on the roll.
One roll was a total disaster – the one expired in 1975. Apparently there is a date where film does die. It was 36 frames of foggy emptiness.
This was an awesome experience to approach a shoot with a different process – and that art-making process gets lost in the craziness of this business. Getting imagery out to the world in the matter of seconds just because we can seems to have taken over the fun and thought of what it was like in the film days. Slowing down that process and having an interactive, personal experience with pictures is something I'm so happy to bring back into my workflow – if even for just a single shoot.
We have it so easy now.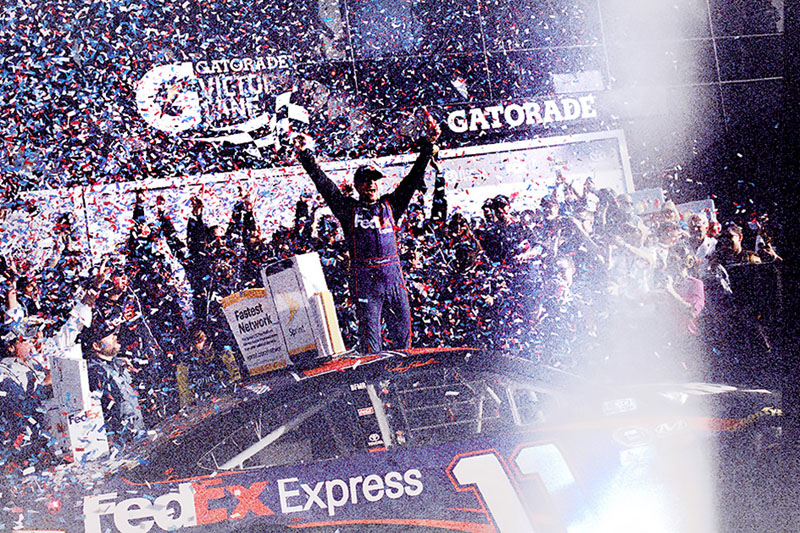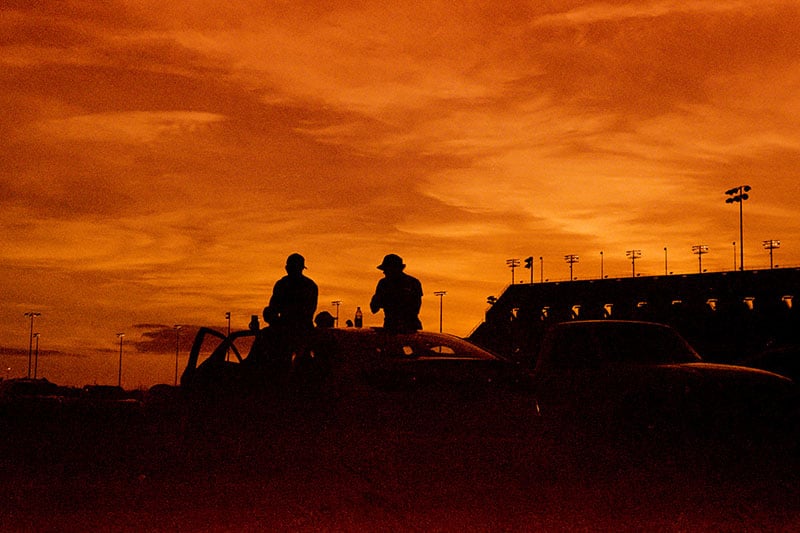 ---
About the author: Chip Litherland is a photographer and self-diagnosed color addict based in Sarasota, Florida. He has spent over 12 years in photojournalism and commercial photography, and his award-winning photos can regularly be seen in publications such as The New York Times, NPR, The Wall Street Journal, ESPN the Magazine, and USA TODAY. You can find more of his work on his website and on Instagram. An expanded version of this article was also published here.