Sony Unveils Its New G Master Line of Flagship Lenses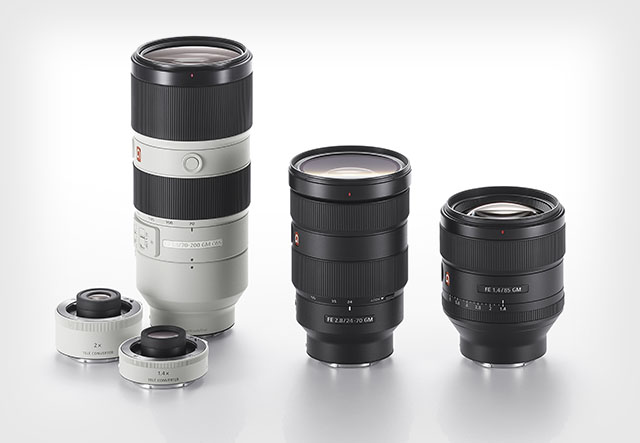 Sony today launched an entirely new brand of interchangeable lenses: the G Master. This line will represent the best of what Sony has to offer in terms of optics.
The brand will launch with 3 new E-mount lenses: the 24-70mm f/2.8, 85mm f/1.4, and 70-200mm f/2.8.


"The new G Master brand represents the finest and most impressive group of lenses that Sony has ever brought to market," says Sony VP Neal Manowitz. "With our knowledge of what the future will bring for digital imaging, we have designed these lenses and can ensure that the G Master brand will inspire and 'wow' photographers and videographers for years to come."
The 24-70mm f/2.8 features special elements for reducing aberrations and increasing resolution, a 9-bladed aperture, special coatings for reduced reflections, a direct drive SSM (Super Sonic Wave Motor) for fast and quiet focusing, dust and moisture resistance, and a compact design.
The 85mm f/1.4 lens has an 11 blade circular aperture (the most offered in an α lens) for smooth bokeh, Nano AR coating for reducing flare and ghosting, a ring drive SSM motor, dust and moisture resistance, and an aperture ring with on/off switchable click stops (for smooth adjustments during video recording).
The new 70-200mm f/2.8 features special coatings (Nano AR and fluorine), a floating focusing system (the first in an α zoom lens) for improved AF performance, a minimum focusing distance of just 0.96m (~3.15ft), a SSM and dual linear motors, Optical SteadyShot image stabilization, dust and moisture resistance, a focus hold button, and a focal range limiter.
Finally, Sony has also announced 1.4x and 2x teleconverters as part of the new lineup.
The 24-70mm and 85mm will be available in March 2016 for $2,200 and $1,800, respectively. The 70-200mm and the teleconverters will be available in May 2016, but pricing has yet to be announced.