Sony Announces 24-105mm f/4 and 400mm f/2.8 Full Frame Lenses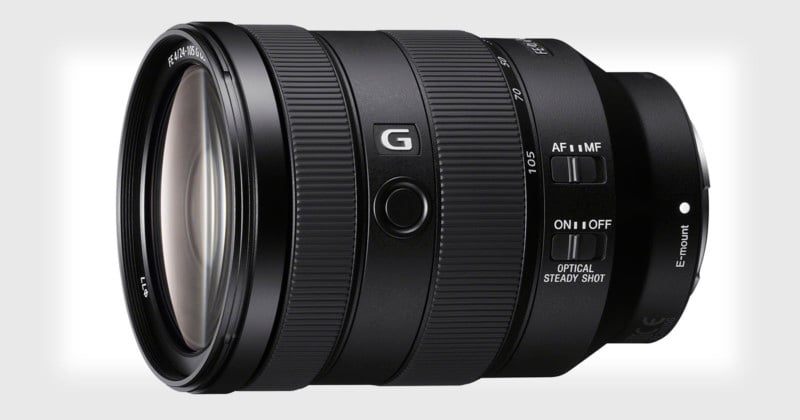 Sony has announced a new FE 24-105mm f/4 G OSS zoom lens and the development of a new 400mm f/2.8 super-telephoto lens, expanding the selection available to photographers using E-mount full frame mirrorless cameras.

The Sony FE 24-105mm f/4 G OSS
The new Sony 24-105mm f/4 lens features the popular and versatile 24mm to 105mm focal length range, making it a viable option for a number of different genres of photography, from landscapes to portraiture to weddings.
Weighing just 663 grams (23.4 oz), the lens is the lightest among all 24-105mm full frame lenses.
The lens features special coating for minimizing flare and ghosting, a fluorine coating that repels dust/water/oil, a 9-blade circular aperture for high-quality bokeh, a minimum focusing distance of 1.25 feet (~.38m), built-in optical stabilization, a fast and quiet DDSSM focusing system, a customizable focus hold button, and dust- and moisture-resistance.
Here are some official sample photos captured using the 24-105mm f/4:
The Sony FE 24-105mm f/4 G OSS will be available starting November for $1,300.
The Sony FE 400mm f/2.8 GM OSS
Sony has also just announced the development of a new G Master 400mm f/2.8 super-telephoto lens for full-frame E-mount cameras.
"The new lens will feature the incredible high-resolution and spectacularly beautiful bokeh of Sony's acclaimed line of flagship G Master series lenses, while also offering a far-reaching 400mm focal length and F2.8 large aperture," Sony says. "This combination will deliver a new elevated shooting experience for all professional sports, news and wildlife photographers looking to capture all of the decisive moments with higher image quality."
This lens satisfies a growing need for lenses in the super-telephoto range among Sony shooters, especially with the launch of a high-speed sports camera like the a9.
Sony says it's aiming to launch this new 400mm lens sometime in the summer of 2018.