A Look at Serena Williams' Photo Shoot for the Cover of Sports Illustrated
Here's a short behind-the-scenes video showing how fashion photographer Yu Tsai recently photographed tennis superstar Serena Williams for Sports Illustrated magazine. Williams was featured in the cover story after being selected as the publication's Sportsperson of the Year, the first time an individual woman has taken the award in over 3 decades.

Here's the photo that was selected for the cover: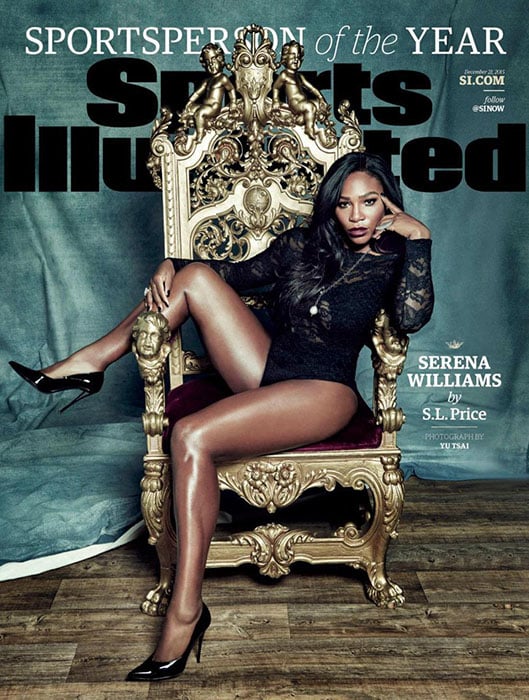 The choice of photo has caused quite a bit of discussion this past week. The Chicago Sun-Times' Rick Morrissey argues that Williams' "doesn't help female athletes with [the] racy SI cover shoot."
"Then the magazine put her on its cover looking like she wants one thing, and it's not a chat with the line judge," Morrissey says. "In the photo, she's wearing a black, lacy, leotard-like outfit, legs draped suggestively over a golden chair. It in no way helps the cause of women looking to be recognized for their athletic abilities."
"A prudish outlook in 2015? Maybe, but it's hard to shake the idea that women, sadly, are still doing what men want them to do, whether they mean to or not."
Sports Illustrated soon tweeted that the cover photo was Williams' own idea that was "intended to express her own ideal of femininity, strength and power":
The cover? Serena's idea, intended to express her own ideal of femininity, strength & power https://t.co/SySVOIbOxx pic.twitter.com/eGFCQWQtzq

— Sports Illustrated (@SInow) December 14, 2015
It appears Williams isn't bothered by the controversy. USA TODAY reports that Williams is "reveling" in the limelight of her cover photo.
"I liked the idea of the throne," Williams told the paper. "I said, 'Listen, this needs to be something that no one forgets, something iconic! I wanted it to be really special… really Serena.' When we went with that, I loved it."
(via Sports Illustrated via Fstoppers)