A Mirrorless Affair Gone Wrong: A Cautionary Love Story
My Canon and I. We were like two peas in a pod. We met when I was just a young man, knowing nothing about love or how to use a camera. My Canon taught me so much so quickly. We would go out everywhere together and my Canon would teach me how to see things in a new light, see things that I've never seen before. My Canon was everything I could ever have wanted.

Beautiful on the outside, but so strong and reliable on the inside. Zoom lenses, primes lenses, my Canon offered me everything I wanted, and helped me grow as person, and as a man. I would never leave my Canon. My Canon showed me so many things, it really was… true love.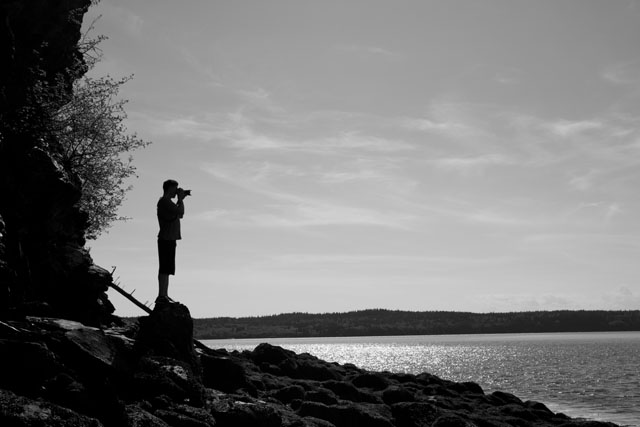 As time went on, as in many relationships, things settled down. My Canon and I weren't experiencing as much excitement as when we first met. We would still go out and explore together, but something was missing, something was… off.
My mind was constantly running. Why was I beginning to have thoughts of… other cameras. I felt horrible about it. But, the thoughts and google searching wouldn't stop. I was losing control, and finally… I turned my back on my Canon. I didn't tell my Canon, but I began sneaking around, after being seduced by the beauty, portability, and just sheer fun of the Fujifilm X100T.
Everything was new, it was a first love feeling all over again. My X100T was so much fun, my X100T would show me so many different things, so many new things. Built in filters, WIFI connectivity, an aperture ring, an electronic shutter that would go up to 1/32,000th! A built in ND filter, it was a exotic and sinful experience.
While my Canon stayed at home, I would bring my X100T everywhere. Car rides to work, to the grocery store, out for walks and bike rides. Although I'm not proud of it, I would even sleep with my X100T, while my Canon was left on the futon. It even came to the point where I introduced my X100T to all my friends!
While searching online one day with my X100T by my side, I suddenly came across a photo of my X100T's older sibling. I didn't want to tell my X100T, but it's older sibling, the X-T1, was so strikingly beautiful, and so many people spoke so highly of the X-T1. It was everything my X100T had, but so much more. I couldn't contain myself anymore, I quickly sold out on my X100T and went straight for the amazing X-T1. Finally getting to hold such a beautiful work of art was intoxicating. Not only did the X-T1 have a beautiful body and multiple dials, but also so many lenses to choose from. I was in heaven.
I was so excited about spending time with my X-T1, I decided it would be a good idea to take a trip with my X-T1. But, as everyone knows, traveling with a significant other is usually a true test of a relationship, and well… this is where things went awry.
At first, things were good. The X-T1 was small, fun, compact and great image quality. The first thing that threw me off was when the X-T1's auto focus didn't work as well as my Canon might have. Now don't get me wrong, my X-T1's auto focus is really good, but could my Canon have been better? I began to think about my Canon again and wondering what I could be doing with my Canon.
The second and most saddening experience I had with my X-T1 on our trip was when we were out at nighttime. My Canon and I loved shooting at night and in all kinds of low-light situations. My X-T1 would fight with me at night, we weren't getting along at all. I suddenly realized the mistake I had made. This fairy tale was over. I screwed up. I missed my Canon.
Luckily, once I got home, my Canon was still there for me, working just as good as ever.
I've leaving my X-T1 behind. Although we had some great times, I'm sure my X-T1 will be happier with someone else.
Don't tell my Canon, but I think I may give another X100T a call… just to see what's up.
---
About the author: Colin Swift is a photographer based in New Brunswick, Canada, who loves to shoot portraits, lifestyle, adventure, and landscapes. You can connect with him on his website, Instagram, Twitter, and Facebook. This article was also published here.