Canon Unveils the M3: A 24.2MP Mirrorless That Feels More Like a DSLR in a Compact's Body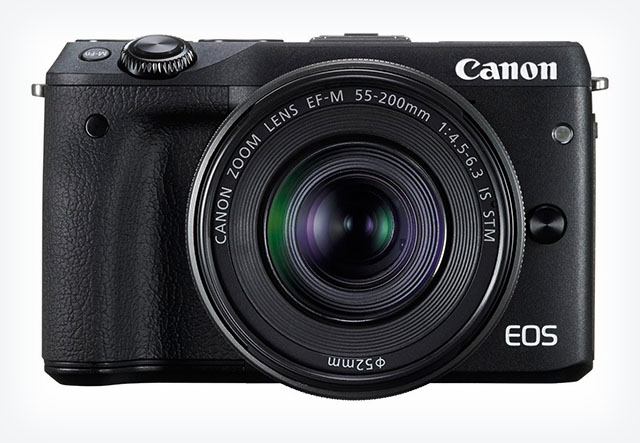 As the rumors foretold, Canon updated its M mirrorless line with a new camera today. The M3 is a 24.2MP mirrorless camera that introduces a new design and user interface to the young M line of cameras.


The camera indicates that Canon is trying to move the M series towards the higher-end of mirrorless cameras. Gone is the simple and smooth boxy design, replaced with an ergonomic and textured grip that provides a better handle on the camera, especially when using longer and heavier lenses.
Gone is the ridiculously minimal physical interface that moves many important controls and settings to the LCD screen. The camera features two new dials on the top of the camera — including an exposure compensation dial — that put more controls in easier to access places. Canon's goal was to make the camera feel much more like a DSLR in a compact's body.
The topside also features a built-in pop-up flash and a hotshoe for an electronic viewfinder attachment.
The LCD on the back is now a 3-inch touchscreen that can flip up at a 180-degree angle and down at 45 degrees.
Inside the camera is the 24.2MP APS-C sensor, a new DIGIC 6 processor, Wi-FI with NFC capabilities, a 49-point AF system, an ISO range of 100-12800, a speedy Hybrid CMOS AF III system that focuses 6.1 times faster than the original M (which was notorious for its slow AF), and 1080p video at 24/25/30fps.
And now, some strange news: Canon is only launching the M3 in Europe and Asia for now, and there is currently no mention of if or when this camera might be available to photographers in the US and elsewhere. For those of you in the launch zones, however, you'll be able to purchase the EOS M3 starting in April 2015 for £600 or €770 (~$915).