Yongnuo Unveils the 50mm f/1.8 II Lens with 'Super Bokeh'
Yongnuo's original 50mm f/1.8 lens was announced in 2014 and received quite a bit of attention for being a clone of the Canon "Nifty Fifty" 50mm f/1.8 II. Now the Yongnuo lens is getting its own Mark II followup: the Yongnuo 50mm f/1.8 II.

The new autofocus lens features an f/1.8 aperture that produces what the company calls a "Super Bokeh Effect." It has a 7-bladed aperture "which helps to take pictures of circular defocused spots or helps to stop down and take pictures of 14-star effect," the company says.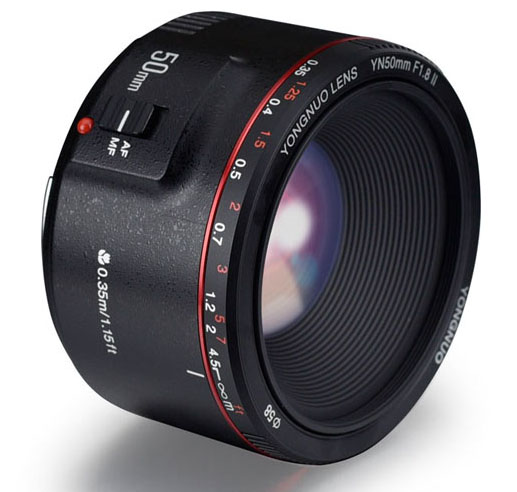 The China-based Yongnuo says that the new lens retains all the "product advantages" of the first lens while featuring a new mechanical structure and coating technology.
"By improving the mechanical structure and coating technology, its focus accuracy, auto-focus speed and light transmittance are increased," Yongnuo says. "Furthermore, it can control backlight ghost and glare."
As with the newly-announced Yongnuo 60mm f/2 Macro lens, the new 50mm f/1.8 II can have its firmware upgraded directly while mounted on a compatible camera instead of having to connect the lens via a USB cable.
Other features of the lens include a durable chrome-plated metal lens mount, a 0.35m (~1.15ft) minimum focusing distance, a focus distance indicator, 6 lens elements in 5 groups, a maximum magnification of 0.21x, a filter diameter of 58mm, and a weight of 162g (~5.7oz).
The new Yongnuo 50mm f/1.8 II is now available through eBay for Canon EF with a price tag of around $74. By comparison, the first version of the lens debuted with a price of $41 on eBay in 2014. No word yet on if the lens will be available in other mounts.
(via Yongnuo via Photo Rumors)