PlexiDrone is an Ultra-Portable Modular Drone That Makes Aerial Photography a Snap
If you're looking to get into aerial drone photography, the PlexiDrone is one robotic quadcopter you might want to look into. It's an ultra-portable drone that can be transported disassembled and snapped together in less than one minute when needed.


The product was unveiled on Indiegogo on October 1st, 2014 by a company called DreamQii. Since then, nearly 500 backers have contributed nearly a quarter of a million dollars toward the campaign.
Here's why so many people are jumping onboard: the PlexiDrone is geared toward portability and simplicity, modularity and customizability. Check out this video introduction to the drone and its features:
Each of the propellers is on a detachable PlexiArm. Taking them off makes things compact, and snapping them on can be done quickly. This design also means that damaging one PlexiArm doesn't put your whole craft out of commission — simply swap in a replacement and you'll be good to go again.
Transporting the drone can be done with the PlexiPack, a hardshell backpack that's designed specifically for the PlexiDrone. It has internal support for each of the drone's components, and the outside features a design that looks like it came straight out of the movie Tron.
Cameras can be attached to the PlexiDrone via a simple snap fit attachment. Fix your camera to the attachment, snap it into the drone, and you're set. This position, along with the retractable landing gear, allows the camera to have a unobstructed 360-degree field of view of the world.
While you won't be able to mount a full DSLR and lens, the drone is compatible with smaller mirrorless and compact cameras.
Flying the drone can be done using a Bluetooth enabled device running iOS, Android, or Windows. Since you won't get much range from your device, there's something called the PlexiHub, which takes your device and bridges it to long range radio.
You can also fly the PlexiDrone with standard RC by attaching a 6 channel receiver.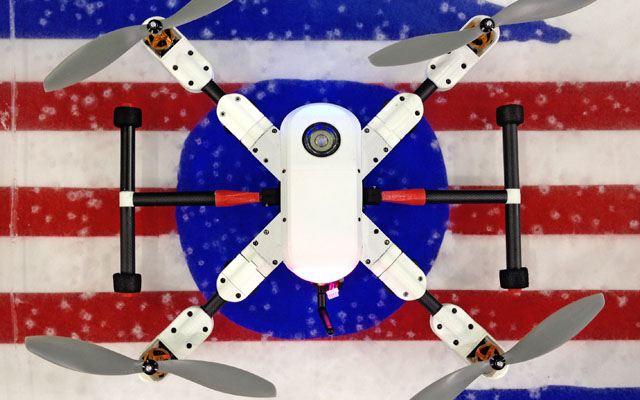 Other features include water resistance, GPS Follow Me (having the drone automatically follow you), Swarm (multiple drones capturing the same scene from different angles), and an ultrasonic sensor (lights and sounds indicate when you get in the drone's way).
Check out the Indiegogo page to learn more. A contribution of $699 will preorder a starter kit that includes a drone, a hub, a battery, and a charger. Higher contribution levels include camera stabilizers and the hardshell backpacks.