DJI Inspire 1: A Sleek Drone That Brings Easy 4K Aerial Imagery to the Masses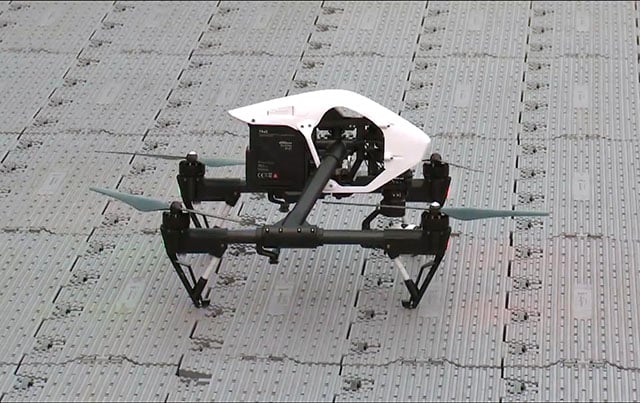 DJI has officially announced its latest camera drone. Called the Inspire 1, the new remote-controlled quadcopter brings 4K aerial video and 12MP aerial photos to the masses in a sleek and easy-to-operate package.


The camera on the bottom is attached via a 3-axis gimble that stabilizes the camera. The downward facing optical stabilizer allows the camera to be completely stable in flight even without a steady GPS signal.
The 94-degree wide angle (not fisheye) lens has an unobstructed 360-degree view of the world. A threaded filter mount allows you to attach various filters (e.g. ND and polarizing) to your camera.
The 1/2.3-inch CMOS sensor inside the camera can capture 4K video at 24FPS and 30FPS, and can shoot 12MP still photos in Adobe DNG RAW. With a modular camera and a detachable payload, the Inspire 1 could possibly be used with bigger and better cameras in the future.
A completely new remote control allows both drone and camera control (e.g. shutter and iris) through physical buttons and dials. Two controllers can be used at the same time to control flight and the camera, respectively.
Jared Polin over at FroKnowsPhoto was given a hands on preview of the Inspire 1, and captured this real world 4K footage using it (you can watch his hands on video here):
Pricing will sit at $2,899 for the drone and one remote control and $3,399 with two controllers. The DJI Inspire 1 sits roughly in the middle of the company's drone lineup, bringing high-end features to a price point that's accessible to more photographers.
---
P.S. If you'd like to check out the official press event in which DJI announced and showed off the Inspire 1, here's a video:
---
Image credits: Photographs and video by Jared Polin/FroKnowsPhoto and used with permission