This Digital Conversion Kit Will Let You Pack a Sony A7 Full-Frame Sensor Inside a Leica M3
Ollie Baker, the 18-year-old tinkerer who made headlines when he turned an old Konica rangefinder into a digital camera using a Sony NEX-5 sensor, is back at it with a Kickstarter project that's even more exciting: he wants to turn your Leica M3 into a digital camera by packing the full-frame sensor from the Sony a7 inside!
Similar to the Konica 'frankencamera' — which you can read about here — the reversible conversion kit will allow you to slap a digital sensor on the back of the iconic Leica and use it just like any other digital camera.
His hope is to create two cameras, one with an LCD screen and another with an ISO dial on the back (like the M Edition 60). Initial plans have him using another Sony NEX-5 APS-C sensor, but if he raises enough money (and the conversion is possible) he'll pack a full-frame Sony a7 sensor inside instead.
Here are the photos from his Konica conversion. The Leica conversion would work much the same: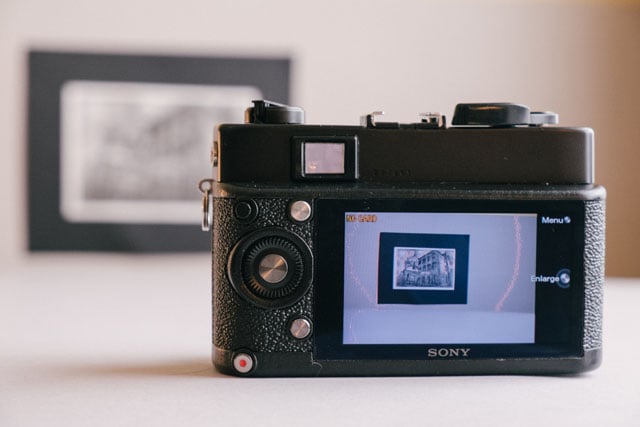 Baker has taken to Kickstarter and is raising £3,000 (~$4,920 USD) so he can, "buy the necessary cameras, spend the time designing [the converted M3] and order the necessary prototypes."
Once he's done, people who pledged £5-£40 will get progress reports and "any help with your own project," while more money will earn you the 3D design CAD files (£60) and a copy of the final 3D printed kit in nylon (£90) or brass (£300) with step-by-step instructions so you can assemble it yourself.
Already he's raised almost half his goal amount and he's got 28 days to go, so there's no doubt in our minds that he'll blow past the initial £3,000 no problem. And that's a good thing, because the more money he raises, the "quicker and cheaper" he can make the final product and the better the chance the prototype will make it into "batch production."
To read up on his plans or support the project, head over to Kickstarter by clicking here.