100 Cameras Will Photograph Berlin with Ridiculous 100-Year Exposure Times
Long exposure photographs are usually measured in seconds or minutes. Use solargraphy, and you might measure in months or years. The longest we've heard of so far are photos spanning decades.
Well, those exposure times are relatively short compared to Jonathon Keats's "century cameras": they're specially designed cameras that will take 100-year-long exposures!

On May 16th, 2014, Keats will be unveiling the cameras he designed to capture the slow, gradual change of cities. 100 of the cameras will be hidden throughout Berlin, Germany, and will be retrieved once the exposures are complete in 2114. If everything goes according to plan, the images will be exhibited that summer.
Future viewers of the images will be able to see urban development and decay over the span of a century captured in single frames.
In one sense, the project is meant to be a commentary on the ubiquity of surveillance cameras. Keats states that, "The first people to see these photos will be children who haven't yet been conceived. They're impacted by every decision we make, but they're powerless. If anyone has the right to spy on us, it's our descendants."
The new cameras are based on traditional pinhole cameras. "My photographic time capsules are extremely simple, since anything complicated is liable to break," says Keats. Pulling off a black tab on each device will start the exposure.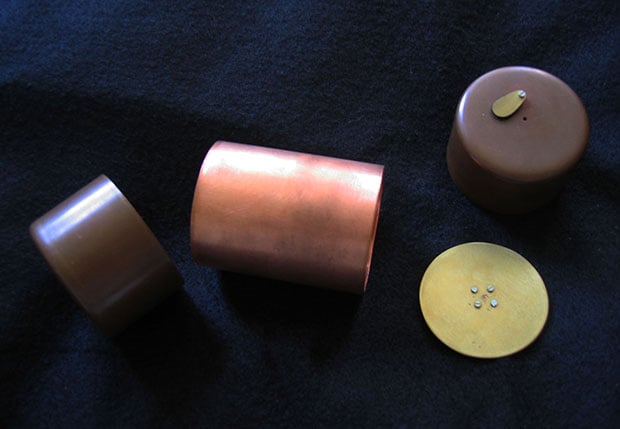 The pinhole on each device focuses light onto a black sheet of paper inside. Over the decades, the light will slowly cause the paper to fade where the intensity is brightest. At the end of 100 years, a unique positive image will have developed on the "film."
Since the exposure will span such a long period of time, the photos will reveal how locations evolve. "The photograph not only shows a location, but also shows how the place changes over time,"Keats says. "For instance an old apartment building torn down after a quarter century will show up only faintly, as if it were a ghost haunting the skyscraper that replaces it."
Placement of the cameras will be crowdsourced. Visitors of the project launch on May 16 will be able to pay a €10 deposit to take one home. They can then hide the devices in whatever location they feel is "worthy of long-term clandestine observation," and are expected to keep the locations secret… until old age.
At the end of their lives, the participants are asked to reveal the secret locations to a child of that day. The system will (hopefully) ensure that in 2114, there will be one living person who knows the location of each camera. The exhibition is scheduled for May 16th, 2114 at the Team Titanic Gallery in Berlin (which is cooperating with Keats on this project).
Keats knows that he won't be around to host the grand opening of the exhibition, but he says he doesn't regret it at all. "For me, it's much more interesting to be here today, seeing the behavior of people who know they're being watched by the unborn, and also to be watched myself, living vicariously as a future memory of the 22nd century."