Deal Alert: Canon Gear, Nikon Gear and the Sony NEX-6 On Sale at B&H
Someone must've heard my birthday was just around the corner, because from now through most of the month of May, Canon, Nikon, and Sony all have incredible deals going on over at B&H. I'll briefly go over some of the best deals below.
The first worth noting is the sale going on for the Sony Alpha NEX–6, which is down from $775 to $525, giving you $250 in instant savings. It also comes with a free SanDisk 32GB SDHC Ultra Class Memory Card, a $25 value.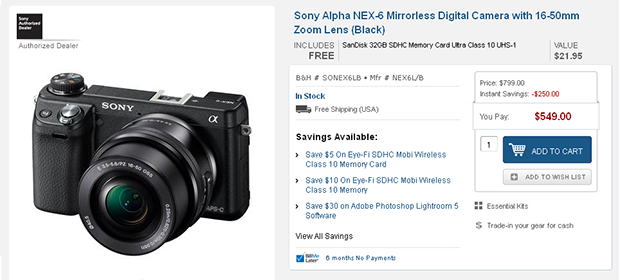 The second set of deals worth noting are the sales going on for Nikon glass and bodies. Attempting to entice you to buy more, they claim "The more you buy, the more you save" offering steep discounts when you purchase bodies and glass together.
While they aren't necessarily off-the-wall savings, there are definitely some great options for those wanting/needing some new gear. Below are a few of the best deals going on over at B&H.
Nikon D3200 – Up to $250 Instant Savings
Nikon D3300 – $50 Instant Savings
Nikon D5200 – Up to $300 Instant Savings
Nikon D5300 – Up to $250 Instant Savings
Nikon D7100 – Up to $480 Instant Savings
Nikon D610 – Up to $400 Instant Savings
Nikon D800/D800e – Up to $200 Instant Savings
The last set of deals going on are those from Canon. As with Nikon, they're offering discounts on both bodies and glass, with more savings being accumulated when combining more gear.
These deals end on May 3rd, so if you're a Canon user looking for new gear, check your bank statement soon and determine how much you can get away with purchasing over at B&H. Below are a few of the best offerings.
Canon EOS 70D – Up to $450 off
Canon EOS 5D Mark III – Up to $200 off
Canon EOS 6D – Up to $450 off
Canon EOS 60D – Up to $450 off
Canon EOS 7D – Up to $450 off
Canon EOS Rebel T5 – Up to $200 off
Canon EOS Rebel T5i – Up to $250 off
Canon EOS Rebel SL1 – Up to $300 off
Canon EOS Rebel T3 – Up to $150 off
Canon EOS Rebel T3i – Up to $150 off