Samsung's New NX Mini is a Super-Thin & Light ILC with a 1-Inch Sensor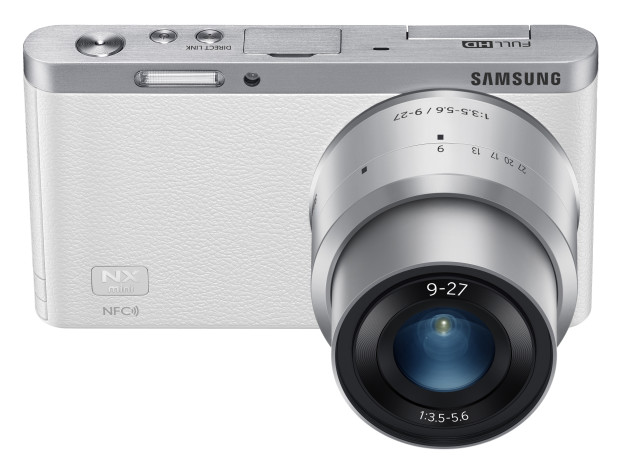 Samsung is reaching out to the smartphone generation today with the release of its thinnest and lightest interchangeable lens compact yet. Actually, to be more accurate, they're reaching out to the smartphone generation with the thinnest and lightest ILC EVER: the NX Mini.
The mini, officially announced late last night, is a curious combination of portability, style and capability. Sleek looks, minimal buttons, super-thin design and a flip-up screen are joined by the kinds of specs you typically find in high-end compacts like Sony's much-loved RX 100 II.
Spec-wise, the NX Mini packs a 1-inch 20.5MP BSI CMOS sensor, a 3-inch 460.8K-dot touchscreen LCD, 6fps continuous shooting at full res, an electronic shutter that maxes out at 1/16000, built-in WiFi and NFC, a battery that will keep you shooting for 600 frames and its own proprietary NX-M lens mount.
Since we're talking about a unique lens mount, Samsung is also unveiling three new lenses alongside the Mini: a 9mm f/3.5 lens (25mm equivalent), a 9-27mm f/3.5-5.6 with built-in stabilization (24-70mm equivalent) and a faster 17mm f/1.8 (45mm equivalent). You will also be able to use regular NX lenses with help from a new $150 adaptor.
Here's a closer look at the white version of the new camera (it's also available in pink, mint green, brown and black):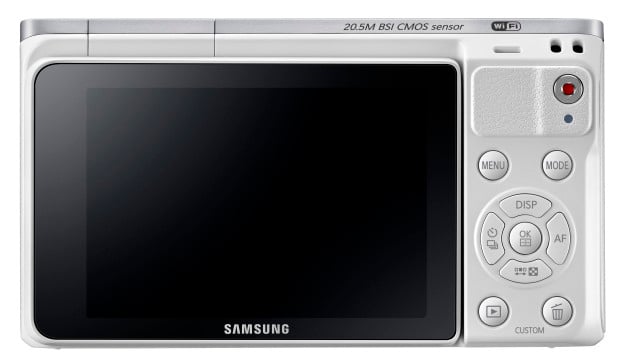 As the thinnest and lightest ILC in the world, the NX Mini is sure to turn some heads. Add in the selfie-centric touchscreen and 'sleek' styling and you've got a camera that might just appeal to a younger crowd.
We just wonder if the added hassle of carrying around glass won't have people leaning towards something like the Sony RX100II or, if they are comfortable taking lenses with them, if the Panasonic GM1 and its MFT sensor won't sound more appealing.
Only time will tell, but Samsung was smart enough to price this camera below both of those options, a big fat check mark in the pros column. Available starting in April in two kits, you can buy the NX Mini for $450 with the 9mm lens or $550 with the 9-27mm zoom. You can also pick up the 9mm and 9-27mm lenses individually for $180 and $280, respectively. Price and availability for the 17mm lens are TBA.