Old-School Photos of People Posing With Old-School Cameras
One of the big trends in the camera industry these days is the stuffing of "big camera" sensors into "small camera" bodies. After all, if you can get the same image quality from a camera that's smaller in size, why wouldn't you want to? (That's the idea, at least).
The quality and portability of cameras these days would be quite astonishing to photographers from back in the earlier days of photography — the days in which you needed both hands and a strong back to work as a photojournalist. In this post, we've compiled photos from those "good ol' days" to see how far photography has come.

The
photograph above
shows baseball player Herman Schaefer hijacking a 5×7 press Graflex camera during a game between the Washington Senators and New York Highlanders in 1911.
Thank goodness for the portability of cameras these days. This is what a portable large format camera looked like back in 1914:
It appears that back in 1937 it was perfectly normal to snap news photos at the US Senate while holding a cigarette between your fingers:
Here's a photo showing members of the White House News Photographers' Association posing for a group picture while clutching their top-of-the-line cameras in the 1920s:
Another group portrait of photographers in the White House News Photographers' Association. This one features 17 of them, and there are tripods:
A photographer posing with his camera and tripod outside the White House in the early 1900s:
This photograph shows photographers lining up to cover President Taft's inauguration ceremony on March 4, 1909. They stand at the ready with their boxy cameras above a snow-covered wall:
A 1927 photograph of President Coolidge posing with a group of photographers in a field while wearing a cowboy outfit.
A 1950 portrait of Frances Benjamin Johnston with her camera. Johnston was one of the earliest American female photographers and photojournalists:
A tourist photographing in Taos, New Mexico in 1940 using a special candid camera. The direction he's facing makes it look like he's shooting one way, but the camera is actually capturing something to the side:
In 1939, when star college quarterback Davy O'Brien visited Washington to receive a prestigious award, he paid a visit to Presidential Secretary Marvin H. McIntyre at the White House. To demonstrate his passing technique to McIntyre, O'Brien grabbed a camera from a news photographer nearby and pretended to use it as a football:
This photo shows a young boy playing make believe with his sister. They made a homemade "Kodack" camera and are pretending to use it to shoot a portrait of the sister and her doll:
Photographer Theodor Horydczak was well known for his photos documenting the places and happenings of Washington DC. Here he is framing a shot while lying on some grass with his massive camera: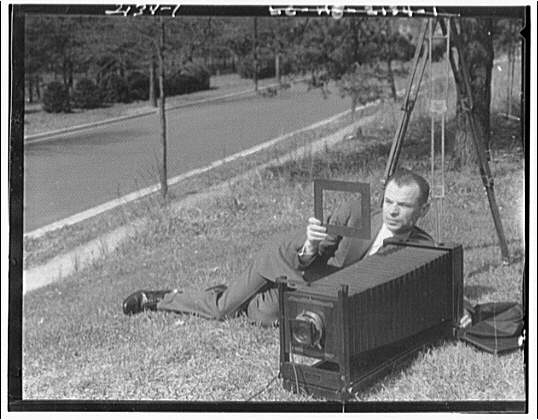 This 1938 photo shows a traveling photographer shooting in Columbus, Ohio with his sidewalk portrait camera.
Children fooling around with a photographer Russell Lee's camera during the US government's Farm Security Administration photo project:
Four unknown guys from the early 1900s hanging out with their cameras in hand:
Three guys posing with two cameras in the early 1900s:
A group of early-1900s photographers posing with their cameras on steps:
Perhaps this is what paparazzi photographers looked like a century ago: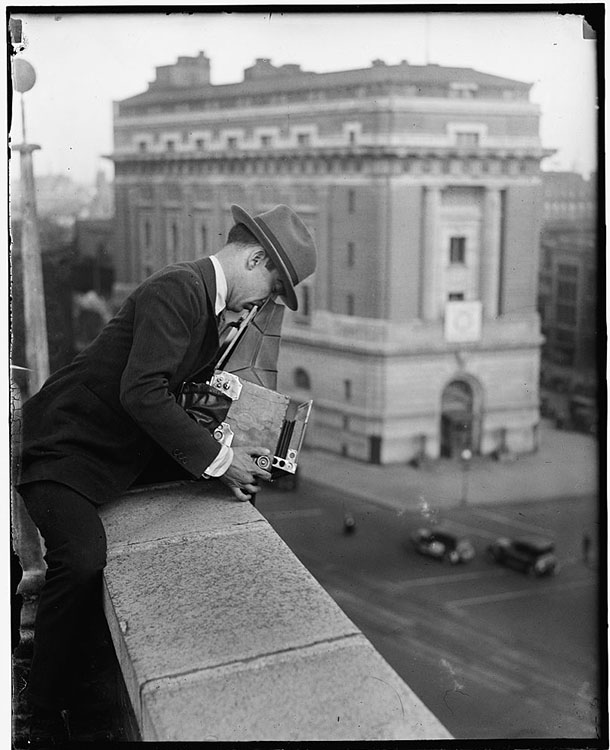 …and this: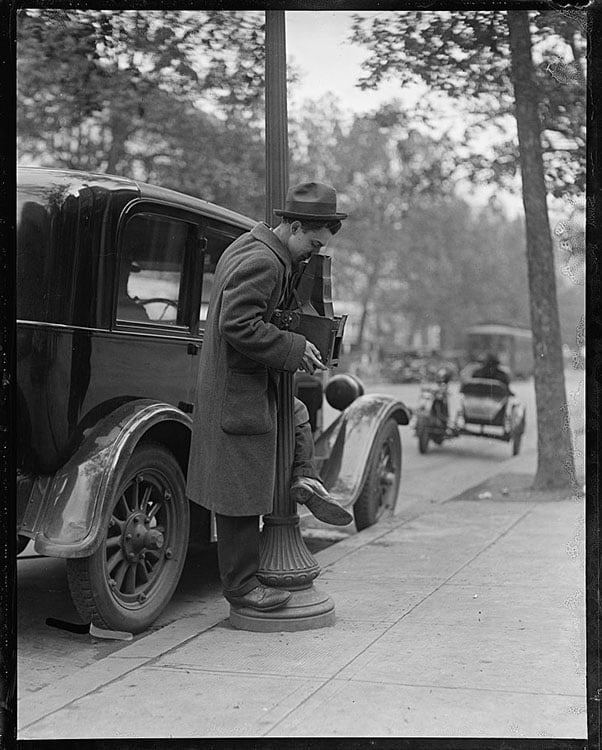 It's not too different from what a sports photographer looked like:
Finally. think being a photographer's assistant these days is tough? Back in 1873, photographers' assistants had to sometimes transport heavy loads of camera equipment from place to place on mules:
That's all for now, folks. If you know of any interesting historical photographs of cameras and photographers, feel free to share them in the comments. We might add them to this post!
(via TOP)