How to Save Instagram Photos Without Sharing Them on Instagram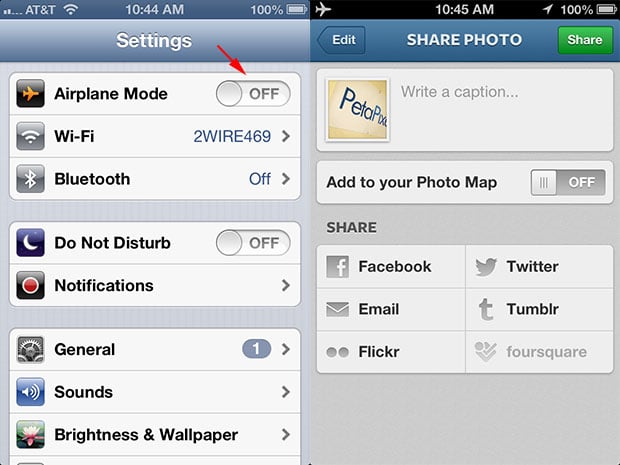 Over 100 million people around the world snap photos with Instagram on their phones now. If you like the look of Instagram filters but would rather not broadcast the photographs to the world every time you snap a picture, there's actually a (semi-old) trick you can use to save the pics without sharing them (for iPhone users, at least): all you have to do is turn on "Airplane Mode."

By default, Instagram requires that photographs be shared before they're stored on your phone. The "save to phone" process only happens after you hit that "Share" button. Here's Instagram's rationale for the design decision:
Instagram is a fast, beautiful, and fun way to share your photos with friends and family. Our service is not just a photo editing application, so iOS users do not have the ability to save filtered photos before sharing them.
The loophole is that you can have the photo save to your phone while preventing it from being beamed across the Web to Instagram's servers. On the iPhone you can do this by simply turning off all your connections to the Web (both cellular data and WiFi). That's what Airplane Mode does.
On your iPhone, go to "Settings" and flip "Airplane Mode" to "On":
Now you simply use Instagram as you ordinarily would. Snap a photo, choose a filter, and then hit "Share" on the "Share Photo" page.
The share will fail since Instagram can't connect to its servers and you'll see a "Failed" message on your Instagram feed. Tap the delete icon to wipe any trace of your saved-but-not-shared photo:
Check your Camera Roll, and you'll find that Instagram has saved both the original photo and the filtered version!
---
P.S. If you snapped your photo already before enabling Airplane Mode, don't worry. Simply minimize your Instagram app, turn on Airplane Mode, reopen it, and then share.