A Personal Darkroom Built Inside a New Backyard Shed
A number of years ago, England-based photographer Dave Miller wanted an at-home darkroom, but didn't have the luxury of converting a spare room in his house into one. He did, however, have a nice garden area that wasn't being used, so he decided to upgrade the grassy area with a shed — a darkroom shed.

After clearing away the grass, digging a crater into the area with some heavy machinery, Miller paved the area and erected a 12×10-foot shed.
Miller then spent a good deal of time, money, and energy turning the insides into a proper darkroom, with plenty of electrical sockets, a long fiberglass sink, a chemical cupbord, a fridge/freezer area, a fan that circulates air, two 15W Ilford safelights, and all the other standard photographic equipment found in your typical darkroom.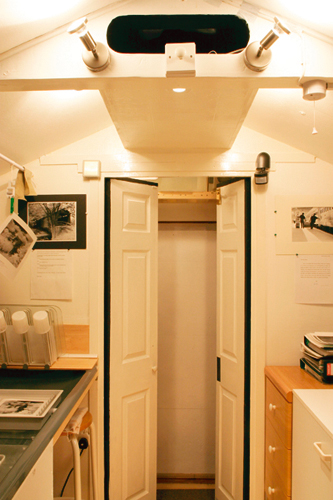 You can find a lengthier walkthrough of Miller's construction process and more photographs documenting it over on the Film and Darkroom User forums.
Converting a garden shed into a darkroom [FADU via Imaging Resource]
---
Image credits: Photographs by Dave Miller