Nikon 1 V2: A Serious-Looking Mirrorless for People Who Don't Want to Think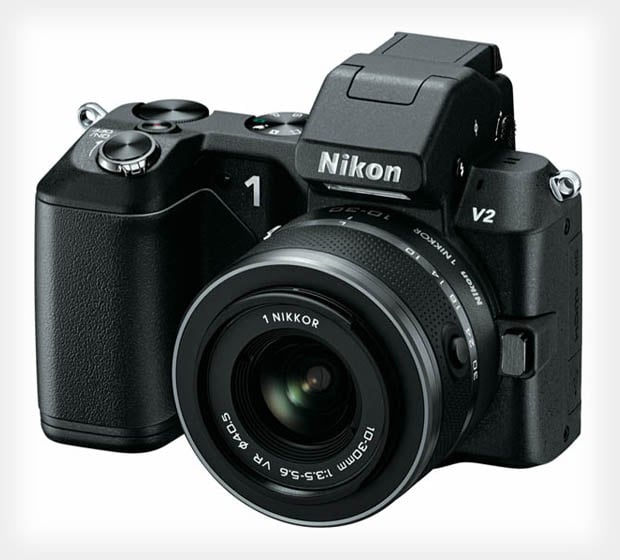 Just as the rumors predicted, Nikon announced the new V2 mirrorless camera today. Succeeding the Nikon 1 V1, the V2 is a slightly-more-serious mirrorless camera than the recently-launched J2 (think V for "varsity" and J for "junior varsity"). Unlike the J2, the V2 offers more differences from its predecessor than a few minor tweaks.

The first thing you'll notice is that the simple flat body design of the V1 is gone, replaced with a much more angular one. In terms of appearance, if the cameras were species in the Pokemon franchise, the V2 would fit right in as the evolved form of the V1 (please forgive us for that reference):
The V2 features a 14.2 megapixel CX-format CMOS sensor (up from 10.1), an ISO range of 160-6400, a speedy 73-point autofocus system, 15fps continuous shooting with full AF (up from 10fps), 60fps continuous shooting in MF (unchanged), a new ergonomic grip, a built-in flash, new mode dials on the top of the camera, a 1.4-million-dot electronic viewfinder, a 3-inch 921K-dot LCD screen, a hot shoe mount, simultaneous recording of 1080p video and high-res stills, 400fps/1200fps slow motion capture, and in-camera HDR.
For those of you who are/were fans of the Max Payne series, you'll be happy to know that the camera offers a crazy feature that allows you to slow down time. It's called "Best Moment Capture Mode", and lets you slow down whatever you're capturing by 5x simply by pressing the shutter button halfway. The camera will show you 1.33 seconds of time stretched out to 6.66 seconds. When the moment you want to capture appears, simply press the button down all the way to snap that photograph.
Another intelligent feature baked into the camera is "Smart Photo Selector", which snaps 20 photos in rapid succession and then automatically picks the 5 best based on certain factors (e.g. exposure, focus, faces).
Just to ensure that the V2 isn't lonely in this announcement, Nikon has also announced two new accessories for the Nikon 1 system: a WU-1b wireless adapter for beaming data to other devices, and a new $160 SB-N7 speedlight that has a 120-degree tilting head and a guide number of 18m/59ft.
The Nikon 1 V2 will be available starting late next month for $900 (a price that includes a 10-30mm kit lens).
Nikon is moving in a different direction with its mirrorless cameras than Canon is with its EOS M. While the EOS M packs a large APS-C sensor and is geared towards serious photographers, Nikon has use small 2.7x crop factor sensors for its 1 System — a system that is geared toward casual consumers looking to step up a bit from compact cameras.
The two companies are clearly shooting at two different targets.