Strange: Canon's 70-300mm L Lens Can Be Shoehorned into the 1.4x Extender
Canon released a new firmware update for the 1D X this morning that gives the DSLR cross-type autofocus when using certain telephoto and extender combos that have a max aperture of f/8. The announcement page includes a list of lens/extender combinations that are now compatible.
The first lens listed in the 1.4x Extender column is the "Canon EF 70-300mm f/4.5-5.6L IS USM." Problem is, that's not a lens that exists…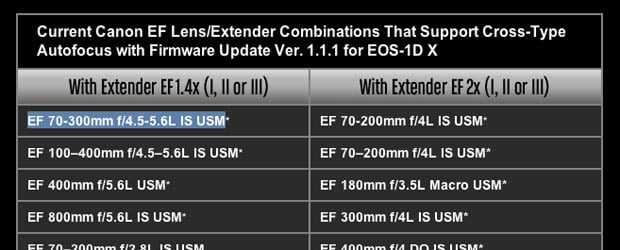 Two similarly named lenses that do exist are the Canon 70-300mm f/4-5.6L, which has a different variable aperture range, and the Canon 70-300mm f/4.5-5.6 DO, which isn't an L lens.
Bryan Carnathan over at The Digital Picture assumes that the line is referring to the new L lens and not the "green ring" DO version. Still, a problem arises: that lens was never designed to be used with any 1.4x Extender. It's supposedly incompatible.
When Carnathan tried to mount it in the past, he found that it didn't fit. The rear element in the 70-300mm L bumped into the front element of the extender.
Seeing this latest announcement, however, he decided to try again. What he found was pretty interesting:
[…] the 70-300 L's rear element retracts into the lens far enough that, at about 250mm, there is enough clearance for the 1.4x to mount. The available focal length range is about 350-420mm. There is a physical bump at the lower end of that range with (guessing) the rubber around the edge of the extender element contacting the rear 70-300 L lens element or its edge ring. This combination indeed autofocuses on the 1D X with the new firmware.
So Canon wasn't lying; if you stay on the telephoto end of the lens, you can actually use it with the Extender (this isn't officially documented anywhere) and enjoy cross-type AF on the 1D X. A caveat, though: even though the combination "works", you probably shouldn't make use of it lest you damage your glass.
---
Update: The lens has been removed from the supported combos list.