Mystery of Lindsay Lohan's Disappearing GQ-Cover Bellybutton Solved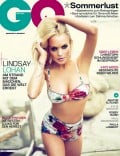 For a cover shoot of a men's magazine, it's no surprise if liberties are taken in post-production. Generous Photoshopping is pretty much a given in any fashion or modeling photo. But here's a bit of a surprise: it may not be the culprit for Lindsay Lohan's disappearing belly button!
Boing Boing reader Nicole noticed in the latest issue of GQ Germany, LiLo's belly button seemed to migrate in different photos, and it was nowhere to be seen on the cover.
However, as it turns out, Lohan was actually just outfitted with a high-waist. Alongside the article, GQ Germany includes a short behind-the-scenes film  by Ellen von Unwerth, showing Lohan doing various poses.  While on the sand, she's wearing a high-waist swimsuit that covered her bellybutton altogether. Towards the end, you see Lohan posing for the final cover photo, and the photographer is shooting downward at her.
Still, this isn't to say that the photo isn't Photoshopped. It's likely that Lohan's belly button looks like it should be somewhere it isn't because of the camera angle, or perhaps she had a digital tummy trim that threw off the "normal" proportions of her body.
However, in another image, things start to get a little strange: Lohan's belly button is oddly high, especially in comparison with the cover shoot. This could also be attributed to foreshortening or distortion from the camera angle and the fact that she's now wearing a low-rise bottom.
Photoshop blunder or not, low-rise or high-waisted (no pun intended), at the end of it all, we have to ask — did we really just stare at LiLo's belly button for the better part of a half-hour? Yes, yes we (okay, I) did.
(via Boing Boing)