How Much is Photoshop in 2023?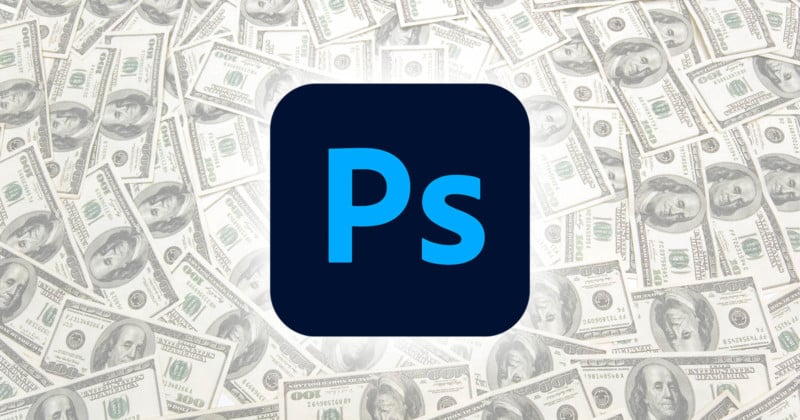 Buying a copy of Photoshop back in the day wasn't cheap, but it used to be easy. One price, one copy. Nowadays, with subscription models dominating the creative software space, things have gotten a bit more complicated. And while photographers may need a bingo card to know how much Photoshop is going to cost, there are a lot more benefits than swinging down to the local computer store and picking up a copy.

With the
launch of Adobe's Creative Cloud subscription service
in 2013, the industry underwent a sudden shift from buying a new copy every handful of years to get the latest features, to a monthly subscription model with updates coming far more often, and for "free" (with updates bundled with the recurring cost). This was the promise of Creative Cloud, and Adobe made it easy to subscribe to.

Let's take a look at Adobe's Creative Cloud plans for photographers looking to use Photoshop for photo editing.
Table of Contents
The All-You-Can-Eat All Apps Plan
Adobe's All Apps plan, provides access to over 20 apps in the Adobe Creative Cloud Collection, from Photoshop to Lightroom, from Premiere to After Effects.
For the average photographer, the All Apps plan can not only be overwhelming, but it's also likely not as good a value for simply taking stills and post-processing them. However, for a content creator who does it all, this is by far the best value at $54.99 a month for individuals.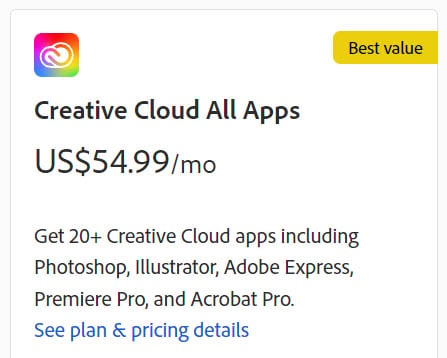 But pricing is a little more complicated than that single monthly rate advertised by Adobe — it only applies if you choose to subscribe for a whole year with monthly billing.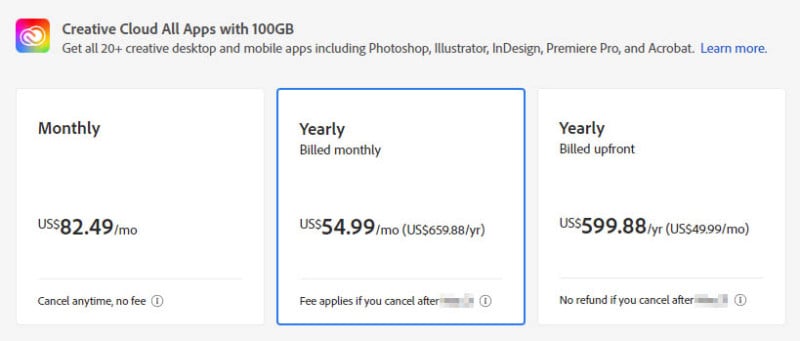 To get access at $55 per month, you'll need to agree to a whole year, which will end up costing $659.88 over that span. If you cancel before that year is up, you'll be charged an "early termination fee" just like with annual subscriptions in other industries such as cellular, Internet, and TV.
If you would rather pay monthly without being locked in for a year, the All Apps plan will cost you $82.49 per month. If, on the other hand, you would like to maximize savings and do not mind paying for a whole year up front, you can pay $599.88 for a year in advance, which comes out to $49.99 per month.
Just to recap, here is a pricing breakdown for the All Apps plan:
Monthly (pay monthly): $82.49/month
Yearly (pay monthly): $54.99/month
Yearly (pay upfront): $49.99/month
If you are not subscribing as an individual but as a business, you will be charged a different rate as well. Business subscriptions break down to $84.99 per month per license (regardless of whether you pay monthly or upfront) or $34.99 for the single app subscription per month. The Business Plan also includes 1TB of cloud storage per user, versus 100GB of storage for the individual plan.
Adobe also offers discount rates for students and teachers, with a monthly cost of $19.99 for the all-you-can-eat plan (regardless of if you pay monthly or upfront). The discount is based on a one-year annual rate of $239.88. At the end of that term, the standard subscription renewal rate, currently $359.88/year (or $29.99 per month) is charged unless the service is canceled.
The Photography Plan(s)
For the still photographer, the Photography Plan offers Adobe Photoshop and Adobe Lightroom for $10 a month (with no annual contract involved). The Photography Plan comes with Adobe Photoshop, Adobe Lightroom, and Adobe Lightroom Classic, plus access to mobile versions of both apps, and Adobe Portfolio. Oh, and it comes with 20GB of storage in Adobe's Cloud.
In addition to the basic photography plan, there are two other options available to photographers. First, you can upgrade to 1TB of cloud storage by paying $19.99 per month instead of $9.99. If you do not need Photoshop, you can get just Lightroom with 1TB storage for $9.99 per month.
Here is a breakdown of the photography plans:
Photoshop, Lightroom, 20GB Storage: $9.99/month
Photoshop, Lightroom, 1TB Storage: $19.99/month
Lightroom, 1TB Storage: $9.99/month
When you consider that the last stand-alone version of Photoshop, Adobe Photoshop CS6, started at $699, it's easy to see the value when one does the math and realizes that updates will come twice a year at no extra charge.
The Photography Plan also comes with Adobe Lightroom, making it an even bigger value, even if the photographer isn't a Lightroom user.
The Single App Plan for Photoshop
It may be tempting to just subscribe to the Single App Plan. This article is about Photoshop after all. But Adobe charges $21 a month to subscribe to a single app. That means the photographer is paying $11 more a month for half the functionality if they choose to subscribe only to Photoshop rather than to one of the photography plans. That's not a good value.
But what about if you don't want yet another subscription service dipping into your wallet every month and siphoning off a monthly fee? At this point, you're out of luck, as Adobe has long fully embraced the subscription model and turned its back on perpetual licenses. If you just do not need Photoshop enough to pay a subscription fee, your best bet may be to use one of the popular Photoshop alternatives on the market, which are generally either free or available with a perpetual license.
Another Alternative: Photoshop Elements
However, if sandboxing is the aim, it is still possible to pick up Adobe Photoshop Elements, which is a stripped-down version of Photoshop. It has about 80% of the features of Photoshop with new features filtering down from Creative Cloud every year. But there are some that are noticeably missing.
Photoshop Elements cannot export files in CMYK format, thus making print production work an issue. Elements is missing  16-bit and 32-bit image support, or chromatic aberration repair, while Photoshop does. There are also no Lens geometry profiles, Lab, Duotone, or Multi-Channel color modes, and Elements also doesn't have access to Adobe Bridge, which has several key features including moving files to dedicated folders, opening up other apps to further the processing without closing out, and resizing without losing resolution.
Still, for $99, it's a bargain for beginning photographers looking to improve raw still images by fixing them in post. But why stop there? For $149, Adobe Premiere Elements can also be picked up as a two-app set, giving the user the ability to edit video as well.
Both Photoshop in Creative Cloud and Photoshop Elements are powerful tools and if which version to use still isn't clear, then users can download a 7-day free trial decide.
How Much is Photoshop's Early Termination Fee?
If you do choose to subscribe to a yearly option with monthly billing for either the All Apps plan or Single App plan, you will receive hefty savings over the course of the year, but you will be charged an early cancellation fee if you end up canceling the subscription before the year is up.
If you cancel within the first 14 days of your first payment, there is no cancellation fee and you will get a full refund. Those first two weeks are considered a trial period in which you can test out the app(s).
Once that 14-day window is over, however, you will be on the hook for a cancellation fee of 50% of the remaining balance of the contract. What this means is if you agree to subscribe for a year but decide you'd like to stop paying monthly after 3 months, you will still owe Adobe 50% of the remaining 9 months.
Here is a chart that breaks down roughly how much you would need to pay in early termination fees depending on which month of the year you cancel:
If Adobe offers you a yearly discount on the 20GB Photography plan, here is what the cancellation fee schedule would look like:
Upon cancellation, your Creative Cloud membership will automatically be turned into a free membership and your access to the paid apps will be ended. Your cloud storage limit will be lowered to 2GB, and you will have 30 days to save your excess data from the Adobe Cloud before it is deleted and lost forever.
Conclusion
If you are a photographer who has been thinking about subscribing to an Adobe Creative Cloud plan so that you can start editing photos in Photoshop, we hope this guide to Photoshop's current pricing was helpful to you. If you're still undecided or have concluded that you can't stomach the cost, you should look into our picks for the best free photo editing apps and free raw photo editors currently available.
---
Image credits: Stock photos from Depositphotos