The Best Free Photo Editing Apps in 2023
We are all likely familiar with Adobe Lightroom or Photoshop as far as editing applications go and a lot of people love these apps for their versatility and powerful suite of features. But they do come with a price, and paying a fee isn't always what every photographer is looking for.

There are plenty of people who would like to find something equally capable of getting the job done that doesn't run a monthly charge on their credit card bill or require a hefty up front payment. Thankfully, there are plenty of alternatives out there that run the gamut from beginner-friendly to as feature-packed as the name-brand products.
What We're Looking For
Putting together a list of the best free editing applications is not a completely simple thing to do, especially because a lot of apps have "free" versions with varying degrees of functionality. A lot of the time, this means the app is severely hobbled, if not unusable entirely.
Therefore, we're looking for applications that offer a high degree of functionality without the need for your credit card number, and we want to offer a few options to cover a wider range of usages, from the most robust editing apps to those aimed at users seeking basic or automated functionality.
At a Glance
Best Free Photoshop Alternative: GIMP
GIMP (GNU Image Manipulation Software) is not just a great free Photoshop alternative, but it's flat-out one of the best editing applications available anywhere — for any price. Its suite of features is impressively full, and more are being added all the time.
From layers, masks, and curves to brushes, clone stamps, and perspective changes, there is not a whole lot that GIMP can't do compared to Adobe's counterpart. Better yet, it is an open-source editor, meaning the huge community of users has created an extensive array of plugins that expand the functionality and abilities of GIMP. Some of these plugins come preinstalled, but there are tons more in its glossary that you can install in addition. If that weren't enough, you can also use Photoshop plugins!
Like Photoshop, however, this isn't the greatest program for beginners as there is a rather steep learning curve.
Best Free Lightroom Alternative: Darktable
Darktable is easily the best program out there that replicates the functions and experience of using Lightroom. Plus, it's free with no annoying pay-to-unlock features.
Like Lightroom, Darktable allows you to view all your photos in a digital "light table" and then non-destructively enhance and adjust each photo as you desire. Built primarily as a RAW editor, Darktable works with JPEG, TIFF, and a huge number of other files. Darktable bridges the gap between raw developers and image management software.
In the same way as GIMP, Darktable is also completely open-source, which means it too has plenty of plugins available at users' disposal. But also like GIMP and Lightroom, this software is geared toward advanced users with advanced needs. If you're a beginning photographer with simplicity as your goal, there are probably other places you would be best off looking.
Best Free Beginner Photo Editing App: Photoscape X
Photoscape has the least refined aesthetic of any of the programs mentioned here, but I think this makes it a little more accessible to beginning photographers. Tasks — like batch editing, single photo editor, etc. — are laid out in tabs across the top, and adjustments are laid out down the side. It may not be sleek, but it is functional.
Photoscape lacks the most intricate and complex editing tools of GIMP or Darktable, but it's also insanely quick and easy to use. I use it to batch edit JPEGs for eBay or e-mail because I can quickly apply global adjustments and then downsize a huge number of full-resolution photos in just a few seconds.
The software is very easy on computer resources — if it can do what you need it to, it is probably more efficient at doing it than anything else out there.
Best Free One-Click Photo Editor: Fotor
Fotor is a browser-based editor primarily aimed at one-click enhancements or filters to give your images a boost. If you need more complex tools like clone stamps or masks, this isn't the program for you, but there are plenty of nifty filters and manually adjustable features that make this a worthy look for some basic editing.
You can even manipulate curves and levels as well as tweak color separately from the one-click filter application. So, there's still plenty of latitude in here for those that need to go just a bit further than that single click.
It also has a great batch processor — so if you want to apply the same filter or adjustment to a bunch of photos, this will get it done.
One important note: The free version will limit you to 4,000 pixel-wide images. Images larger than that will be downsized.
Best Free Template Editor: Canva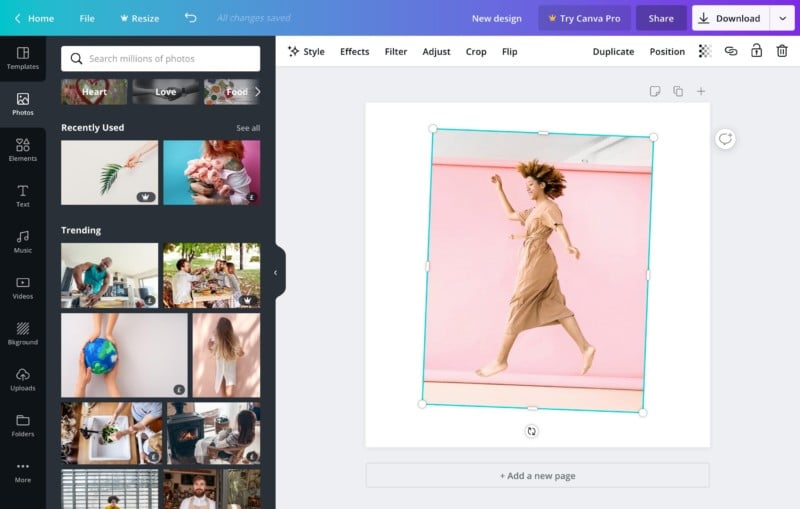 Canva is also a browser-based editor but aimed at a more specialized user. If you're looking for something to turn photos into presentations, invitations, cards, letters, and dozens of other options — this is it.
There is a free version — which is quite extensive with over 250,000 templates and 5GB of cloud storage — as well as a paid version. For most users, the free version will be more than enough with plenty of templates to choose from and more storage than a casual user will ever need.
From backgrounds to graphics, there is a lot to pick from when it comes to enhancing your images for whatever purposes you may need. As a plus, everything is very easy and intuitive to use. No matter how you look at it, Canva offers a frankly shocking amount of usability for a free application of this nature.
Best Free Photo Editing App for Mobile Devices: Snapseed
While ostensibly built as a Lightroom alternative, Snapseed bears no resemblance to the significantly more complex Adobe program. This is an incredibly good thing both for mobile users who are typically editing on a small screen (compared to a computer monitor), and for beginners. While there is still a learning curve, it's probably less steep than any mobile camera or editing app I have ever used.
Upon first opening the app, Snapseed presents you with an incredibly clean and trim interface. There are a minimal number of icons, lines, words, letters, or anything of the sort cluttering the screen. The app is very much a gesture-based one and it makes for a very quick and simple system: while you choose certain editing tools or filters by pressing icons, most of the adjustments from that point rely on swipe gestures which, while unusual from a desktop perspective, takes very little time to get used to for smartphone users that are already accustomed to swipe-based controls.
One of the standout features of Snapseed is that for every effect, filter, or edit you implement, the app creates a "Stack" — otherwise known in Adobe terms as a layer. This means adjustments are easily reversible and non-destructive which means you can go back and tweak prior adjustments or even delete them altogether.
If you are in search of a no-cost photo editing app for your iPhone, Android, or tablet — this is it. While we previously recommended Adobe Lightroom CC in this category (which of course still remains an excellent program), Snapseed is the best fit for the widest audience. It does not have the tack-sharp precision and enormity of options and capabilities of Adobe Lightroom, but this is part of what makes it the best choice for most people and it's still tremendously capable no matter what you compare it against. As an added benefit, it won't constantly bug you to sign up for any services like Creative Cloud: it is no-strings-attached free.
Snapseed is available on both the App Store and Google Play.
---
Image credits: Header photo licensed via Depositphotos.