The Best Photoshop Alternatives in 2023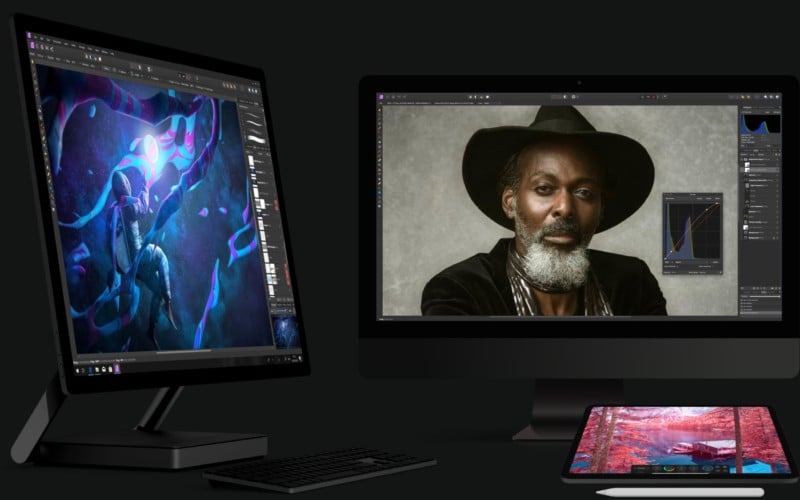 Although Adobe Photoshop has become known as the industry's leading post-processing software with its powerful non-destructive editing tools, it is by far not the only option available out there.
Photoshop has been around for just over 30 years — first released in 1990 — and has become an integral part of most professional photographers editing workflows. It's even so well known outside of the photography industry realm that the word verb "to Photoshop" has become a synonym for editing and manipulating images irrespective of what program is used.
Using advanced intelligent tools and other Creative Cloud app integrations, Photoshop users can manipulate their photographs, designs, artwork, and more. Using a subscription-based pricing model, Photoshop is able to deliver regular software updates and bring out new tools but also as a consequence has garnered dislike from many who don't want to invest in a business that can increase its monthly fee at a short notice while providing lackluster customer service support that has been widely criticized.
A variety of alternative editing tools to Photoshop, both free and paid, are available for photographers who are looking to change over after years of subscribing to Adobe or for those who are entering the industry and want to explore different options before settling on the industry standard.
What We're Looking For
The non-destructive way of working with layers in Photoshop allows photographers to make adjustments and return to the original image at any time during the process, which is just one of the features that make it an appealing tool to work with. Also, Photoshop's object removal and skin retouching tools such as Heal, Clone, Dodge, and Burn, and others, have attracted both amateur and professional users alike who want to enhance their images. We expect a proper alternative to also offer these tools.
It would also be nice if the software allowed was able to handle more than just editing photographs; users should also be able to create graphics for social media, product mockups, add text, remove backgrounds, select objects, and more. Also, Photoshop supports a variety of file types, including JPEG, TIFF, PDF, PNG, GIF, and many more. We expect to see that same support across the board.
The advanced tools of Photoshop may be overkill for some users, which is why it's important to evaluate what editing needs the ideal choice of post-processing software should accommodate, without forgetting the cost.
At a Glance
The Best Overall Photoshop Alternative
Our Pick: Affinity Photo
Price: $50 for desktop, $20 for iPad
Compatible with: Windows, macOS, and iPad
Affinity Photo, just like Photoshop, is designed for professionals with tools that can support the workflows of photographers, designers, and artists. It comes as standalone software with a one-time fee and not a subscription and can be used both on desktop and on iPad.
Users will find many of the familiar Photoshop tools and features also available on Affinity Photo, such as the ability to work with unlimited layers, various blend modes, and smart object support. Affinity is also capable of handling large images and RAW files and supports tools that can be used for high-end retouching like frequency separation, blemish removal, liquify, an assortment of brushes, and much more. Basic adjustments aside, Affinity Photo also supports panorama stitching, HDR editing, and focus stacking. The large library of brushes, support for tablets, and Apple Pencil, make Affinity appealing to both photographers and artists alike.
In short, it's wildly powerful and offers a similar user experience to the industry standard.
Similar to Adobe's cross-platform support, Affinity Photo works well in conjunction with Affinity Designer and Affinity Publisher, which are all available as one-time purchases, unlike Adobe's Illustrator and InDesign which are — like Photoshop — only available on a subscription basis. Affinity's single-purchase approach to pricing its products gives photographers an affordable and well-rounded workflow with access to powerful tools that seamlessly integrate across devices. Affinity also offers additional purchases, such as overlays, templates, and textures.
At the time of publishing, Affinity Photo was available for half the original $50 price, making it an affordable yet equally powerful candidate to Adobe Photoshop. Even if it's not currently on discount when you read this article, the fact we've seen it so heavily discounted is an indication that if you're patient, you can get a raging deal on the software.
The Best Photoshop Alternative for Beginners
Our Pick: Luminar 4
Price: $89 standalone and available in numerous software bundles
Compatible with: Windows and macOS
Although Luminar 4 and its predecessors have been at times criticized for clunky performance, that has mostly been smoothed out over the years. Additionally, Skylum's software has historically provided a more simplistic and more visually simple layout compared to other editing software that can work well for beginners who may not want to invest too much time learning more complex post-processing techniques. However, at the same time, Luminar 4 does present somewhat of a learning curve if users want to learn how to utilize layers in editing and elevate their skills. Think of it as easy to get into, but difficult to master.
Some of Luminar's tools use artificial-intelligence-powered systems which makes it easy to apply traditionally more advanced effects, such as its extremely powerful AI Sky Replacement and AI Augmented Sky tools which are known to rival or even outpace Adobe's best. Luminar 4 also gives portrait enhancer tools that also utilize AI and don't require retouching experience, though it also doesn't quite nail professional results either. Basically, it's a good starting point for beginners.
Although available as a plug-in for Adobe Lightroom and Photoshop — and Photos as a macOS extension — Luminar 4 can be bought and used as standalone software and does not require a subscription. Skylum brings out regular updates for its products and has previously offered users a reduced price for the upgrade if a new version is brought out.
Skylum regularly has sales on its software, so if you can wait for a sweet deal, it will probably be worth it.
The Best Photoshop Alternative for MacOS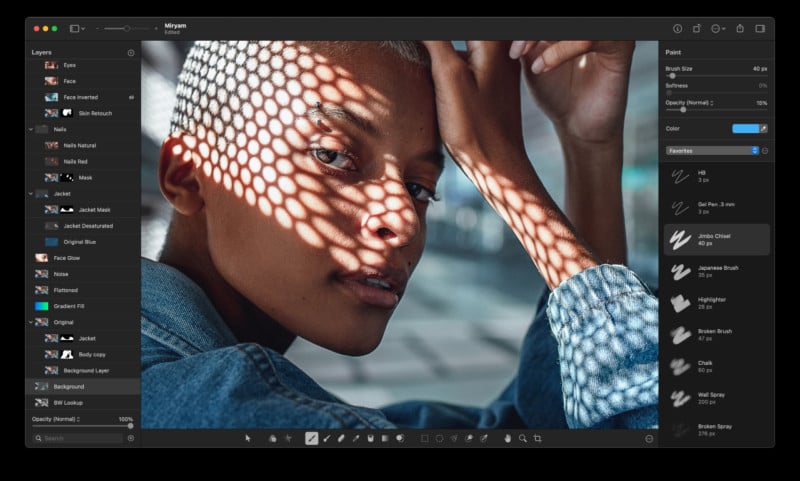 Our Pick: Pixelmator Pro
Price: $40
Compatible with: macOS
Pixelmator Pro is designed to seamlessly integrate with macOS and its Photos app, and now also supports Apple M1 devices. Available as a stand-alone software downloadable from Mac App Store, it offers layer-based editing, basic and AI-powered adjustments, multi-channel curves, and support for RAW photos.
It also has Repair Tool, which removes unwanted objects, a Magnetic Selection Tool for accurate object selection, and a fully customizable workspace with built-in presets for the arrangement of tools and the sidebar.
Pixelmator has additional powerful tools for design and artwork, with vector tools, support for the SVG vector file format, various typography features, a "Pixel Tool" to create pixel art, a large collection of brushes, paint blending, and also support for graphics tablets, which — as a nice bonus — allows users to use Apple Pencil for precision. Although Pixelmator Pro doesn't have as many professional tools in its belt as Photoshop, the integration of additional design and art tools makes it a reasonable candidate, especially for beginners and intermediate-level users.
At the time of publication, Pixelmator Pro was on a half-price sale and is available for $20, which is an indication yet again that if you're patient, you can likely score a great deal on this software.
The Best Free Photoshop Alternative for Desktop
Our Pick: GIMP
Price: Free (it is an open-source program)
Compatible with: macOS, Windows, Linux, Sun OpenSolaris, FreeBSD
GNU Image Manipulation Program (GIMP) is regularly the top pick when it comes to free photo editing apps because it's both powerful and, well, free. It's why it's also our top pick for Best Free Photo Editing Apps here. As far as replacing Photoshop entirely, it's got its perks for the budget-conscious.
GIMP offers layer-based editing, with support for PSD, TIFF, PNG, EXR, and RGBE files, and its dark UI resembles that of Photoshop. It has color adjustments, object selection tools, powerful retouching tools, such as the Heal, Clone, and Warp Transform tool, as well as sharpening and blurring filters. Similar to Photoshop, it also has Curves, Levels, Dodge and Burn, and a variety of image transform tools. GIMP also has available user-created plug-ins and scripts that add additional features and tools to the workflow.
One major knock on the program is that it doesn't necessarily instill the same industry-standard habits that you'll get from software like Photoshop or even Affinity Photo, so moving from GIMP to any of those in the future might pose a challenge. Considering this is free software, it makes it a great choice for budget-conscious users who still want to manipulate their images and don't mind the learning curve. Although open-source, GIMP offers numerous resources and tutorials to get users started, and has active community members who share how-to videos on YouTube.
The Best Free Photoshop Alternative for Smartphones
Our Pick: Snapseed
Price: Free
Compatible with: Android, iOS, iPad
While we recommend Adobe Photoshop as the best choice when it comes to smartphone editing, this is about alternatives to Adobe, and for that, it's hard to beat Snapseed. Snapseed is a Google-owned mobile editing app that in recent years has brought updates that allow more complex smartphone image editing than it was originally known for. It can open both JPEG and RAW files, but sadly does not yet support layer-based editing.
For manual editing, users can make basic image adjustments, alter the perspective or change the image canvas size, add grain, details, vignette, text, and more. It also has a Curves tool. For additional precision, Snapseed offers Dodge and Burn tools, Exposure, Temperature, Saturation, and a Healing brush.
While it has added to its functionality, Snapseed still has the features that it originally launched with including a variety of filters like HDR Scape, Drama, Vintage, and Grainy Film, which can have their strength adjusted. Users can also quickly toggle between the before and after to see the effect of their editing.
This free mobile app is beginner-friendly but the additional touches of RAW image support, brushes and Curves make it appealing to pros who want to edit their smartphone images on the go.
The Best Free Browser-Based Photoshop Alternative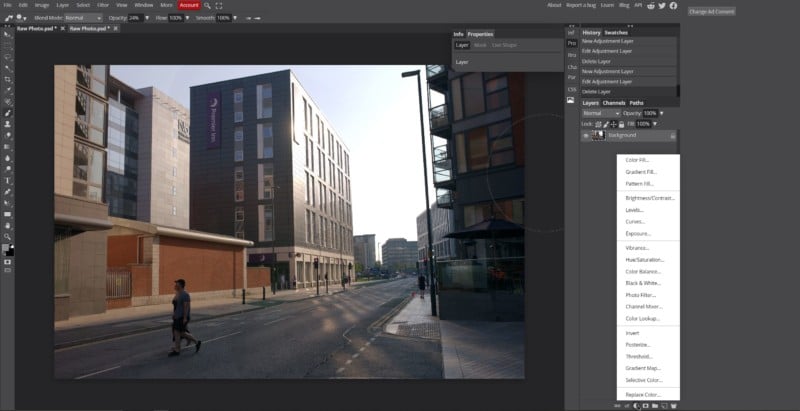 Our Pick: Photopea
Price: Free
Compatible with: Chrome, Firefox, Opera, Edge
Even though it's based entirely in a web browser, Photopea bears close similarities to Photoshop in its UI and can be best described as a more scaled-back web version of it. Although professionals generally will not rely on browser-based editing, Photopea is an option for those who want quick access to more in-depth manual editing compared to most free web applications that come packed with filters and quick solutions. It's also great for those who have a Chromebook and are using Google's Chrome OS.
It is compatible with Photoshop's PSD files, as well as JPEG, PNG, DNG, GIF, SVG, and PDF, among other file formats. User's files are stored locally and are not uploaded to a server, which many will see as a benefit. When used with a Chromebook, photos can be saved directly into a personal Google Drive. Currently, Photopea works with the sRGB color space with an 8-bit color depth.
For layer-based editing, users have access to popular tools like spot healing, patch tool, channels, selections, smart objects, text layers, filters, vector shapes, and more. It also offers a variety of templates for new projects. Even if users disconnect from the internet after opening Photopea, they can keep using the program offline which makes it surprisingly resistant to issues that normally plague browser-based tools.