7Artisans' New $479 9mm f/5.6 Full-Frame Lens is Insanely Wide
7Artisans announced a new 9mm f/5.6 full-frame ultra-wide prime lens for the most popular mirrorless mounts that promises a relatively close focusing distance and a 132-degree viewing angle.
The new lens is just shy of what is often described as a "fisheye" optic and was developed specifically for mirrorless full-frame cameras, namely Sony E, Nikon Z, Canon RF, and L-mount. Due to its extreme 132-degree viewing angle, 7Artisans says it is one of the few truly ultra-wide-angle lenses on the market for full-frame cameras. For reference, lenses are typically described as a fisheye once the angle of view reaches 180 degrees.
The new 9mm f/5.6 features an unusually high volume of internal optics: 16 elements arranged into 12 groups. Of those are two aspherical, three high-refractive, and two extra-low dispersion glass lenses. Together, the optical formula promises high image quality, sharpness, and minimal distortion even at the edges of the frame.
For reference, Venus Optics' Laowa 9mm f/2.8 Zero-D has a 15 element in 10 group formula. Also of note, while 9mm lenses like the Laowa have been released in recent years, most if not all were designed for APS-C sensors and smaller. 7Artisans is advancing into somewhat uncharted waters by releasing such a lens for full-frame cameras.
It features an aperture range of f/5.6 through f/22 via a five-bladed aperture diaphragm that promises 10-pointed sun stars.
7Artisans included separate control rings for both aperture and focus, as this lens is entirely manually operated. The wide angle can create visually exaggerated photos thanks to its ability to focus as close as 7.9 inches from the sensor (20 centimeters). Given the lens is about 3.07 inches long, that is quite a short working distance and 7Artisans says that mixed with the wide angle of view makes it ideal for video and photo creators.
As mentioned the lens is just 3.07 inches long and it weighs just 1.02 pounds (463 grams), which the company says is "not a terrible weight" for a walk-around optic.
Below are a few sample photos captured with the lens, provided courtesy of 7Artisans. All are available in the original resolution and can be clicked to view larger.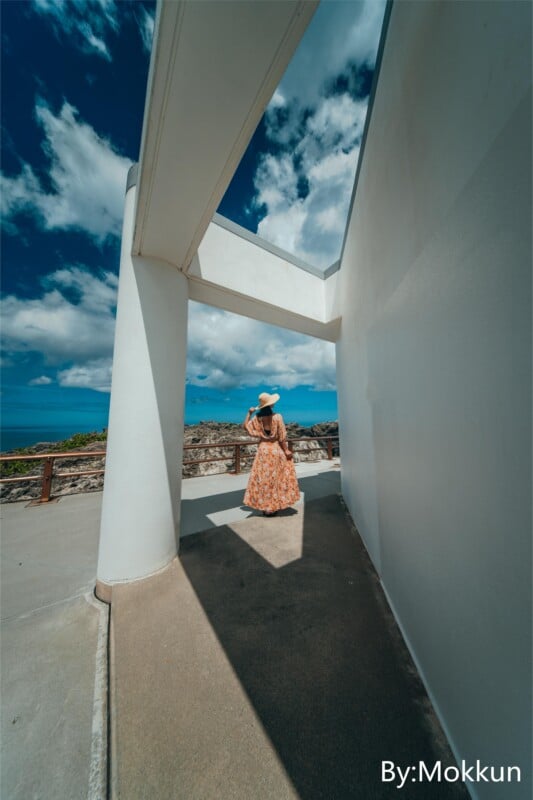 The main "downside" to the new 7Artisans 9mm f/5.6 is that it is fully manual and offers no electronic connection with a camera. However, photographers who are okay with this drawback will find themselves with one of the most affordable and widest full-frame lenses on the market. Looking at the above samples, sharpness isn't the strongest asset of the lens, but distortion appears very well controlled. Considering that the lens isn't electronically coupled and therefore can't use camera software to correct for optical issues like distortion or vignetting like first-party lenses can, it isn't surprising that some sharpness was sacrificed as a result.
The 7Artisans 9mm f/5.6 is available starting today from 7Artisans and Pergear for $479.