Canon Has Nearly 50% of Camera Market Share, Almost Double Sony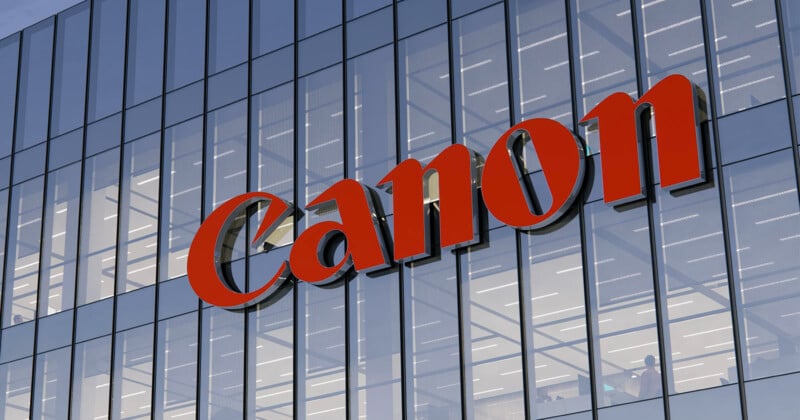 Canon's grip on camera sales dominance continues as a new report shows Canon has nearly half of the camera market share all to itself and nearly double the share Sony commands.
As reported by Digital Camera Info and Digital Camera World, an annual Inspection World Share data report from Nikkei Shimbun — a Japanese business publication — shows that Canon, far and away, dominates the camera market with 46.5% of all units sold in 2023. The data, provided by Techno System Research, found that Canon sold over 3.348 million camera units in the same period that Sony sold around 1.879 million units. The report does not make a distinction between mirrorless cameras and DSLRs.
Nikon holds 11.7% of the market in a distant third, with Fujifilm and Panasonic following with 5.8% and 4.2% market share each. These top five companies account for 94.3% of the entire camera digital camera market share.
Comparing this with a 2022 sales report published by Digital Camera Life, it's likely that Canon continues to rely heavily on its DSLR sales, at least in terms of volume. Canon's mirrorless market share is still higher than Sony's, but the race is much closer: 1.54 million units versus 1.25 million units.
Further, Sony is actually ahead of Canon when it comes to the value of those sold cameras. Canon's higher number of camera bodies sold equated to 506.7 billion yen, while Sony sold fewer units for a sales value of 565 billion yen. Canon seems to be excelling when it comes to selling more affordable cameras, while the opposite is true for Sony.
All of this said, the breakdown of the market share leaders isn't that different than in previous years, as Canon's lead has only increased by 0.7%. Sony's fell by a scant 0.9%. Nikon's rose by 0.4%. There is not a lot of movement from any company on the top five list.
One other statistic worth noting is Sony's continued dominance of the CMOS sensor market. According to the Nikkei Shimbun data, Sony commands 47.9% of the $18.5 billion sales market, a truly staggering amount. That market share is actually up 3.2%. Samsung is Sony's closest competitor, but is far behind the Japanese company with just 18.1% of market share, down 0.7%.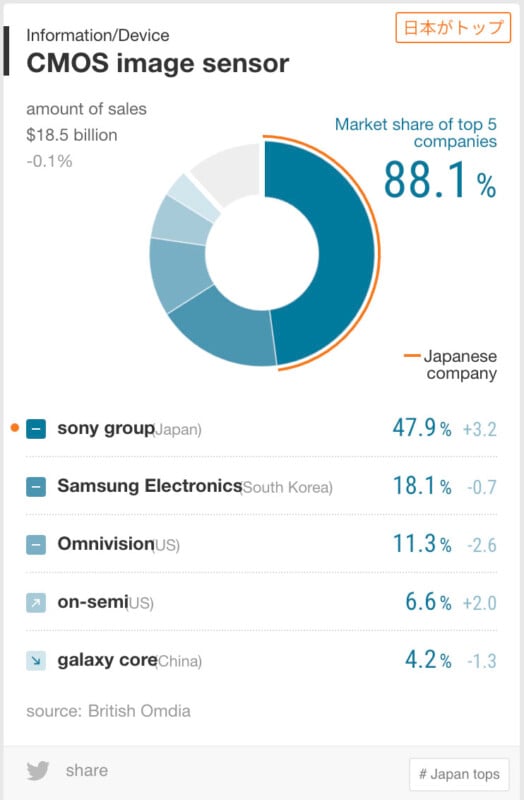 Sony's sensor dominance continues, while Canon has yet to release its stranglehold on the digital camera market.