MiNT SLR670 (Type i) Offers Vintage Polaroid Style with Modern Innovation
Camera company MiNT has launched a revised version of its popular SLR670-S instant camera that uses Polaroid i-Type film. Alongside i-Type film, the SLR670 (Type i) works with SX-70 and 600 films.
"This means that you can take advantage of the latest advancements in instant film technology, including improved color saturation and faster development times," explains MiNT. The company calls the SLR670 (Type i) the "biggest upgrade to SLR670 since the SLR670."
Like other iterations of the SLR670, the SLR670 (Type i) offers extensive manual controls, allowing photographers to control exposure for their instant film photos. The camera also includes automatic controls, external flash sync, and a built-in battery.
The camera includes two auto modes, A100 and A600. These allow full support of both high and low ISO films. This means users do not need to modify a vintage Polaroid camera or use neutral density filters to utilize 600 film.
In manual mode, there are 16 different shutter speeds, from 1/2s to as fast as 1/2,000s.

The stylish SLR670 (Type i) camera works in a customized leather case, offers a neck strap, and has a tripod mount. The camera can also fit in official Polaroid cases.
Compared to many instant film cameras, MiNT's new SLR670 is decidedly built with photographers in mind, offering an accessible and easy-to-use camera that does not compromise when it comes to control.
The built-in battery allows photographers to shoot up to 30 packs of film before it must be recharged. The camera recharges using USB-C. The battery level can be monitored by opening and closing the film door, which illuminates a battery indicator next to the camera's film counter.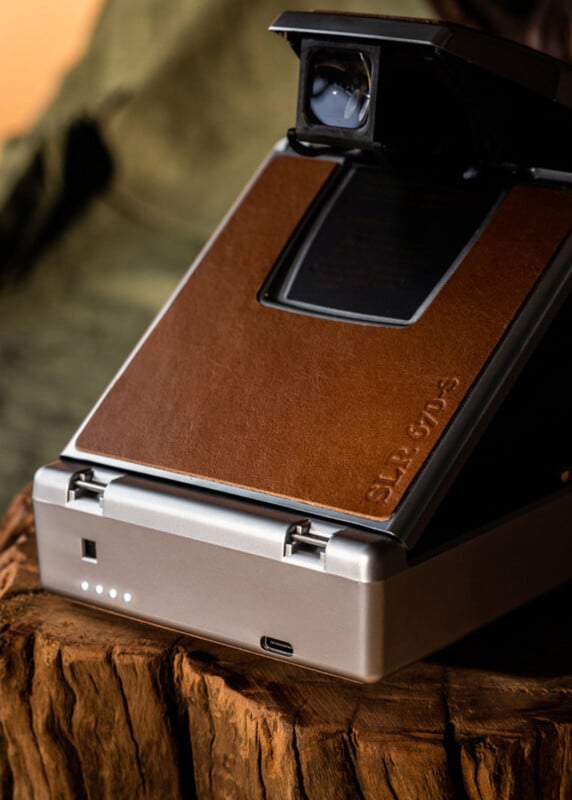 The SLR670 (Type i) has a built-in 116mm lens with four elements. The lens has a fixed f/8 aperture and can focus from 10 inches (25.4 cm) to infinity.
Pricing and Availability
The MiNT SLR670 (Type-i) comes in two versions, the SLR670-X MING Edition (Type i) for $1,149 and the SLR670-S (Type i) Brown for $999.
There are also "starter" and "ultimate" packages. The starter pack includes lens attachments (effects and filters) and a Polaroid Color i-Type film pack. Photographers who want the MiNT Flash Bar plus gel filters must opt for the ultimate package.
---
Image credits: MiNT