Retailer Discovers Box of Unopened 1980s-Era Polaroid SLR 680 Cameras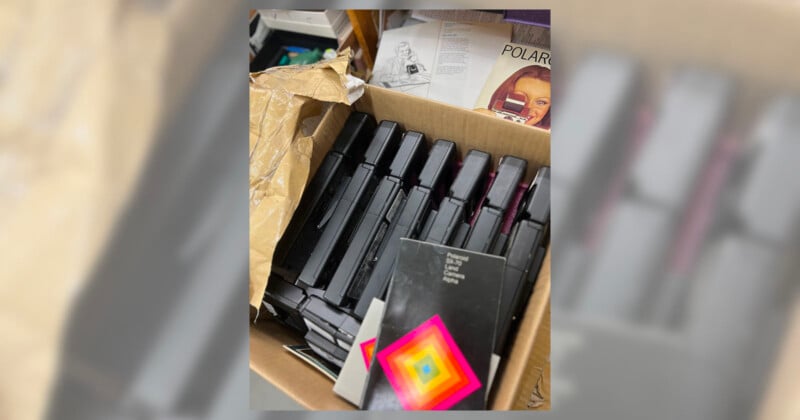 While moving to a new warehouse last month, Mint Camera discovered an unopened, worn box that contained a small number of Polaroid SLR 680 cameras in perfect condition.
The Polaroid SLR 680 was introduced in 1982 and is one of the hardest cameras to find in mint condition. Modeled after the SX-70 Land Camera, the SLR 680 is a true single reflex design and allowed photographers to frame photos exactly — uncommon for Polaroid cameras. The SLR 680 is also equipped with autofocus and was one of two cameras that could use the much faster 600 series film from Polaroid.
"Last month, we moved into a new, larger warehouse to store all the cameras, films, and accessories, and to prepare ourselves for a very special project coming up next year," Mint Camera writes in an email.
"It took us two weeks to move everything from the old warehouse to the new one, and for anyone who has moved, a lot of hidden treasures can be found when you relocate. I mean, a lot. Stuff that we thought were lost, found. Stuff that we thought never existed, appeared. Stuff that were forgotten, packed away in a worn wooden box in the furthest corner of the room."
One particular box contained a particularly exciting treasure: a small batch of mint condition SLR 680 cameras. 13 total, to be exact.
"The SLR680 is a legendary camera, produced by Polaroid in the 1980s. It was the pinnacle of instant photography technology during its era. Its folding SLR design and integral 600 film system made it an iconic tool for both amateurs and professionals alike," the retailer says.
The cameras are no longer in original condition, however, as Mint upgraded them to work with the more modern i-Type film. The retailer also outfitted the cameras with a new battery that can be charged via USB-C.
"The original SLR 680 is only compatible with 600 films, a limitation that many SLR 680 users have voiced complaints about due to its lack of versatility," Mint Camera says. "However, we've addressed this issue by upgrading all the cameras to Type i, equipped with a rechargeable built-in battery. So much better."
Mint Camera listed the small number of SLR 680 cameras on its website for $1,199 and quickly sold all of them, so the upgrade to take i-Type film and USB charging clearly did not deter interested parties.
---
Image credits: Mint Camera