The Sony a6700 Doesn't Ship to Customers With Any Way to Charge It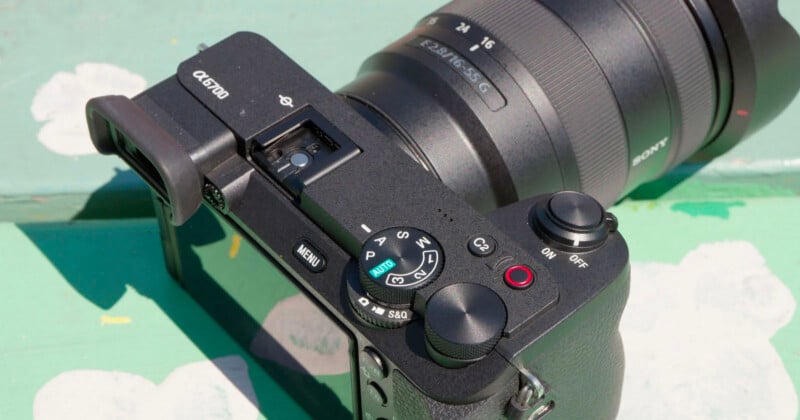 The Sony a6700 is a compelling addition to Sony's lineup and is the first addition to the a6000 line in several years. But, strangely, it doesn't appear as though it ships with any way to charge it.
Originally noticed by Sony Alpha Rumors, PetaPixel was able to confirm with Sony that it does indeed not ship with either a wall charger or a USB-C cable, meaning buyers will have to rely on whatever hardware they already own in order to get started with the new compact camera or they will need to purchase additional hardware separately.
When PetaPixel asked Sony why no charging equipment was included in the box, the company did not provide a response. However, it likely has to do with the company's eco-friendly initiatives, at least in part. Sony has been pushing its Road to Zero initiative for over a year now, which is its goal to have zero environmental footprint by 2030 — a goal that was reduced from the original target of 2050.
"As climate change risks become more apparent and serious worldwide, and the transition to a decarbonized society has become an urgent issue, Sony made the decision to accelerate its environmental impact reduction activities in the climate change area and to bring forward the target year of achieving a zero environmental footprint in this area by ten years," the company has said.
In pursuit of this goal, Sony has said it will take four major steps to become carbon neutral: it will continuously reduce the environmental impact of its own sites, further promote energy-efficient products, strengthen its efforts with partners and encourage them to reduce emissions across the entire supply chain, and the company will contribute to carbon removal and fixation through both technological removal and absorption by ecosystems.
None of those specifically point to reducing how much packaging or peripherals it would include with its products, but since Apple started removing power bricks from its smartphone packaging a couple of years ago, the action does have some level of precedent. Still, while Apple stopped including a charging brick, it at least still includes a cable.
PetaPixel can't recall another time when a standalone camera did not ship with any way to charge it. Of note, The Nikon Z7 and Z7 II didn't come with a cable due to a semiconductor issue, but it still shipped with a wall charger so buyers weren't left high and dry.
Perhaps stranger still, Sony didn't make any mention that it would be dropping the inclusion of a charger or charging cable ahead of the camera's launch, which means the decision has come as somewhat of a surprise. It's a bit of a head scratcher why the company wasn't forthcoming about the situation, especially since it would have been a chance to sway public sentiment in its favor by leaning on the environmental angle.
The Sony a6700 will start shipping to customers on August 3.