Aputure's New Compact Light Domes Are Designed to Deploy Quickly
Aputure has announced an updated $219 Light Dome III and $129 Light Dome Mini III quick deploy softboxes that include what the company calls much improved locking mechanisms compared to their predecessors.
The update to the company's affordable line of light modifiers is designed for photo, film, and video professionals to create large soft light with soft boxes that have a smaller footprint on set. The portable Light Dome III and Light Dome Mini III soft boxes can be set up and struck quickly and easily by leveraging a quick-deploy (or "pop-up") system using a Bowens mount.
The modifiers themselves will maintain the three-foot (90 centimeters) and two-foot (60 centimeters) dimensions as the Light Dome II and Light Dome Mini II respectively, but will now feature a quick-folding, flat-pack design meant to decrease the setup and tear-down times on set and save space in a photographer's or videographer's grip kit.
According to Aputure, the new light modifiers are built for photo and video professionals seeking lighting equipment that can be used in a way to save valuable time on set "when every second counts" ranging from large-scale commercial projects to low-budget indie or school project shoots. The new folding design is meant to free up space in a creatives kit for other essential tools, making it ideal when forced to travel light and accounting for every inch in their bags.
The five-pound Light Dome III can provide videographers with a large cylindrical soft box to throw soft light in a space much smaller (and a setup time much faster) than traditional soft boxes, while the three-pound Light Dome Mini III looks to appeal to photographers who "appreciate and prefer the light quality of a beauty dish but find using and storing them cumbersome" as this new collapsing design offers similar light quality in a far more portable product.
Compared to the previous generation of modifiers, the Light Dome III and Light Dome Mini III have their space-saving design improved through the addition of a new quick-setup folding speedring which gives them the ability to fold flat. Leveraging this new mount and locking system, building and collapsing the soft boxes can be done in just a few seconds which will save time and improve efficiency on set. Of note, the previous generation needed to have each support rod snapped into place manually.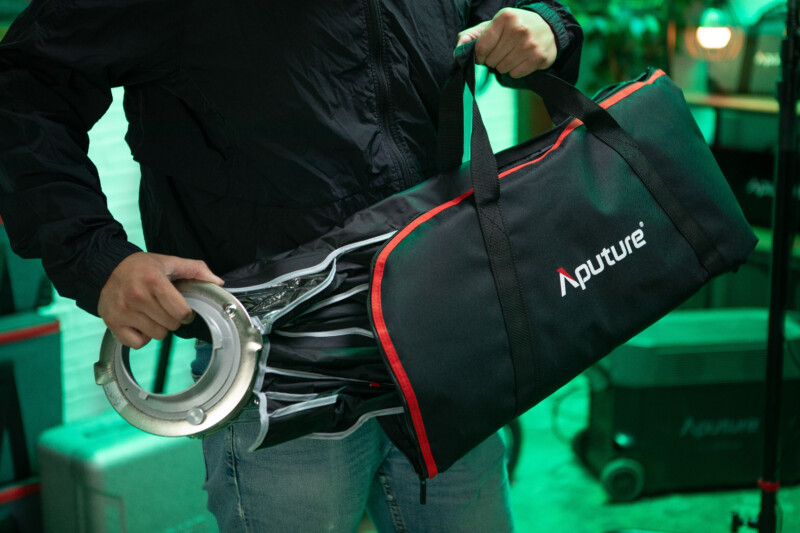 "The Light Dome Mini III is compatible with lights with up to 600W of output, including the Aputure LS 600d, LS 600d Pro, LS 600x Pro, and LS 600c Pro. The Light Dome Mini III is also compatible with all Amaran Bowens Mount lights. Users familiar with the Gen 2 modifiers will get the same light quality they're used to in a system that occupies less space and sets up / tears down in a fraction of the time," Aputure says.
The Aputure Light Dome III and Light Dome Mini III are available for $219 and $129 respectively and include a compact carrying bag, a 40-degree fabric light control grid, and a front diffusion fabric.
---
Image credits: Aputure